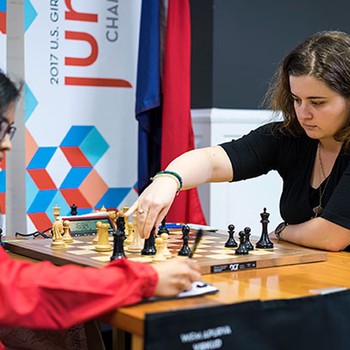 WGM

Sabina Foisor

WGM Sabina Foisor
Hello everyone,
My name is Sabina Foisor and I am a WGM representing the United States. I was born in Romania to a chess family and learned to play chess at 4 years old. At around 5 and a half y.o I have competed in my first open tournament. Despite not having won any games, I have made up my mind to make a career out of chess, though there were many moments when I struggled. In 1997, I won the European Championship for Girls under 8 years old. In my teens I have won multiple national girls youth championships. In the European scene I triumphed winning medals in Classical, Blitz, Rapid and Solving Problems competitions. At the age of 16 I became a WIM and at 18 I received the title of WGM. I consider the year 2007 to have been the peak of my chess career sharing 5th place at the European Individual Women's Chess Championship from which I qualified for the Women's World Chess Championship. That same year I was ranked in the top 10 Junior Girls in the World. In 2008 I received a chess scholarship at UMBC and decided to put chess on pause to focus on my studies. I graduated in 2012 with an BA in Modern Languages and Linguistics and in 2014 I received my Masters Degree in Intercultural Communication, specializing in intercultural training. In the begging of 2009 I started representing the United States and proudly participated in 5 Chess Olympiads and 4 Women's World Team Championships. My biggest achievement was winning US Women's Chess Championship in 2017.
I started my streaming in March 2020. I hope you enjoy my channel and stream! I am taking challenges from viewers and subscribers and happy to take on different chess variants.
Twitter:
twitter.com/Foisor_Sabina
Facebook:
www.facebook.com/SabinaFoisor/
Instagram:
www.instagram.com/sabina_foisor_chess/
Twitch:
www.twitch.tv/sabinafoisor
2487
1668?
2465
1758?
2015?
1909?
10 wins
2 losses
Played 12 Bullet games246578
4 wins
1 draw
3 losses
Played 8 Blitz games24872
6 wins
1 draw
8 losses
Played 15 Blitz games248515
26 wins
3 draws
12 losses
Played 41 Blitz games250032
7 wins
Played 7 Bullet games2387148