Join the Lichess Streamer Community
Taking chess streaming to a whole new level!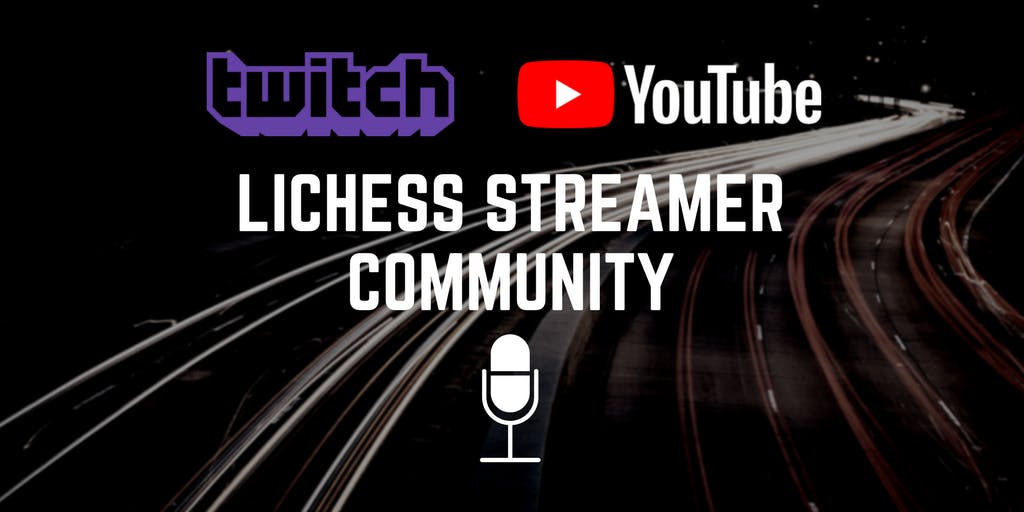 Chess is becoming increasingly popular on streaming sites like Twitch and Youtube. To help enrich the streaming and chess world, we built some new tools to facilitate both streaming and watching streams. We're happy to announce the Lichess Streamer Community! Streamers get new tools to reach out to their viewers, and viewers will find it easier to discover interesting streamers.
Features
By becoming a lichess streamer, you get your own streamer profile, with your stream embedded. Check out Andrew Tang's profile for an example. All streamer profiles are listed on our new streamers list, live streamers on top, and the rest sorted by the time they were last seen on lichess.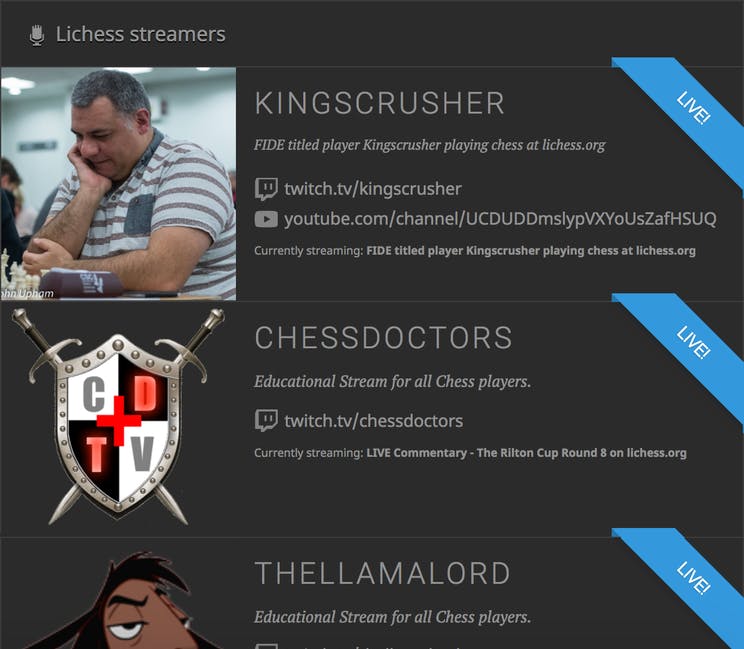 Access the streamers list from the "WATCH" dropdown menu.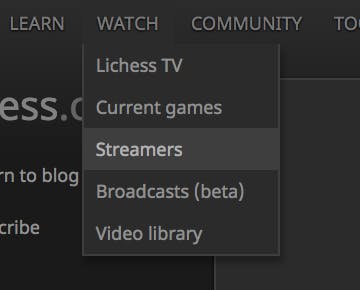 Games on lichess also display a link to the player's stream if one or both of them are streaming, like this: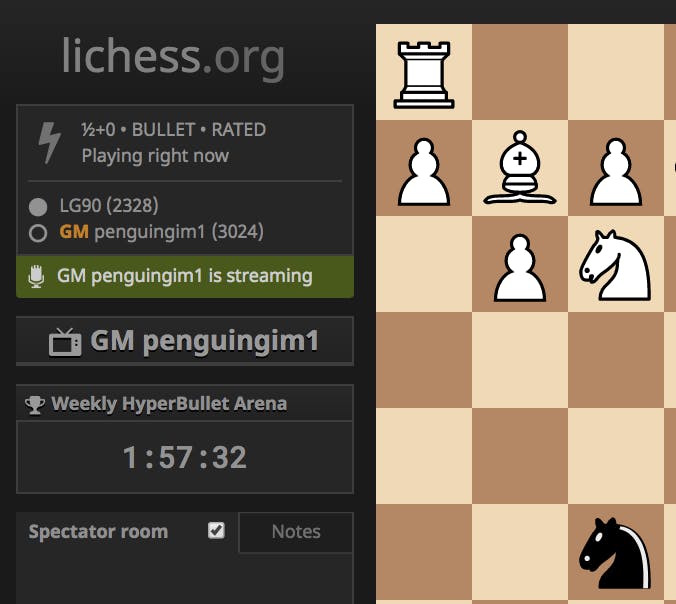 Their stream is just one click away!
Moreover, these buttons are shown on tournament pages if a participant is streaming, and also in simuls and studies! And now you'll never miss your favourite streamers' streams – streamers you follow on Lichess show up in your sidebar feed when they go live: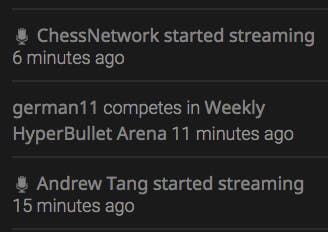 Selected streamers are featured on the frontpage, like before.
How to join
To join the Lichess Streamer Community, just go to lichess.org/streamer/edit and create your profile. When your profile is approved by moderators, it will appear on the streamers list! When you go online, it will appear live whenever lichess.org is part of your stream title. If it meets the requirements for frontpage featuring, your stream will also appear on the lichess frontpage. Being a part of the Lichess Streamer Community, you are of course free to stream other games and on other chess servers, just remove lichess.org from your stream's title when you're not streaming on lichess.
Lichess Twitch Account
We recently created an official Lichess Twitch account, where we will cover events like the Titled Arena. We plan to host shows with prominent streamers and chess players on that account in the near future. We'll also host streamers from the Lichess Streamer Community on the official Twitch account.
Haven't streamed before, but want to start?
Do you want to stream on lichess, but don't know where to start? Create an account on Twitch. Then you need a broadcasting software. We suggest OBS (Open Broadcaster Software). This tutorial shows you everything you need to know to get your first stream up on Twitch!
Update: We published this streamer's kit that includes a nice overlay and some graphics and fonts that you can use on your stream!
If you have any questions, just leave a comment below!