Titled Arena 6!
Asbjørn Steinskog (@Assios)
Announcements
The Lichess Titled Arena returns for the 6th time!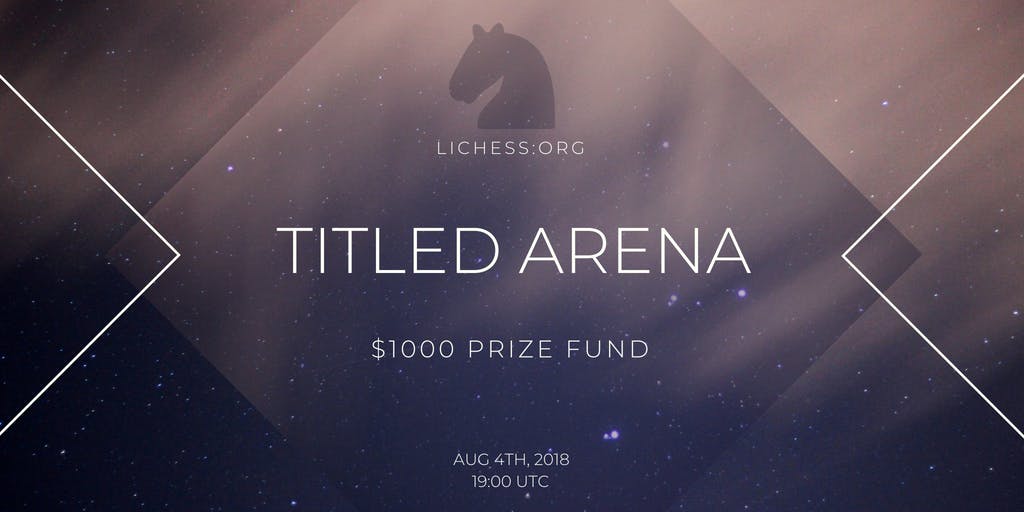 In May, GM Andrew Tang won the Lichess Titled Arena 5 tournament, and took home the 1st prize of $3,000. In total, 232 titled participants competed for a prize pool of $3,600. It was the first Titled Arena won by a player other than Magnus Carlsen. Watch the 5th Titled Arena with commentary by IM Christof Sielecki (ChessExplained) here.
After a short Summer Break, we are now announcing the Lichess Titled Arena 6, which will take place on Saturday, August 4th.
When: Saturday, August 4th, 19:00 UTC (12:00 Pacific)
Format: 1+0 Bullet arena, 2 hour duration
Prizes:
1. $500
2. $250
3. $125
4. $75
5. $50
Participation requirement: Verified FIDE or NM title (see below)
Practical Information
If you are new to Lichess, it's important to become familiar with the arena tournament format. Read our FAQ and consider trying out an arena tournament in advance. Arena points are awarded based on the number of games you win. If multiple players finish the tournament with the same number of points, tournament performance is used to break the tie. Prizes will be awarded within three days after the event, through PayPal.
Title Verification
To participate in the Titled Arena events, you need a verified titled account on Lichess. If you don't already have a Lichess account, create one. Then, to get your FIDE or NM title verified, please fill out this title verification form, and we will process it within 24 hours. If you already have verified your title on Lichess, you don't have to do this again. When your title has been verified by us, you will be able to join the tournament.
Streaming
We've had a bunch of players streaming the previous Titled Arenas, including Magnus Carlsen and ChessNetwork. We encourage both participants and fans to livestream the tournament. If you plan to, check out our small streamer's kit for some useful graphics to include in your overlay.
Good luck to all players!