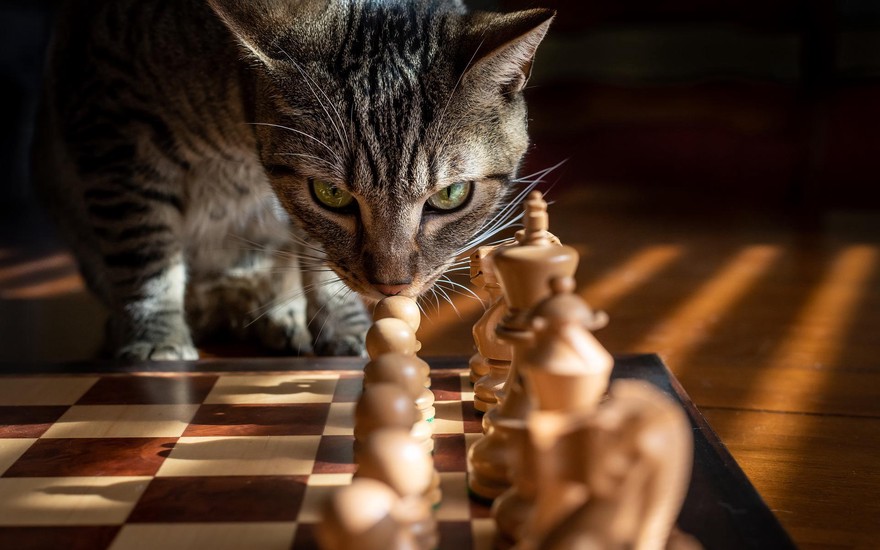 Image by Rick Brown from Pixabay
Ledger 145 | The Ledger Returns
The Lichess4545 Ledger returns with a special extended edition!
The Ledger Returns!
After an extended break, everyone's favourite high quality free newsletter about online classical chess leagues returns with a bumper issue and a facelift, for we've migrated to the Lichess blog format!
Never heard of the Ledger? Don't believe the hype? See what others have said:
The Ledger is the only thing that I bother to read. I actually asked PlayMagnus to make an offer for it but since its valuation seems to be indexed to BTC with a six-month lag, we can't afford it now without first selling Chessable. Who knows what the future will bring? Nevertheless, it's an outstanding publication and a great read, and I can't recommend it enough.
-- Magnus Carlsen, poker/fantasy football semi-pro
I literally don't care about any other chess magazines.
-- Hikaru Nakamura, professional streamer
The Ledger plays chess while everyone else is playing checkers.
-- Anonymous football coach who definitely has played lots of chess and checkers
---
Here's what's in store for this edition:
Updates from around the leagues
@x420noscope's epic and moving quest for bullet glory
Hand-picked puzzles from recent 4545 games
A write-up and Q&A of the latest end of season survey
Going forward, we aim to publish at least one full issue between each 4545 league season...but in truth we want to publish stuff more frequently with our new blog platform. But for that we need you to help us out...
If you have something to say, send it our way! Are there any books you'd like to review, or chess-related TV shows or movies that you want to tell people about? Do you have any tips, ideas or articles to share? Or any stories you want to tell about your chess-playing experiences, whether they be glorious accomplishments or heroic failures? We're not too fussed about what we print - ignores repeated texts from the yacht - so your contributions don't need to be highly polished or rigorous...or even text-based; we'd love to post videos, streams, and Lichess studies too. And we especially encourage contributions from our newer and/or less experienced members. By the way, we'd also love for people to get involved on the production side - anyone interested should join us in #lichessledger.
Self-plagiarism is the best. The Ledger has returned.
---
Around the leagues
By @mgold, @izzie26, @Silkthewanderer, @Qudit and @adande1
4545 Team League
Thanks to everyone who participated in Season 30, which formally ended on 6 June. As always, it's you, the players, that make this league and community a wonderful place. We love the positive and supportive chess environment we have here and you're all a part of making the league the success that it is.
Here are the teams that finished atop the podium in Season 30:
Discovered Mates Congrats to every triumphant "mate": @LIYV, @CPTsopiens, @The_Wayward_Prince (team captain), @STCLion, @jrcrawford512, @PresidentXiJinping, @BoldPodiene, and @Reiscritor...plus every alt that turned out for them: @BudSpenser, @Creamsicle, @iggy_the_king, @Patzfisch, @Paulze2000 and @phantom567459.
For all the stats on the season, check out izzie26's season 30 report.
Also, don't forget that you can still register for Season 31! By the time you read this, the initial teams for the new season will have been formed, but you can still sign up to play as an alternate, and we adore alternates. SIGN UP HERE!
Never heard of 4545? Well, it's an eight-round Swiss format team league where teams of 8-10 players play weekly matches with a 45+45 time control. Players are ordered within teams by their Lichess classical rating, which means that most pairings are between players with roughly similar ratings. Find out more on our website.
LoneWolf
Having kicked off a few weeks ago, the fourth round of Season 26 of the inimitable LoneWolf league will wrap up tonight.
Through the first three rounds, 12 players across both sections have perfect scores: @wookash_888, @lelouch_vi_brittania, @uczen-369, @Costobarus, @Shallowjr, @CoachBrendan, @Elo_Vending_Machine, @gercondon, @Mon_Ouie, @tonsoffish (in the Open section), and @coachmannywise and @hamsterpoot in the U1800 section.
All the best to everyone playing this season!
Season 25 ended on 16 May. See izzie's reports for all the numbers: Open | U1800.
LoneWolf is an 11-round individual Swiss tournament with a 30+30 time control and two separate sections (Open, U1800). Players can sign up at any point up to Round 8 and take unlimited half-point byes for weeks that they can't play in. More info here.
Other leagues
Infinite Quest
@Silkthewanderer writes...Tournaments, right? Everyone meets up for a predefined number of rounds; some players play each other, some don't; and at the end there is a winner? This may be the case elsewhere but in the Infinite Quest we do things a bit differently. This tournament has run continuously since January 2021, and now we're about to close week 74, which is also round 74. An infinitely running tournament means there isn't a singular winner; the leaderboard at any point simply reflects who has gained the most points so far but it means that everyone else has all the time in the world to overtake them!
Scoring is based on collecting 'XP' and gaining Levels. The exact rewards for each match are announced with the pairings and are based on the strength of the opposition, reward of long win streaks and a small degree of inflation to give newcomers a decent chance of catching up. Pairings are based on player strength, leaderboard rank, recent performance - and avoidance of recent rematches.
238 players have participated in the Infinite Quest to date, and 70 players have played in it within the last month. In total there have been 1,482 matches. The format's always been four 15+10 rapid games followed by a first tiebreak of two 3+2 blitz games (if needed), followed by an Armageddon game if the match still hasn't been settled. Across all pairings, almost 5,000 games have been played. The honour of playing the 5,000th game could be yours....provided you were prescient enough to join the Quest before this ledger was published . Ah well...at least in an infinite competition there will always be more milestones to chase.
Anyway, the leaderboard has become somewhat established by week 74. Two players have set themselves apart from the rest by reaching Level 11 while the rest of the pack is stuck in single digits: @eie24 managed the feat with a 48-21 win-loss record while @lelouch_vi_brittania matched that with an even more impressive 40-9 record. Their closest pursuer was @moistvonlipwig, but having stayed in lockstep with them for most of 2021, reduced activity made our MVL lose ground on the leaders, meaning they're now third among all players. However, the player who holds third place among all currently active players is @IsaVulpes, who also earned many points in the early months of Quest but now seems to be in an on-off relationship with the tournament. The top seven of the standings is rounded out by @adande1 (35-33), @NLance (27-28), @AlexGaul (30-23) and @Zubenelgenubi (31-40) - who all earned their ranks of Level 8+ with strong performances allied with exceptional tenacity. Just a bit behind them are some players who, despite joining Quest several months after it started, have managed to post records significantly above 50 per cent and so have rapidly ascended the levels ladder. Indeed, those top spots may soon be challenged by the likes of @Sup12 (17-12), @pushedpawn (16-9), @Chesstrix01 (15-7), @WarGoblin (15-10) and @shallowjr (11-4). Only time will tell who will be on top when the next Ledger gets published.
Fantasy
@adande1 writes... The 4545 Fantasy league for Season 30 featured 27 real participants and 5 'bot' entries. Thanks to all who took part, and of course congrats to our top-finishing teams:
The Ilk Wanderers (@iljazbru) won the gold medal at their first attempt!
Did I blunder or is the eval bar happy to see me? (@Silkthewanderer) gave Silk a third silver medal in 11 seasons, having finished similarly in S23 and S28! Some might think that the insights on player strengths they glean from running the super-popular Infinite Quest might have something to do with it!
Naka the Alpaca (@mynameismund) clinched third place, giving them a second top-three finish in Fantasy having previously won the silver medal in S25.
'Bot' teams fared quite badly this season, with all of them placing in the lower half of the standings. Unsurprisingly then - even though it's never happened before - the bot team cheapskate (ie the team with the lowest overall cost) was the best performing of all bot teams, placing 15th overall, and beating its dear cousin profligate by a full point.
A big thanks again to all for playing, and I hope to see you back again next season. Registrations for next season will open once the teams for Season 31 are published. Fantasy team submissions are usually due before Round 1 pairings are released - which means 12:00 UTC on Monday 4 July. Check out the Slack channel #fantasy for more details!
McMahon Marathon
@Qudit writes... The third season of the 90+30 McMahon Marathon tournament finished last week. The format is similar to a standard 90+30 Swiss but we use the McMahon system to generate pairings, which aims to pair players with similar ratings. Higher-rated players start with extra points to compensate them for getting more difficult pairings. The effect is somewhat similar to having multiple rating sections in a tournament (eg U1800 and U2000) but with everyone still being in the same event and therefore still able to play against each other if they happen to overperform (or underperform).
So far, the average rating of participating players has increased in each season, and McMahon Season 3 saw the top bar set at 2000 for the first time.
Congratulations to our overall Season 3 champion @antazhi8!
Final standings:
Miscellaneous
We've not mentioned the many other active leagues and initiatives within the Lichess4545 community such as the Chess960 league, a seven-round individual Swiss 960 tournament, or Series, a small-group round-robin 90+30 tournament with promotion/relegation between seasons, or the evergreen Book Club, where our more studious members imbibe undiluted wisdom from (currently) Mastering Endgame Strategy by GM Johann Hellsten before playing each other in weekly casual games to gain a deeper understanding of the book's ideas. To each their own .
Find out about all our leagues and initiatives in our handy community overview.
Pain, Suffering and Bullet Chess
By @x420noscope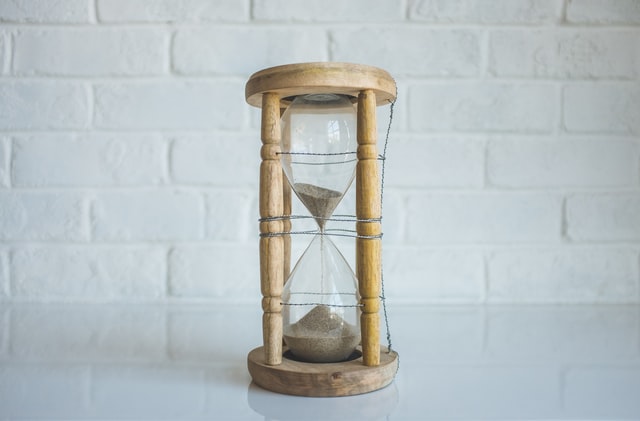 Photo by Kenny Eliason on Unsplash
Perhaps it is just me, but there is something particularly amusing in acts of self-destructive fun. Whether it is skipping class to grind reputation for a cool dragon mount in World or Warcraft, or staying up for the entirety of a 24 hour chess tournament, I tend to enjoy the occasional rejection of norms in pursuit of vain internet glory. In simpler words, doing what I love is fun. And, for whatever reason, when I have to go against the grain and sacrifice something doing it, it adds excitement to the process and a higher satisfaction for the rewards.
Here is my account of participating for the full 24 hours of the 2022 Lichess Spring Marathon.
It was about the midpoint of the LoneWolf season and I was freshly out of urgent responsibilities after having submitted my thesis. Naturally, I was looking for ways to delay the start of my only remaining piece of coursework, a large data science assignment. One day while checking my next round pairing, I noticed the numerous shiny badges in the top-right corner of my next round opponent's Lichess profile. The instantaneous dread of having to face a much stronger opponent quickly turned to surprise as our similar ratings reassured me that I was not, in fact, about to be clobbered by someone way out of my league.
As a matter of fact, my opponent - with seven marathon trophies, including a top 50 finish - outrated me by only about 100 points. I was quite confused for a while... Does this mean that I could conceivably take home a trophy of my own?
This was somewhat of a strange realization - ever since I had started playing chess some six years ago, my own play always seemed absurdly unimpressive compared to anything even remotely relevant in modern chess culture. By some default of my unassuming chess ambitions, there has always been an inescapable rift between the level of my chess, and of those who are lucky enough to be able to leave a mark in internet chess folklore.
Though slowly over time, I kept playing, and kept improving. Much like the proverbial frog in a slowly boiling pot of water, I had gradually closed in on only a few hundred rating points away from, say, an average FM. Almost without realizing, I reached a point where I could dare to dream of competing with the big boys. And here it was - my first ever opportunity to leave a tangible mark on internet chess. I could have my name near the top of a tournament played by tens of thousands of players. Not that many people would notice or care, of course. But I would. And I would even get a cool looking trophy on my lichess profile.
Right from the start, though, it was clear that this would have to be a serious time investment. After all, profile swag is hard to come by, and there would be thousands of players better than me participating in the tournament. My advantage, however, is that most of those players aren't degenerates who are willing to stay up for 24 straight hours playing chess. Still, it wasn't clear to me whether I would need the entire 24 hours in order to secure a trophy. I looked up previous marathons and checked the ratings of top finishers, as well as the number of games they had to put in. Reassuringly, I came across plenty of players around my rating who had made the top 500, but they had many more games played in the tournament than most players above and below them in the standings.
As the fateful day was approaching, I tried to shift my sleeping schedule to accommodate the unfortunate timing of the tournament. The start was at midnight UTC, or 2 am my time. With a normal sleep schedule, this is close to the worst possible timing - you have to either stay up until 2 am just to start the 24-hour bender, or you can sleep early and wake up at 2 am to start with barely any sleep. Fortunately for me, my sleeping schedule was anything but normal. With the absence of lectures or fixed responsibilities, along with a newly founded love for the NBA, my sleeping and waking times resembled those of an Australian more than they did of anyone in my timezone (as any European lovers of American sports may know - games often don't start until 3 or 4 am).
Finally, the day had come. I woke up around 10 pm, and although I knew I was in for a gruelling grind against exhaustion and sleep deprivation, I was bursting with excitement. I played some 2+1 games to prepare for the tournament, as that was never my go-to time control. I got some snacks, a big bottle of water, and I was ready to go.
The start was slow. I was playing mostly opponents of similar ratings, with unimpressive but acceptable results. Straight away, however, I noticed the start of what would turn out to be the most agonizing part about this tournament. I kept getting berserked, and I kept losing. Even with the added penalty of relinquishing the increment by berserking, my opponents managed to convert their positions against me. The root cause was quite apparent - my bullet skills have seriously deteriorated in the previous six months, which mostly consisted of slow league games - 4545, LoneWolf, and Infinite Quest. But the luxury of taking my sweet time was gone, and it was as clear as day that I had not done enough practice. I was almost always fine out of the opening, I was even getting winning positions in most of my games. However, as the time got low and the positions got messy, I could simply not keep up with my opponents. Positions which I can convert easily, even in blitz, started feeling like insurmountable clutters of tactics and traps. Blunder, after blunder, after blunder. I felt like an absolute grandpa, and it did not help that I kept losing against berserkers.
Nevertheless, I was climbing the standings slowly but surely. I remember being around #150, and steadily improving my placement. Five hours passed, the sun started to come up, and my play was still in reasonable shape. Although I had never played a 24 hour tournament, I was by no means a stranger to multi-hour chess benders, and I was well conditioned to take the mental torment of five hours of highly frustrating bullet games.
I kept climbing, and at some point I managed to break the top 100. At the time, I had no idea to what extent this was indicative of my potential in the final standings, and whether time would bring many more stronger players who would push me out of trophy contention. I spent the next several hours fluctuating in the standings, but remaining safely around #80. I started to get hopeful about my prospects, but I did not yet dare to dream I could possibly finish in the top 100. Slowly, however, my fears began materializing. The number by the side of the screen which kept track of my place in the standings kept increasing. Regardless of how well I played, I could not keep at bay the wave of new participants who were simply stronger at bullet than I was. Due to the nature of marathon tournaments, I was facing almost exclusively players who were several hundred points higher rated than me, as well as unhampered by 10 hours of profoundly tilting bullet. And after many hours of fighting a losing battle - not only against my opponents, but also exhaustion, tilt, hopelessness, and frustration - I fell back well outside of the top 100.
Almost without realizing, it was early afternoon, and we were past the 12 hour mark. The lack of sleep started to have an effect on my concentration, and the non-stop twitches of the mouse had not done any favors to my wrist. Although the time leading up to this point had been quite bearable, the suffering stage of the marathon was only beginning. And like fuel to a fire, the frustration of constantly throwing away winning positions in time trouble (to berserkers no less) drove my mental state ever farther down the toilet. Even losing on time despite the increment, the absolute disbelief of all the creative ways in which I was miserably failing to convert winning positions had me questioning all of my life choices.
Yet I stuck through the pain. I am unsure if it was my stubbornness, the sunk cost fallacy, or the typical "just one more game" attitude, but for better or for worse, I kept playing. Despite steadily falling down the rankings, and the self-reinforcing cycle of losing, tilt, playing poorly, and losing again, somehow I started to improve my play. Perhaps I was simply acclimatizing to the agony of my longest ever bullet grind, but I managed to put the frustration aside, and channel whatever leftover hope and motivation I had into attempting to play reasonable chess. Somehow, I managed to flip the script and went on an absolute tear. For a period of 29 consecutive games, I scored 20.5 against an opposition of 2344 average rating, for a performance rating of just over 2500. Including wins against a
https://lichess.org/kdS7XUaF2uvG
and a
https://lichess.org/taBLXTsaXC5t
, I was playing better chess with every game. I reached my highest ever bullet rating of 2304, even though my pre-tournament warmup games had me struggling to maintain 2100.
And just like that, I managed the impossible - I fought back the rank counter to well below 100. With only a few hours to go, if I managed to retain my position, I would earn the top 100 trophy. I continued playing well, but the opposition was getting stronger and stronger. The average rating of my opponents, including titled players, was about 200 points above mine. Even if I somehow continued my streak, it would be a struggle to cross the finish line among the best 100 participants.
Time was a blur. Suddenly, I found myself around #90 with only a couple of hours left. This was it. This was the test. All I had to do was continue scoring points and I would have far exceeded my wildest expectations, with a new and shiny Marathon Top 100 trophy. Unfortunately for me, this is where the previous 22 hours of near non-stop bullet really started to catch up with me. I was sleep deprived, I was frustrated, my concentration was nonexistent, and my wrist had really started to hurt. My hand was cramping, my skin was irritated from the constant dragging over the mousepad, and my fingers hurt from gripping the mouse for over 20 hours.
My chess play was turning into almost entirely instinct. I was incapable of a coherent thought, and I could not calculate two moves deep to save my life. Playing against much stronger opponents was of no relief, especially as I struggled to even keep my eyes open. And while the adrenaline did well to keep my body awake, the capacity of my brain was exceeded by that of a burnt potato. I managed a miserable 7/30 for the final stretch, and my final placement was 103, with mere 6 points behind 100th place.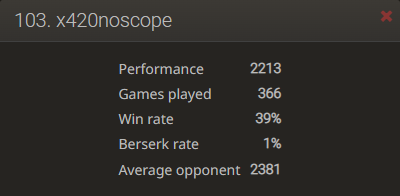 Absolute disappointment. Sitting there and getting my first real break in 24 hours, with the unpleasant combination of adrenaline and sleep deprivation, my brain was struggling to truly process what had happened. Having just endured the hour-long torment of slowly but unavoidably slipping in the standings, trophy all but ripped from my cramping hands, the only consolation to this excruciating end to the marathon was that I could finally get some sleep. Completely numb from the bender, I was incapable of resolving how I felt about what had just transpired, and the last remaining energy I could muster went into brushing my teeth and heading to bed. After a short rant in the #general channel in the 4545 Slack, I tried to sleep. Yet, although completely exhausted and with my body begging for rest, the adrenaline kept me from the warm embrace of slumber. So naturally, I did what I usually do when I struggle to fall asleep - I took my phone and played puzzle rush. As if I needed a reminder that I have a serious chess problem, at least the sheer absurdity of the whole situation provided some much needed consolation.
As painful as it was, I think I learned a lot from the experience. Although I still wince at the thought of so narrowly missing out on a top 100 trophy, I am glad I gave it a shot. I am glad I far exceeded my expectations (before starting, I wasn't even sure about a top 500 finish!), and I think the experience made me a better player. However, it also reminded me of just how much I hate bullet. Not that it's going to stop me from playing it, of course, as I fully intend on subjecting myself to the same torment for the 2022 Summer Marathon. See you in August!
The Puzzle Table
By @mgold
For this Ledger issue, I have selected a handful of puzzles from 4545 Season 29 games that I found interesting. I hope you have as much fun solving them as I did in selecting them!
Puzzle 1
https://lichess.org/study/tpCQdEWK/w4QJ9HHJ#59
In Round 8, we had a marquee matchup between @Qudit with the White pieces and @AverageLondonEnjoyer with the Black pieces. It was the final game of the round and a win by Qudit would secure a 10-0 sweep for You Brought a Bishop to a Knight Fight. Qudit went on to win, but how could AverageLondonEnjoyer have saved this position?
Puzzle 2
https://lichess.org/study/tpCQdEWK/euA4YAWH#49
In Round 7, @Michael-Westin was playing with White against @IsaVulpes, and in fact had an advantage until the overly greedy move 25. Nxa6? Though it was missed in the game, how should Black have replied in order to gain a winning advantage?
Puzzle 3
https://lichess.org/study/tpCQdEWK/942VaTgX#99
In Round 7, @Kjar had the Black pieces against @Visaith. In this position, Black has only one winning move. What is it?
Solution 1
https://lichess.org/study/tpCQdEWK/NWk9xtOh#59
30... Rxe3! 31. Bxe3 Qe7 White's winning idea was to push g5, ripping open the position around the Black king. By sacrificing the exchange, Black steals a critical tempo that prevents the push of g5. 32. Qxf3 Bxh4 (32... Re8 also works).
https://lichess.org/5pnfkyZk#59
.
Solution 2
https://lichess.org/study/tpCQdEWK/JaXhFYmO#49
25... Nf4! Black is threatening Ne2+ which has several tactical ideas: 1) It forks the king and rook, 2) it cuts the queen off from the defense of the a6-knight. None of White's tries to prevent it are working. 26. Kh1 Ne2 27. Nc5 Nxc1 28. Nxe6+ Qxe6 29. Qxc1 Rxa4 or 26. Bd1 Rxa6 27. Qxa6 Re1+ 28. Qf1 Rxf1+ or 26. Ra1 Ne2+ 27. Kh1 Rxa6 or 26. Nc5 Ne2+ 27. Kh1 Nxc1 28. Nxe6+ Qxe6 29. Qxc1 Rxa4.
https://lichess.org/i2ijkV9y#49
.
Solution 3
https://lichess.org/study/tpCQdEWK/EdyB134d#99
50... Rg7! Black has created a subtle mate threat that's impossible to defend without a decisive loss of material. 51. Bg3 Rg1 52. Kf4 R1xg3 or 51. Kf2 Rgg1 52. e4 Raf1#.
https://lichess.org/0d83cW1A
.
4545 survey results
By the 4545 mods
As the new 4545 season begins, we need to wrap up one more outstanding contest from the previous season...which might be the most important of them all...the team name competition!
Well, 119 players had their say for the Season 30 vote, and the final margins weren't exactly close:
Byeeee byeeee my Sicilian lines, prepped the Schevy really heavy but missed 3. Bb5+ (won with 21 votes / 18%)
Cal1.e4nication (2nd place with 7 votes / 6%)
Yasser, we can Boogie (third with 6 votes / 5%)
No recount necessary this time. Congratulations to the winning team - the true league champions, according to some - and double congratulations to whoever came up with that wonderful name. As for the rest of you - may your muses give you strength for next season!
Moving on, let's run through respondents' opinions on certain aspects of the league. To simplify things, we've grouped responses of 4 or 5 on the scale as satisfied, 1 or 2 as dissatisfied and 3 or "don't know/irrelevant" as neutral/irrelevant.
Scheduling easiness: 82% satisfied, 17% neutral/irrelevant, 1% dissatisfied
Teammate interactions: 78% satisfied, 18% neutral/irrelevant, 4% dissatisfied
Mod interactions: 66% satisfied, 32% neutral/irrelevant (kudos to those who never had to summon or interact with us!), 2% dissatisfied
Slack platform: 87% satisfied, 11% neutral/irrelevant, 2% dissatisfied
That last one is for anyone who thinks we ought to move to Discord. Feel free to quote these stats when the question comes up again on Slack - we certainly will! In general, it seems that league members are reasonably satisfied with the way things work at the moment.
But here's one last question: what's the preferred team size, in terms of number of boards?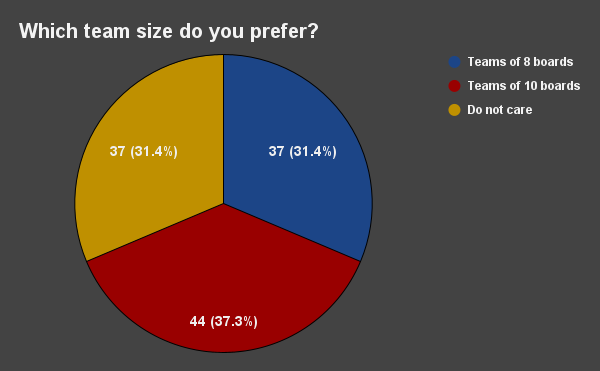 Yeah...thanks for nothing! OK, the final decision will probably be made on the basis of the number of registrations approved before the new season opens.
Selected suggestions and our responses
Note: some submissions have been slightly edited for legibility.
Any additional feedback on team size for the mod team to consider?
[...] If we can make chesster contact alts like once every hour that'll be better IMO. [...].
The problem is that chesster begins searching for new alts at around 12:00 UTC on Saturdays and Tuesdays, which means that any alternate who can't respond to Slack messages within an hour of these times is much less likely to get any chances to play.
It wasn't clear when I subscribed if I [was] joining a team or if I was an alternate, and then what that meant.
In most instances, the mods also don't know if someone who signs up will be placed on a team or become an alternate, so there's no way to tell players either way until the teams have been made. In addition, when someone joins the Lichess4545 Slack, they're immediately directed in the #welcome channel to all the key documents on our website: the FAQs, the player handbook, and of course the rules. So if you want to find out what being an alt means, just read those! And if things still aren't clear, you should just ask on Slack - you'll probably get the right answer within a few minutes, if not seconds.
One consequence of changing the team size was that the team I was on for several seasons was broken up, which made things less fun for me.
Even if we decide to never change the number of boards per team again, you just can't expect to be placed with the same teammates for several seasons in a row, because as players' ratings change over time, the team generation process prioritises rating balance (within boards and across teams) over individual preferences, so groups like that will sooner or later be broken up.
Rating differences on boards 1 and 8 are often extreme, [and] more boards might improve that.
That's fair, and it could be a reason to consider having more players on each team; however, we also feel that most players might have a slight preference for the social dynamics of teams with 6-8 players over larger teams, although undoubtedly that depends on a lot of factors.
The bigger the team the less interaction between members in my opinion.
That's also fair, which means it could be a reason for having fewer players on each team. However, we also need to balance that with the issue of having greater rating disparities on the top and bottom boards (as noted above).
How would you change the league's rules and regulations?
You have to spend at least one season as an alt before you can become permanent.
This just won't work, as a lot of new players play every season; in fact, they typically comprise 25%-50% of all participating players each season.
Crack down on alternates, your highest rated account must be the one you use.
We're not sure if the person who asked this question knows about the leagues' single account rule. Due to this rule, players are only allowed to use a single account for all their league games (across all our leagues). Since we have this rule, there's no need to have a separate or different rule that focuses on rating.
I would make the process for claiming a no-show forfeit easier. Our team lost a match because one member was unaware of the process for claiming a forfeit win for a no-show opponent.
Chesster messages players about what to do when no-shows happen. That said, we don't know what happened in this specific case, but we'd definitely like to know more so we can at least understand whether the process might need to be reviewed and improved. Please contact us to share more details.
Increase initial message time to 2 days.
Actually, the initial response deadline used to be two days (48 hours) until around season 15, after which it was shortened to 24 hours, but only after it was requested by a majority of respondents on multiple end of season surveys. Furthermore, once made, the decision was well-supported in multiple subsequent surveys.
How would you improve the lichess4545.com website and/or @chesster?
Who are we kidding? There's a very long list of feature request, we just don't have the expertise left to modify chesster...
Although we've received and noted some great ideas for possible new features, this person is undoubtedly correct to point out our limited resources for implementing anything. At the same time, we are deeply appreciative of everything that our talented devs do for us!
Anyone who wishes to contribute to the league in this way should check out our Github page and the Slack channel #dev-website-and-bot.
Is there anything unclear to you about the league rules? If so, what are you uncertain about?
why is glbert still there?
Not sure...we'll look into it.
Can we have a "primary" account that we use the most, and a "secondary" account that we use to play league games even though our primary account has more games and/or is higher rated Classical? I've seen this in the league, and it seems like it's a accepted?
Again, we think this person might not be aware of the single account rule. You're only allowed to use one Lichess account in any of our leagues. This is the account you use when you first register for any of our leagues. It doesn't matter if this is your highest-rated account, or your account with the most games, or whatever - the truth is that the account you use on your first registration is the account we expect you to use on all subsequent registrations...from now until the End of Days. We just don't allow players to switch to a different account for their league games...unless they can provide a very strong reason for being allowed to do so.
Lichess restarted during a game and both my opponent and I lost time, but mostly my opponent. I was winning anyway so we just played through but I wonder what we should have done?
Please play through when it's possible. In the interest of fairness, you could add some time to your opponent's clock. If Lichess went down completely and it wasn't possible to finish the game, we would ask you to restart the game from that position and add 15s to both sides' clocks until they roughly match the situation when Lichess went down. As ever, contact us if you have more questions about these situations.
Contacting mods, not sure how or when.
You can contact the 4545 mods by typing "@chesster summon mods" in Slack's #general channel. We recommend summoning the mods if something is unclear to you, especially when your captain or other teammates can't help you. However, we encourage players to summon us about anything they're unsure about. Don't be afraid of reaching out - we're here to answer your questions...and we don't bite!
I don't know the complete process for obtaining scheduling draws.
Talk to your captain about it first, as they should be familiar with the process. If things still aren't unclear for any reason, summon the mods.
Further general comments/suggestions?
I've skimmed through Slack's history thanks to free trial, and it seems to me #general was more chatty and "laid back" two years ago. Maybe we should work on that?
We understand the sentiment but we don't think it's a significant issue or that it's even anyone's fault per se. Yes, the league hasgrown a ton over the past two years, and sometimes this has drastically shortened our message history to a few days (since our free Slack only shows the last 10,000 messages posted across all channels)...but it's not something we've really tried to police in any way.
get rid of glbert
Good idea, we'll look into it.
perhaps say explicitly in the rules that players who don't have an established rating by the end of the registration deadline won't be registered.
Forgive our bluntness, but we think this should be obvious to anyone who reads our Terms of Service, which everyone must sign up to when they register. There's a whole sub-section there about the non-provisional rating requirement, which starts by stating:
Those who wish to play in the 4545 or LoneWolf leagues must also have a Lichess account with an established (non-provisional) classical rating before they can play in either league.
In fact the ToS also specify that we don't even review, let alone approve 4545 registrations from accounts with provisional ratings. The deadline isn't even relevant. Furthermore, this isn't just in the ToS; the player registration page also says that "If [the rating] is provisional, it must be established ASAP by playing more games" (just below the relevant question about a registrant's rating). So we think we're already covered on this.
---
Thanks to all our contributors and editors for this edition: mgold, Silkthewanderer, adande1, Qudit, glbert, Tranzoo, izzie26 and x420noscope. Remember that the editors won't take responsibility for any omissions or errors that they can't profit from.