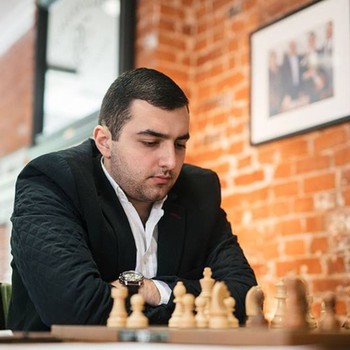 GM Robert Aghasaryan
It is never too late to be what you might have been!
Location

USA

United States
Languages
русский язык, Հայերեն
Rating
FIDE: 2537

2736

2614

Availability

Accepting students

Active
Playing experience
I am playing Chess for 20 years. I was European Youth Chess Champion at 2004 (U10 boys), World Youth Chess Champion at 2006 (U12 boys), also Youth Olympic Chess Champion at 2010 (U16 Boys). To see Comprehensive list of my achievements, please visit
en.wikipedia.org/wiki/Robert_Aghasaryan
Teaching experience
Experience in teaching for 6 years. Among students were many Armenian youth talented chess players (Hayk Martirosyan, Grandmaster, Fide: 2617- was 2018 Armenian Highest League Winner, Also 2016 World Youth Chess Champion U16)-
ratings.fide.com/profile/13306553
Davtyan Artur( Internatinal Master, Fide: 2461 (was World Youth Chess Championship Bronze Medalist U18 in 2019 in Mumbai)
ratings.fide.com/profile/13308327/chart
Other experiences
18 years of chess experience,
I have been trained by well-known experts - GMs Arsen Yeghiazaryan-Fide Senior Trainer
Tigran Nalbandian- was Armenian Olympic Chess Champion team Captain in 2006
Best skills
My strengths in teaching are game openings, game analysis, positional chess and preparation. Also , how to work with your computer
Teaching methodology
"Every chess master was once a beginner."

First, we will go over a few of your games, determine the areas to improve on which will yield the greatest benefits for you. Then, I will give training material or recommend different resources for you to improve these areas of your game. In the training sessions, we can then further examine your progress and discuss any questions or difficulties coming up.