A Hard Fought Battle
Two in a row for Crestbook Chess Club and GM Sergey Shipov!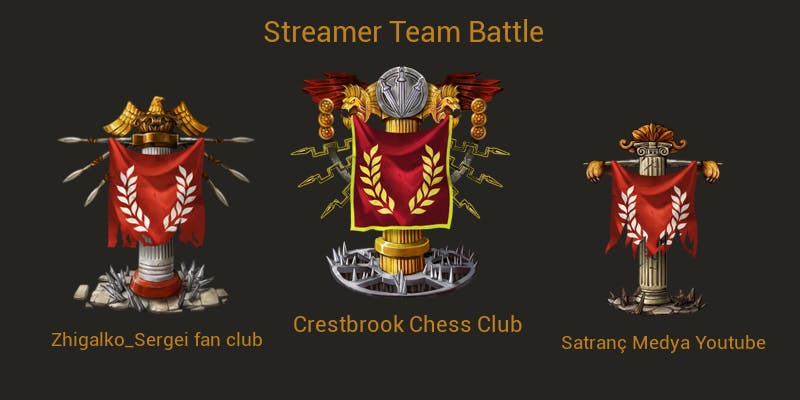 Last time out, we saw Crestbook Chess Club cruise to victory, but this time GM Sergei Zhigalko bravely struck out on his own to challenge the reigning champions and it was a much closer affair! However, the Zhigalko fans fell just 37 points short and had to settle for 2nd place (still a great achievement and much closer than the 300 point lead of the first battle). But who can topple Crestbook? We'll find out next time!
Thanks to all the streamers leading their teams onto the battlefield, and to all the players! We had an even more diverse mix of teams this time with additional representation from the Spanish and Arabic speaking worlds. Please join us in congratulating the teams participating in this event:
The final standings were:
1st: Crestbook Chess Club with GM Sergey Shipov (@Crest64)
2nd: Zhigalko_Sergei fan club with GM Sergei Zhigalko (@Zhigalko_Sergei)
3rd: Satranç Medya Youtube with Emre Hasgüleç and Sabri Can Onay Yontar (@SatrancMedyaYoutube)
4th: ShahMatKanal Fan Club with CM Evgenij Novikov (@ShahMatKanal)
5th: ChessNetwork with NM @Chess-Network
6th: Partidas Inmortales with @PsicoAjedrez-Youtube
7th: ChessWeebs with GM Illia Nyzhnyk (@ChessWeeb)
8th: The Arab Team with multiple streamers representing
9th: Школа шахмат ChessMaster with FM Maksim Omariev (@maxneo)
10th: Satranç TV Youtube with Cem Gündoğan (@SatrancTV_Youtube)
If you missed it, here are some of the streams (please post any that we missed in the forum comments): Crestbrook, Sergei Zhigalko, Satranç Medya, ShahMatKanal, ChessNetwork, Partidas Inmortales, ChessWeeb, Amro el Jawich, maxneo.
A further congratulations of course to all the individual players, making up some impressively strong teams. You can see the full individual standings on the tournament page. We hope to organise another similar event soon, stay tuned to our standard communication channels for details: