Ultra-violence fails to Break the London Deadlock
Caruana and Carlsen draw tenth game to stay tied at 5-5 in World Championship match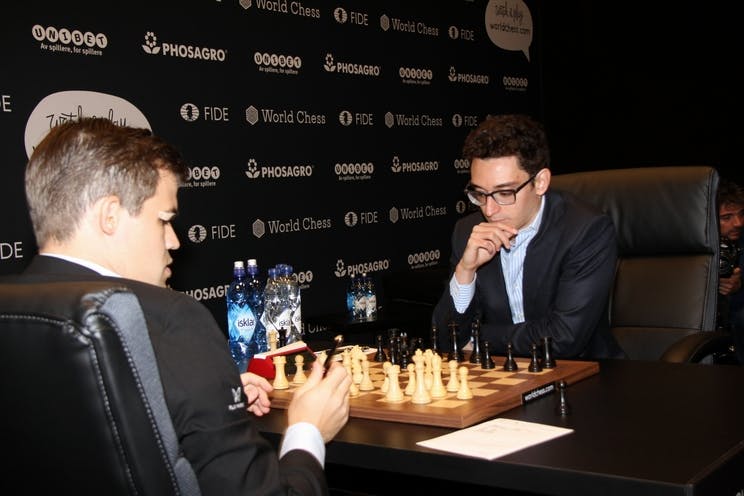 "This will not be a draw!" declared almost every pundit in the packed World Championship press room after 20 moves of the tenth game between Magnus Carlsen and Fabiano Caruana but – it seems inevitable in the 2018 title match – defence triumphed and a tenth consecutive draw was the result.
Pundits were certainly not thin on the ground at The College in Holborn as the tenth game took place. If the spectators thought that their facilities were cramped, a peek into the press room would have revealed a scoop of journalists, with many unable to find a seat at a desk to work.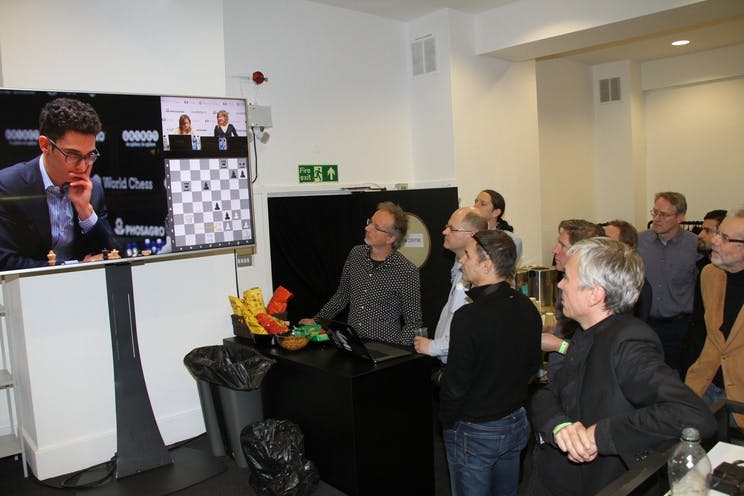 Standing room only in the press room. Photo: Cathy Rogers
In recent days many heavyweight journalist vultures have descended on London to see the demise of either Carlsen or Caruana. Peter Doggers from Chess.com, Dirk Jan ten Geuzendam from New In Chess and Dirk Poldauf from Schach are among the new arrivals. However, the most remarkable new face has been Maria Emelianova (also working for Chess.com) who has somehow manged to be on the spot at the Women's World Championship in Siberia, the Tata tournament in Kolkata, and now the Championship match in London; three overlapping events.
Conversations in the press room tend to cover all sorts of chess-related topics: should the World Championship match be extended to 14 or more games?, when will organisers start streaming in Mandarin and Hindi, to their biggest potential audiences?, is Twitch.tv, the gamers streaming address of choice, also chess' future?, plus of course the perennial, will the new FIDE continue to entrust World Chess with the organisation of World Championship events?
However on Thursday there was one subject which demanded attention - Game 10. The most exciting game of the match saw crowds around the broadcast screen in the pressroom (and not only because there were not enough chairs). In a game where it was hard to determine who had the upper hand – and where the all-seeing Sesse computer kept bafflingly saying that the position was 0.00 (i.e dead equal), it was more productive to discuss variations with colleagues and try to ignore the computers as much as possible.
Every press room has an oracle, and in London this is Jon Speelman, the veteran English Grandmaster, who seems to be able to assess almost any position (mostly correctly) at a glance and provide a quotable opinion.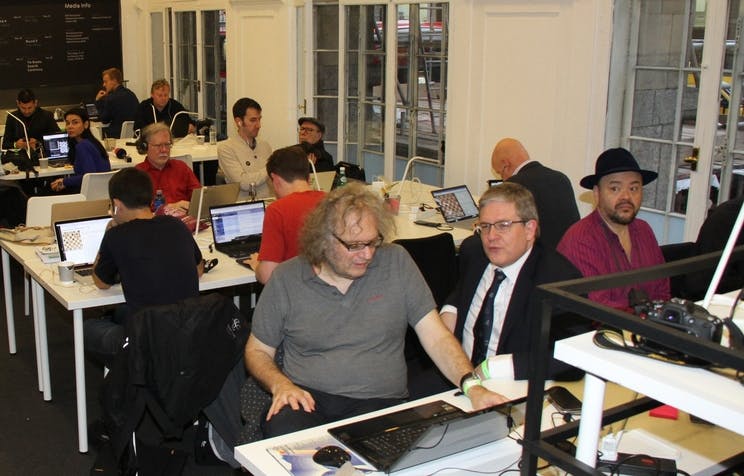 The Press room, with GM Jon Speelman first on the left in the front row.
However even Speelman was left confused by game 10. Kingside attack versus queenside attack is hard enough to judge but this game saw each player push for a win to the limit – and then discover that they were suddenly fighting to hold the game.
"I cannot say that I kept my cool," admitted Carlsen, while Caruana admitted similar feelings, saying "If you are not nervous during a World Championship match then ..."
Even Silvio Danailov - the Bulgarian who had livened up the 2006 title match but who had decided to play Twitter Grinch during the 2018 match, declaring classical chess near-dead, had to admit that he was entertained by game 10, tweeting "Fighting and very intense game today. Nothing to complain about. Congrats to both players."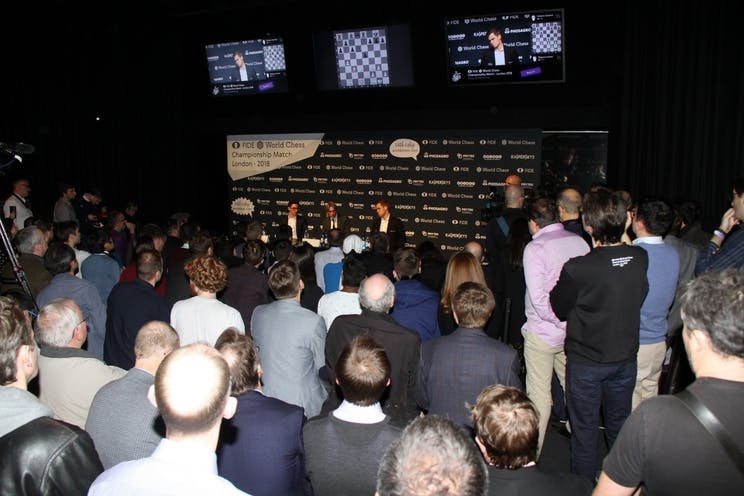 The Press conference after Game 10. Photo: Cathy Rogers
Magnus Carlsen has, however, gone in the other direction. One feature of the early press conferences was Carlsen's use of humour to respond to tricky, or even dumb, questions.
However after game 9, and to a far lesser extent game 10, Carlsen was less tolerant, giving short shrift – indeed single word answers - to some questions and showing exasperation at others. While Carlsen is always upset with himself for not playing perfectly, in this match until game 9 he seemed to have lost his old habit of trying to escape from press conferences as fast as possible – or not attending them at all as he showed after game 8 of his match against Sergey Karjakin.
In the case of game 9 Carlsen's lack of humour could be attributed to an off-board factor, the injury he had suffered the previous day playing football. Carlsen played game 9 with a piece of sticking plaster covering the top of his right eye. (The previous day Carlsen had placed a photo of himself with a nasty black eye on social media.) While Carlsen said he was suffering no pain during game 9, the plaster looked, at the least, slightly awkward. By game 10 the plaster was far smaller and Carlsen's annoyance with the press was similarly reduced.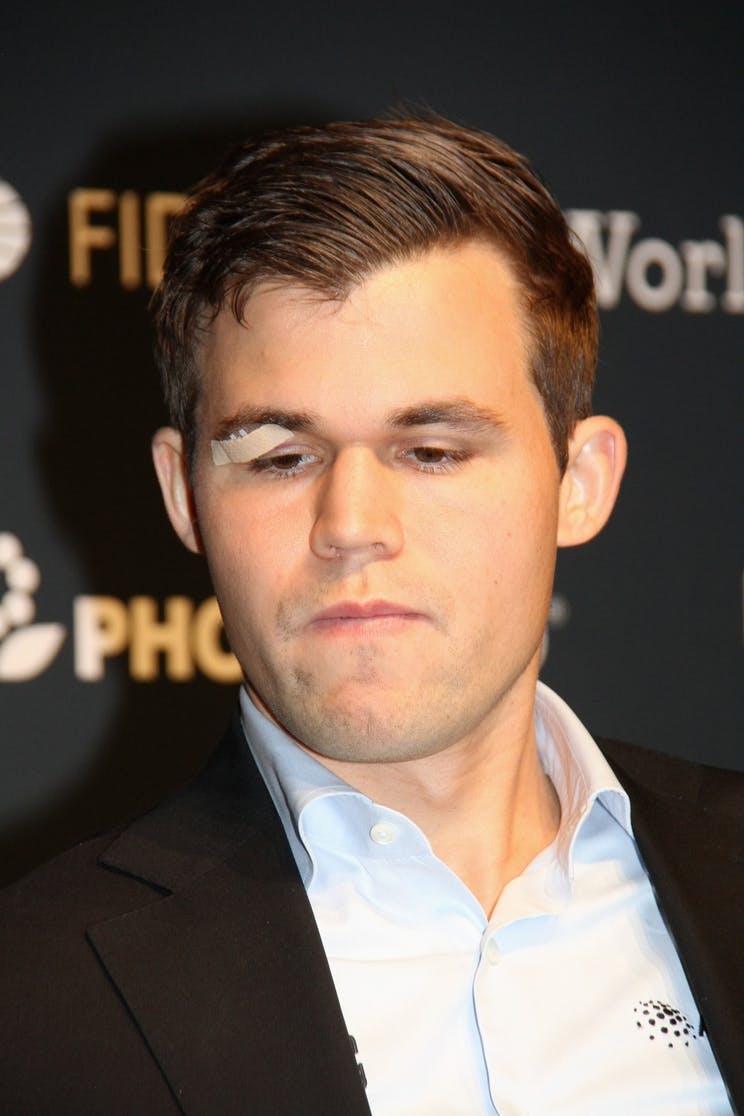 A wounded Magnus Carlsen. Photo: Cathy Rogers
Meanwhile Caruana just keeps on keeping on, prepared to do the hard work holding difficult positions while waiting for a big chance to come along. His opening preparation has more often than not been superior to Carlsen's but finishing off Carlsen has been another matter.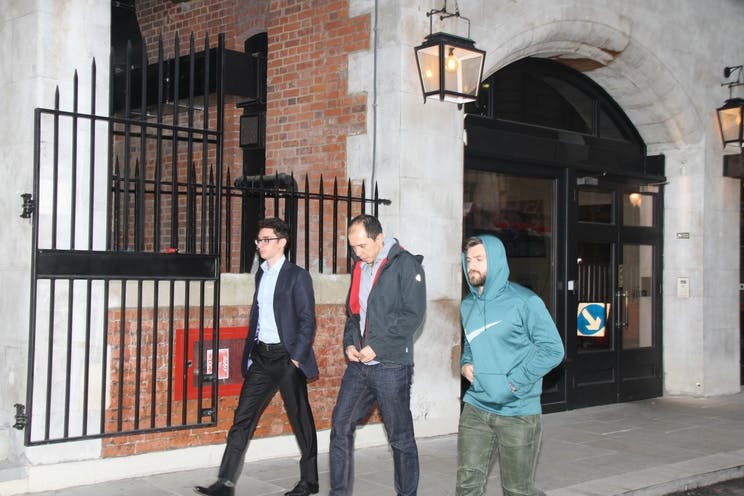 Team Caruana entering the venue. Left to Right: Caruana, Rustam Kasimdzhanov, and Cristian Chirila. Photo: Cathy Rogers.
To pick a winner in this contest is a fool's errand. Carlsen appears more tired but is still capable of playing wonderful chess such as his 21...b5!! in game 10. I think it more probable than not that one player or other will falter in the final two classical games – but have no idea who that will be.
Game 10
https://lichess.org/study/80Xf3Bdb/5DmHt8JD
Here are links to our previous World Championship reports after game 1, 2, 3, 4, 6, and 8.
Game 11 is on Saturday at 15:00 GMT (and the Lichess Meetup will be nearby on the same day).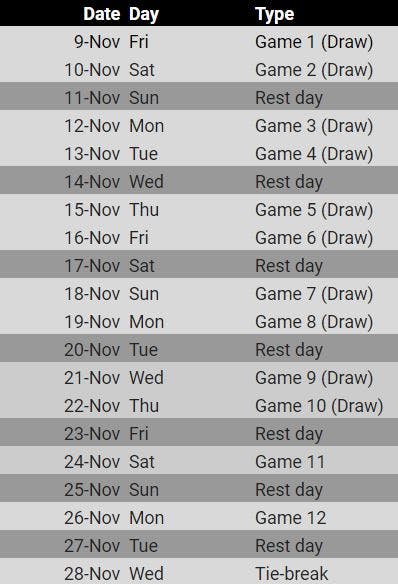 Stay tuned to our standard communication channels for details: