Chess Marathon #1
Thibault Duplessis
Announcements
24 hours of chess. Do you have what it takes to win?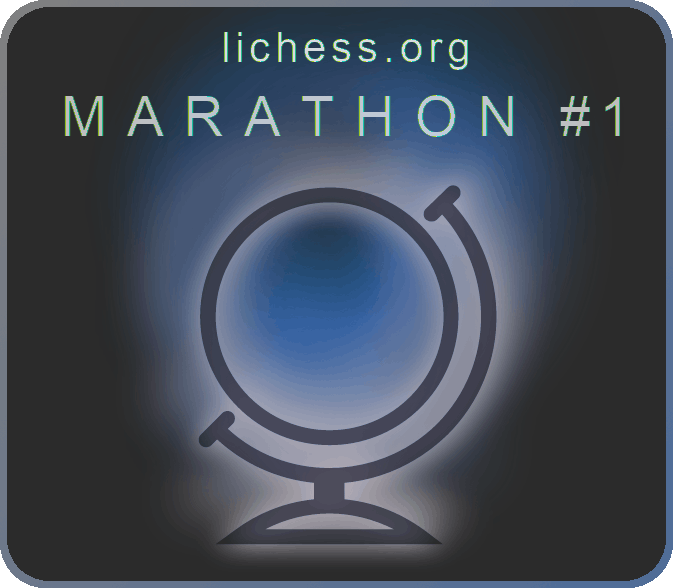 [Update] Epic failure
Alright, so that didn't work: the server said "no".
This first marathon is a victim of its success. After 7 hours of activity, dealing with 530 persons in a single tournament playing no less than 4883 games was just too much. The server CPU was burning, something was wrong.
So I had to shut down the marathon in order to restore lichess normal health.
I am very very very sorry about that, and I apologize to all players. I know you prepared for that, I know you're sleepy and dismayed. Believe me, so am I.
So here we are, it's over. You can go to sleep now - I certainly want to.
We'll do it again. After that server stuff is dealt with.
[/UPDATE]
We're delighted to introduce a new event, the awesomest in the history of lichess.org: the chess marathon!
This is a lichess arena blitz tournament. Except it lasts 24 hours. It is a battle of endurance, where the will and resistance of players will be put to the proof!
The winner gets the unique blue globe trophy on their profile page forever; pretty much like the Way of Berserk trophy. Top ten players and top fifty also receive a trophy!
When does it start? This Sunday 7th June, starting at 0:00 AM GMT. See the marathon page for your timezone.
Who can enter? Everybody! Click "Join" on the marathon page (you need to sign in).
What are the games settings? 5+0 rated, standard chess, random color.
How does the tournament work? You get paired automatically with opponents close to you in the tournament standing. Read more about lichess arena tournaments.
Can I sleep? Yes, just withdraw the tournament. You can join back later and keep all your points.
Is coffee/tea authorized? Yes, you're going to need it.
Is cheating authorized? No, it will get you a swift ban as usual.
Don't you think this is unhealthy? Indeed. We decline all responsibility in case of epic tilt.
What are the prizes? The winner takes the unique blue globe trophy home. Top ten players and top fifty also receive a trophy.

If you can't play this marathon, worry not, there will be others, later on.
Now train and rest before the event starts! May the best and craziest of us be victorious!