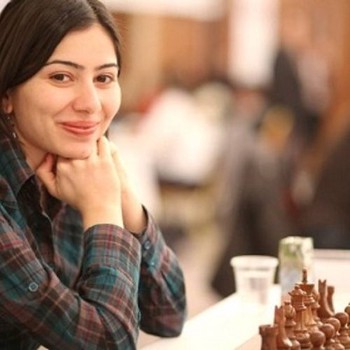 IM Lilit Mkrtchian
I would like to share my chess knowledge and experience that I achieved during my professional chess career. Good luck!
Location
Armenia
Languages
Հայերեն, русский язык, English (US), Deutsch
Rating
FIDE: 2388

2516

Hourly rate
Flexible
Availability

Accepting students

Active
About me
Hi, I am WGM, IM Lilit Mkrtchian from Armenia. Current Elo-2388, highest Elo-2503.

Playing experience
European team champion (2003, Plovdiv) and bronze medalist (2007, Greece) with Armenian national team, 2 times European vice-champion ( 2002, Varna ; 2009, Saint Petersburg) and 2 times bronze medalist ( 2006,Kusadasi; 2013 Belgrad ) in European individual championships. 4 times Armenian women champion. Several times medal winner on my board in Olympiad, world and European team championships.
Teaching experience
I also have experience in individual coaching for players with different levels.
So if you want to improve your chess skills, I can help you!