FIDE World Rapid Chess Championship - Recap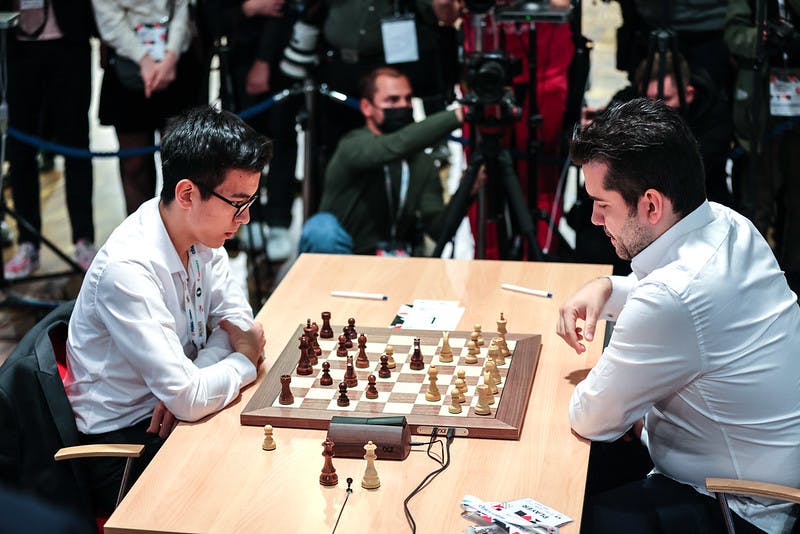 Following the conclusion of the Classical World Championship, chess fans are treated with another two World Championships in short order. The first of these, the Rapid Chess World Championship, began on Sunday. 
The Blitz Chess World Championship began today (Wednesday 29th December, 1400 UTC), which can be viewed live on Lichess.
(title image: The new World Rapid Chess Champion Nodirbek Abdusattorov vs. Ian Nepominachtchi - FIDE)
Shaking off the rust in the faster time controls of 15+10 (rapid) and 3+2 (blitz), hundreds of the world's best chess players, men and women, convened in Warsaw which agreed to host the tournament at short notice. 
Varying from previous years of the rapid tournament, players had only 13 rounds against opponents in the rapid - making those first rounds all the more critical to get ahead of the pack. 
Day 1
Magnus Carlsen, who just defended his Classical World Championship title, was obviously keen to also defend his Rapid World Championship title, too. On the first of three days of rapid, he started well, defeating established threats like Aleksey Dreev, Alexei Shirov, and the young prodigy Bharathakoti Harsha. 
The Georgian Merab Gagunshvili appeared like he would hold Carlsen to a draw, with equality for over 100 moves, and entered into a theoretically drawn endgame (Carlsen with a rook and bishop, Gagunshvili with a rook). But, this endgame is tricky - David Navara recently overcame Viswanathan Anand in the same endgame - and Carlsen pushed on. After an unfortunate blunder, Gagunshvili's position became hopeless and he resigned shortly after. However, it was Samvel Ter-Sahakyan who was able to hold against Carlsen, making it the only draw of the day for the Norwegian title holder, ending the first day on 4.5 / 5.
Playing for a home crowd, the Polish number 1 player, Jan-Krzysztof Duda (qualified into the Candidates 2022), overcame threats from the likes of Kirill Alekseenko, Andrei Volokitin, the Uzbek prodigy Jakhongir Vakhidov, and Hovannes Gabuzyan. Duda was only unable to make progress against the charismatic Georgian Baadur Jobava, putting both players level with Carlsen on 4.5 / 5.
A significant pack of chasers were just behind this group, on 4 / 5, including Ian Nepomniachtchi, Alireza Firouzja, Alexander Grischuk, and Boris Gelfand. Hans Niemann - who has ascended meteorically in the classical lists since over the board play resumed - and the promising Uzbek prodigy, Nodirbek Abdusattorov, were also part of this peloton behind the leaders.
In the Women's section, top-seed Kateryna Lagno had a surprising defeat to Evgenija Ovod, with a 300 rating point difference between the two. Meanwhile, second top seed, Aleksandra Goryachkina started off strong with two victories before drawing her third and losing her fourth, to Anastasia Bodnaruk. Meanwhile, experienced Russian champions Valentina Gunina and Alexandra Kosteniuk are both in the lead with a perfect 4 / 4. 
Enjoy a puzzle pack from day 1:
https://lichess.org/study/MnYd4zRl/GyuBLUZx
Day 2
At the end of day 2, only Carlsen was in the sole lead with 7.5 / 9. Facing further challenges - both new and old - Carlsen had a tough day ahead of him. Starting against Baadur Jobava, Jobava proved that when he's in form, he's in form - and exactly why he can be such a threat. Carlsen, despite having a good position, was unable to land the knockout blow to Jobava, with the day starting with a draw for both players.
Going from the frying pan and into the fire, Carlsen then was immediately paired against the ferocious Alireza Firouzja, who recently became the youngest player in history to break the 2800 barrier. Firouzja, with black, tried with the Caro-Kann he's become so comfortable with, but similar to how Firouzja struggled against Caruana with it in the Grand Swiss, Carlsen was able to keep the initiative and get the win. Carlsen then faced longtime adversary, Alexander Grischuk - but despite blundering an exchange the veteran Russian immediately blundered back, with the game ending in an eventful draw. For the last game of the day, Carlsen was matched against local talent Duda - a bit of a grudge match, given Duda knocked Carlsen out of the World Cup (albeit in the blitz tiebreaks). In any event, Carlsen got his revenge in a classic-Carlsen endgame squeeze.
Meanwhile, Nodirbek Abdusattorov lost in the first round of the day against Anton Korobov; yet came back in style in his next three games. Facing Levon Aronian immediately after his loss to Korobov, Abdusattorov had no fear (after all, why should he? He beat Caruana in round 3 followed by draws against Nepomniachtchi and Grischuk in rounds 4 and 5) and took the full point. Facing off against Radoslaw Wojtaszek and then Boris Gelfand, Abdusattorov took home another two points - putting the youngster on 7 / 9 at the end of day two. Only Alexander Grischuk and Ian Nepomniachtchi were part of the 7 / 9 group with him.
In the Women's section, Kosteniuk was first pitted against Gunina - both on 4 / 4. Gunina, despite having a stronger position, made several mistakes with the advantage slipping away, reversing and Kosteniuk eventually winning. The game felt pivotal for Kosteniuk's momentum - going on to win against Mariya Muzychuk, Nataliya Buksa, with her momentum only being slowed with a surprising draw against Assel Serikbay. Ending the day a full point and a half over everyone else - with 7.5 / 8, it seems likely Kosteniuk is the runaway leader of the Women's event. Both Humpy Koneru (the current Women's Rapid Champion) and top-seed Kateryna Lagno are on 6 / 8. 
Enjoy a puzzle pack from day 2:
https://lichess.org/study/WIPb72W2/TYZhMr1N
Day 3
An exciting start to the day for Nodirbek Abdusattorov facing Magnus Carlsen. Abdusattorov, coming off the previous high of the previous day, appeared to be confident against Carlsen. Going into a favourable endgame, it was Carlsen on the backfoot of an endgame squeeze. Despite being theoretically drawn (and on one move even theoretically winning for Carlsen, although the line would fall afoul of the 50 move rule), the position was complex. Abdusattorov saw his chance from a blunder by Carlsen in the endgame and seized it - in the space of two moves getting a mate in 7 against the World Champion. Carlsen, seeing the inevitable, resigned. 
Incredible pairings kept coming thick and fast during the rest of the day - Alireza Firouzja against Hikaru Nakamura, Daniil Dubov and Sergey Karjakin, Fabiano Caruana against Alexander Grischuk and Ian Nepomniachtchi, Magnus Carlsen against Levon Aronian, Ian Nepomniachtchi, and Hikaru Nakamura - amongst some of the highlights.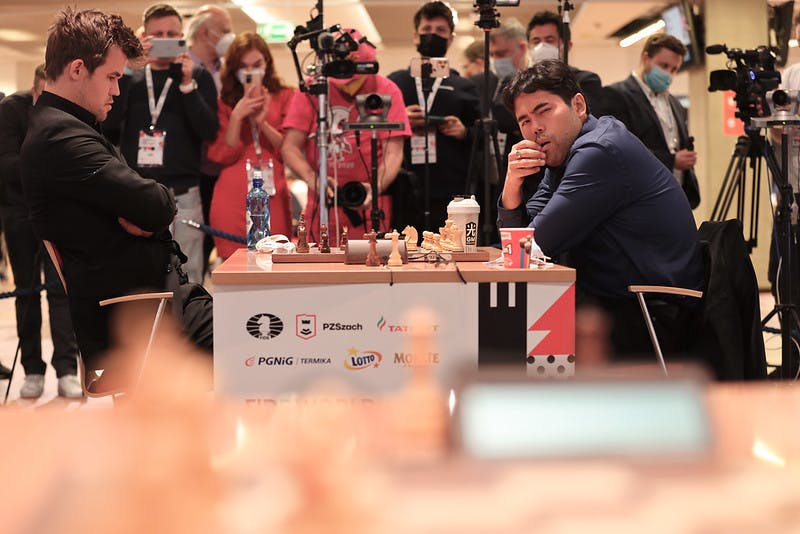 (Magnus Carlsen versus Hikaru Nakamura - FIDE)
By the end of round 13, four players were all on 9.5 points. In tiebreak order, these were: Nodirbek Abdusattorov, Ian Nepomniachtchi, Magnus Carlsen, and Fabiano Caruana.
Somewhat surprisingly, and a change from previous years, there were no play offs between all players on the same score. Instead, whilst the tiebreaks were considered to be good enough to settle who was 3rd and 4th placed, the regulations did not seem to consider them good enough to settle who was 1st and 2nd placed. Consequently, Carlsen and Caruana, despite disputing, had to settle for 3rd and 4th. Abdusattorov and Nepomniachtchi, meanwhile, had a blitz play-off to settle who was 1st and 2nd in the Rapid World Championship.
In the first blitz play off game, Nepomniachtchi pushed with the white pieces and was doing very well but was unable to finish the game off and it ended in a draw. In their second game, Abdusattorov secured a better position with the white pieces and traded down to a winning rook endgame with an extra pawn. The game ended in a wild scramble where neither player ever had more than 5 or 10 seconds on their clock. Abdusattorov missed a mate in 2 and Nepomniachtchi briefly reached an even position, but these objective evaluations don't mean much with both players playing mostly on instinct. In the end, Abdusattorov won and with 1.5 / 2 in the tiebreak, the 17 year old Uzbek prodigy was crowned World Rapid Champion, dethroning Magnus Carlsen.
In the Women's section, Kosteniuk took her foot off the gas a little - with less dominance against her opponents on the third day than in the previous two days - but still comfortably won the Women's section with an impressive 9 / 11. The promising Kazakh talent, Bibisara Assaubayeva, came second with 8.5 / 11, including draws against Kosteniuk and Gunina and a win against Nana Dzagnidze. Meanwhile, despite a rocky day two where she only got 1.5 / 4, Valentina Gunina came back strong with two wins and two draws, to take 3rd place ahead of Kateryna Lagno on tiebreak with 8 / 11.