Magnus Loses 2 Chess Games in 3 hours (and Wins a Titled Arena)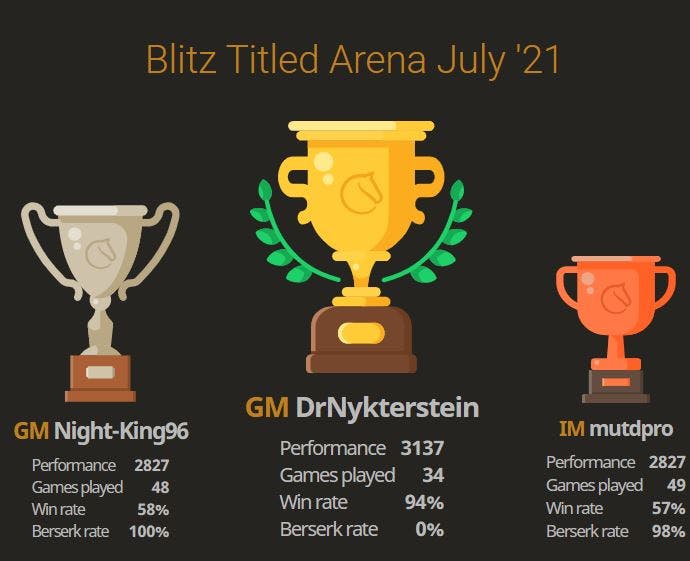 World Champion Magnus Carlsen won the Blitz Titled Arena by a 15 point margin on Saturday over 2nd place GM Oleksandr Bortnyk and 3rd place IM Minh Le. More notable than the victory for Carlsen was his incredible winning percentage. Carlsen started the event winning an amazing 30 games in a row. He then lost two of his last four games to finish with a winning percentage of 94%. It's unclear if he got tired or simply felt sorry for his opponents. 
Carlsen's final score of 120 points surprisingly doesn't compare so favorably with recent winners. The arena format finds a winner with a more interesting formula than the now totally archaic "who won the most." The last two 3+0 Titled Arena winners finished with more points than Carlsen, despite winning a significantly lower percentage of games (GM Sarana 124, GM Bortnyk 121) The cause of this phenomenon is partially the breaks that Carlsen took in this event, but also due to heavy berserking by Bortnyk and others. Bortnyk and Le played with half their time in almost all their games in this event. Carlsen never berserked once, and the most reluctant berserker after him did it 48% of the time. It seems the 3+0 arena "meta" has solidified on some high level of berserking. Carlsen's strategy of winning nearly every game may not be optimal, but this time it was good enough.
If you missed the action, check out our commentary on the event w/ IM Laura Unuk or the puzzle pack below.
https://lichess.org/study/2dLf9N4r/Jlj6Q0nu
The next Titled Arena is on July 17.