An increasingly common occurrence
Alireza notches up another TA win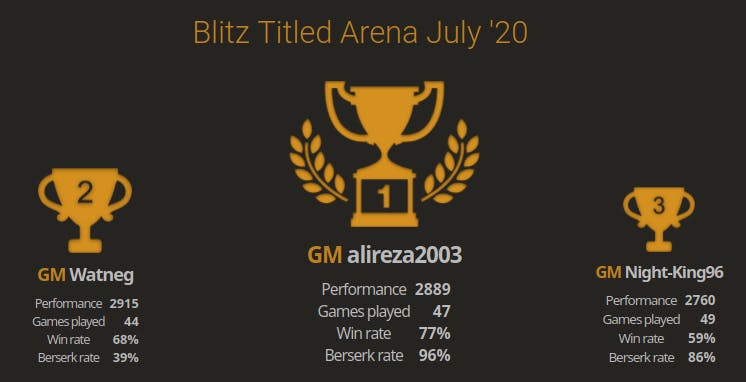 It was only a mere two years ago when a young International Master played in his first Titled Arena ever. While already a force to be reckoned with (He placed 7th in that arena and secured his final GM norm one month later!), few could confidently predict the meteoric rise that the young Iranian superstar would soon embark on with regards to his rating, his fame, and most importantly, his accomplishments. In this month's Blitz Titled Arena, GM Alireza Firouzja (@alireza2003) added another accomplishment to his long list and placed first in a field of nearly 900!
What's especially remarkable about Firouzja's performance is not the fact that he was able to outpace the stacked arena's 899 titled participants featuring the likes of Super GMs @Feokl1995 (Vladimir Fedoseev), @Vladimirovich9000 (Dmitry Andreikin), and @Konevlad (Vladislav Artemiev), nor is it because he won the tournament with almost a 40 point lead over his closest rival, the anonymous @Watneg. It's the fact that Firouzja was able to accomplish all of this while berserking an astonishing 96% of his games and maintaining a stunning 77% win rate with 47 games that is truly amazing. However, although Firouzja's commanding performance at first glance might convince some readers that the young Grandmaster dominated the event from start to finish, this was surprisingly not the case.
In fact, during the first hour of the tournament Firouzja was almost nowhere to be found. Despite winning his first game against IM Vincent Rothuis (@opperwezen), he paused after losing 2 games in a row to GM Oleksandr Bortnyk (@Night-King96), who continued playing great chess and placed 3rd, and the anonymous IM @chesscode93, whom he blundered a rook against in a winning position in time pressure.
https://lichess.org/VZEJG2IP/black
In his absence, the arena was led by GM Vladislav Artemiev by the end of the first hour. The Russian Grandmaster who ended up placing 14th was not able to hold on to his lead for long, however, due to his several draws, which on Lichess ends any streak, causing him to get fewer points overall for his wins. Consequently, first place was then mainly traded between GM Arjun Erigaisi (@Inventing_Invention) and Fedoseev before Fedoseev temporarily gained a small lead over his many rivals. Despite this, Fedoseev was not able to hold onto his lead for long as Firouzja coming out of his slumber finally made his presence in the top 10 known after a 12(!) game win streak and leapfrogged Fedoseev. After trading places with Fedoseev a couple of times, Firouzja was able to cement his lead thanks to another winning streak, this time 10 games, and never let go of his lead.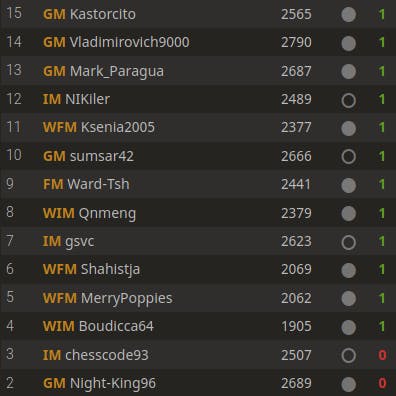 Firouzja's 12 game win streak served as the catalyst of his initial rise to the top after his disappointing early results
A truly spectacular game played by Firouzja during his initial 12 game streak was against GM Dmitry Andreikin in which Firouzja, despite starting off the game with a 90 second time deficit, (a risk of using Lichess's berserking option against a more conservative opponent) acquired a better position. However, after a slew of blunders by both sides (man, blitz is hard) Alireza found himself in an alarming position. Although Firouzja had two pieces for a rook, his king appeared to be weak thanks to Andreikin's active rooks and white's open second rank. However, Firouzja, doing what he does best was able to trick his super GM opponent into a mating net. Commentary of the waning moments of Firo's game can be found here: https://clips.twitch.tv/MistyArtsyPelicanHumbleLife. It's not every day super GMs blunder checkmate, and Alireza's peculiar ability to utilize dynamic play to cause the best players in the world to blunder under pressure is something that is certainly unique.
Noticeably absent from the arena's top standings was World Champion Magnus Carlsen who entered the arena 30 minutes after it started. The world champion amassed a 5 game winning streak before leaving as mysteriously as he arrived. Perhaps he was dissuaded by his first game against Candidate Master Alexander Mikhnenko (@Chess_Horse) where he had to work very hard to win down a piece!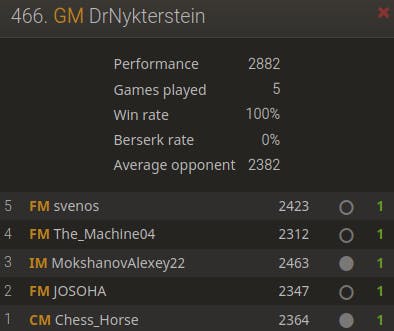 Despite the world champion's short stint, it's safe to say that his opponents were thrilled at the unexpected prospect of playing Carlsen in a blitz game!
With this recent victory, Firouzja has now won a grand total of 9(!) Titled Arenas. While it is now clear that Alireza has proved time and time again that he possess the ability to perform successfully in tournaments with strong fields, even ones in which the World Champion participates in as seen in last month's Bullet Titled Arena, one can only wonder what's next in store for the young Super Grandmaster as the chess world shifts increasingly more online. 
You can watch a recap of the event here:
The final standings were:
1st: GM Alireza Firouzja (@alireza2003)
2nd: GM @Watneg
3rd: GM Oleksandr Bortnyk (@Night-King96)
4th: GM Zaven Andriasian (@Zaven_ChessMood)
5th: GM Maksim Chigaev (@Fandorine96)
As always, thanks to the players, viewers and streamers for making this event not only possible but a joy to be a part of. Congratulations to GM Alireza Firouzja once again and the rest of the winners.