A Commanding Performance
Alireza takes home another gold for his collection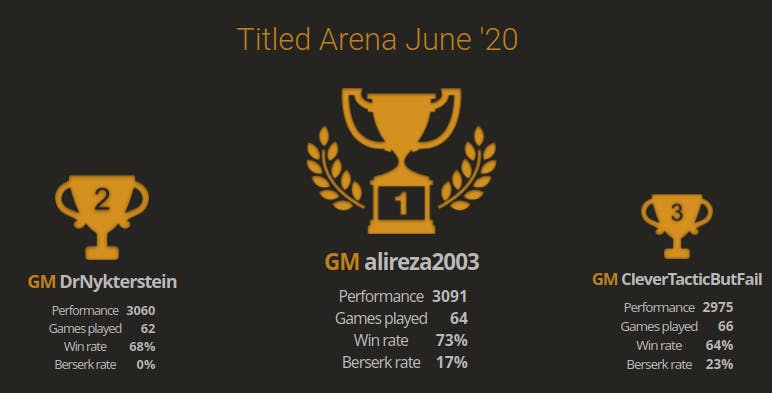 This month's bullet Titled Arena saw over 600 players battling it out for their share of the $1k prize pool, but more importantly the bragging rights of being the TA Champion for a month. The usual suspects lined up, but after strong starts from GM Inventing_invention and GM Arka50, GM Alireza Firouzja established an unassailable lead, seemingly cruising to victory.
It wasn't a weak field though, for example with previous winners @Konevlad, recently revealed as GM Vladislav Artemiev, and world champion Magnus Carlsen both playing. The latter also streamed the event and despite a bumpy start ended up in a strong 2nd place.
Another strong contender was GM Anish Giri, but he decided to withdraw after a berserk win against Magnus. Maybe not competing for the TA supremacy but rather, victory in the ongoing Twitter rivalry.
You can see a recap of the event standings below. Congratulations to all the players!
The final standings were:
1st: GM Alireza Firouzja (@alireza2003)
2nd: GM Magnus Carlsen (@DrNykterstein)
3rd: GM Andrew Tang (@CleverTacticButFail)
4th: GM Haik Martirosyan (@ARM-777777)
5th: GM Vladislav Artemiev (@Konevlad)
As always, great thanks to all the participants, viewers and streamers who make the event so much fun for us all. Stay tuned for the next events!