Berserkers Blast Rivals
Vladimir Fedoseev (@Feokl1995) found victory in the biggest and one of the most ferociously fought Lichess Titled Arenas to date.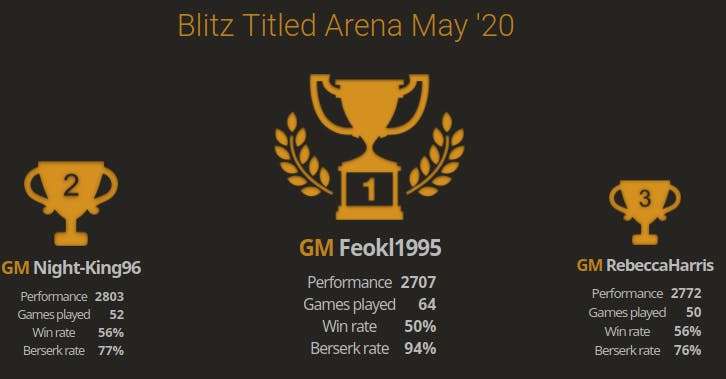 1,160 titled players battled it out over three hours of blitz action - at a 3+0 time control. 
Many of the world's top players played the event, with GM Anish Giri streaming the event for the full three hours for Lichess, giving key insights such as "you've got to play fast...and silent...like a vacuum cleaner". GM Maxime Vachier-Lagrave, also chose to end a relaxing Saturday with three hours of blitz. 
They were joined with other top players - such as the secretive GMs @Konevlad (still not the basketball player) and @Watneg who secured excellent results. Alongside them, GM Parham Maghsoodloo, GM Gata Kamsky, GM Rauf Mamedov, GM Jose Martinez Alcantara, and many others also played. 
But the clear meta of this tournament was to berserk. The feature, which gives halved time odds to their opponent, but in exchange for a bonus point to the risk-taker if they win, was relied on by virtually every player in the top 20 finishers (45% on average of the top 20, compared to 23% in the entire tournament). The top three all berserked more than 75% of all games they played, despite the fierce competition in the event. 
The final standings were:

1. GM Vladimir Fedoseev
2. GM Oleksandr Bortnyk
3. GM Daniel Naroditsky
4. GM @wizard98
5. GM Zaven Andriasian
https://www.youtube.com/watch?v=0Tpba9FEYgc&feature=youtu.be
In addition to GM Anish Giri streaming for Lichess on our Twitch and YouTube channels, other entertaining streams came from:

GM Andrew Tang (@penguingim1)
IM Eric Rosen (@EricRosen)
WIM Fiona Steil-Antoni (@Fiona)

And many many more!

The next Titled Arena will be a 1+0 bullet arena - anyone can play in the warmup, and titled players can already sign up for the main event.