A Finely Balanced Battle
Possibly the closest Titled Arena to date!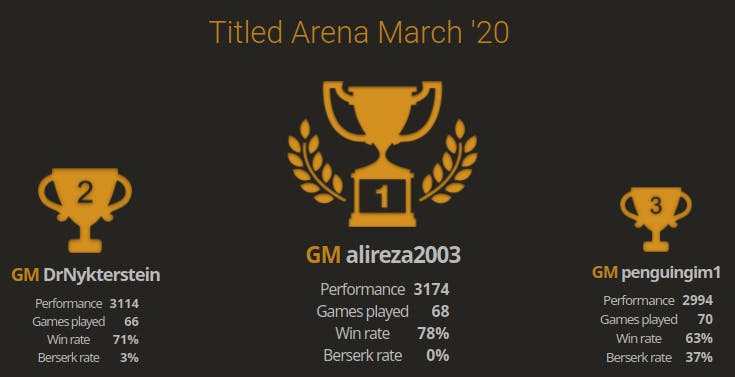 After several Titled Arenas without the reigning world champion, speculation had been rife about the reason. But for March's event, Magnus Carlsen returned. How was his form? Would he be able to supplant the reigning Titled Arena champion GM Alireza Firouzja (@alireza2003)? Indeed, January's winner was also participating, GM Andrew Tang (@penguingim1). Things were shaping up for quite a battle, and the three were all quick out of the blocks - settling into the podium positions within the first 30 minutes - and a good deal ahead of the rest of the pack. A quite impressive feat when most of the top players were rated over 2900 in bullet.
The games were hard fought and often frighteningly complicated like the example below - rare to see two GMs play a game with an average centipawn loss of 100+.
The patten was established - Magnus vs Alireza duking it out for first place with an 11-game series over the course of the event - and Andrew Tang in a secure (and berserk-heavy) third place. In the final 10 minutes their head to head score was Magnus 5 - Alireza 4, see the game below for their decisive face-off!
With that win, Alireza had extinguished Magnus's fire streak, forcing him to berserk his games in an attempt to catch back up. But it was not to be on this occasion and Alireza held firm in first place with a tournament performance rating of 3174. Congratulations to him and to all the players!
You can catch a quick recap of the event standings below:
The final standings were:
1st: GM Alireza Firouzja (@alireza2003)
2nd: GM Magnus Carlsen (@DrNykterstein)
3rd: GM Andrew Tang (@penguingim1)
4th: GM @FeegLood
5th: GM Federico Perez Ponsa (@Federicov93)
Women's prizes:
1st: WGM @slowdumb
2nd: WFM Surena Samdanova (@vera90)
3rd: WGM Karina Ambartsumova (@karinachess11)
We regret to announce that due to frequent abuse of the Women's prizes by violation of our TOS (account sharing), Lichess is discontinuing these prizes. We also wish to state that all current and previous Women's prizes were correctly awarded.
Player streams:
Commentary streams:
As always, great thanks to all the participants, viewers and streamers who make the event so much fun for us all. Another Titled Arena will be scheduled soon, stay tuned to our standard communication channels for details.