Return of the GMs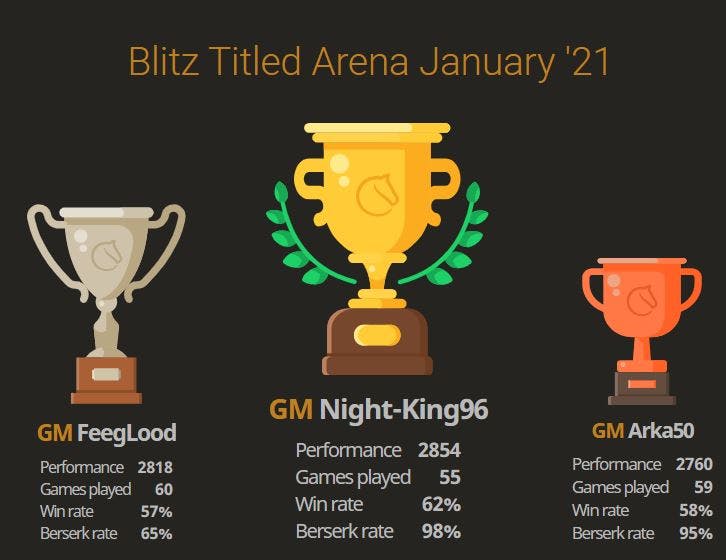 Grandmaster Oleksandr Bortnyk won the first Titled Arena of the new year on Saturday, and his second Titled Arena ever after winning one last August. Like his last victory, this event proved to be an extremely close affair with only 5 points separating 2nd and 3rd place from the leader. The 15+ point gap between the rest of the top 10 and first place might suggest that the top 3 was stable throughout the event. In reality, it was highly contested, with many players trying to stake their claim.
Last month's Titled Arena victor, IM Minh Le led for most of the first half hour of the tournament. However, Minh faced fierce opposition from Grandmaster Andrew Tang. Tang, who placed 32nd, proved to be a brake to Minh's strong start by flagging Minh after Minh hung a rook in their first encounter. He then beat Minh in another game after sacking an exchange in what proved to be a nice attacking game. 
Despite these setbacks, Minh was able to recover and maintain his position at the top of the standings. However, after being paired with Tang a third time, Minh was outplayed on the black side of a London. This ultimately ended Minh's grip on the top of the leaderboard, he finished 5th.
After Minh fell back, the arena was led by the anonymous GM Arka50 and Bortnyk. However, keeping up with the theme of the last 2 titled arenas which were won by Minh, a pair of Non-GM players stayed determined in their quest to have a Lichess Titled Arena won by one of their own. Soon, the tournament leader was IM Mahammad Muradli, a 17-year-old IM from Azerbaijan. He had a strong showing in the second hour, and began his claim to the throne with a nice endgame win against GM Arka50.
Despite his initial success, Arka50 and Bortnyk stayed on his tail, and the 3 frequently traded places with one another. As time ticked down, and the arena found itself at the halfway point, Bortnyk started building a lead with wins against his podium rivals. He also beat GM Daniel Naroditsky and Super GM Vladimir Fedoseev, taking advantage of a tactical blunder in a nice game versus the latter.

In the arena's last hour, the podium appeared to be relatively stable. However, almost a half hour into the last third of the arena, a new threat was beginning to emerge. GM Brandon Jacobson, after a relatively un-noteworthy start, shot up to the top 10 after amassing an impressive 9 game win streak while berserking all of his games.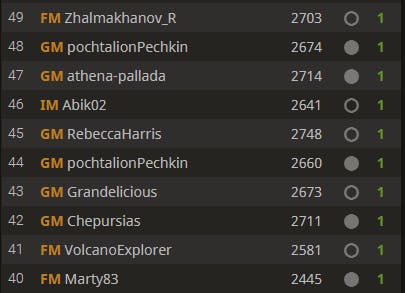 Brandon wasn't able to maintain this momentum, and his streak was ended by none other than Bortnyk. Nonetheless, the streak was impressive. Jacobson berserked all of his games in the tournament and was still able to pick up wins against renowned GMs like Naroditsky and GM Ivan Cheparinov. Jacobson's win against Cheparinov was particularly noteworthy as he was able to demonstrate the power of the 2 bishops in the endgame despite starting the game with half of the time of his opponent. 
Jacobson's impressive streak didn't leave the tournament standings unscathed as he was able to beat IM Muradli, knocking him out of the top 3. This allowed the mysterious GM FeegLood to seize the chance to jump into the top 3. While it was unfortunate to see IM Mahammad drop out of the podium after an impressive showing for the first 2 hours, it just goes to show how important stamina and the necessity to finish a tournament strong are when it comes to arenas. Even though Mahammad was able to maintain a top 3 place for close to 2 hours, he finished 8th.
A similar story almost occurred with Bortnyk. He lost 2 games in a row to Arka50 and Jacobson but was then paired again with Arka with less than 20 minutes to go. Losing this game could have cost Bortnyk his highly contested lead. However, Grandmaster Bortnyk maintained his cool, and beat Arka in cruising fashion after using tactical means to take advantage of his opponent's weak isolated c-pawns. 
Thanks to all the players and viewers for their continued participation and support. Without the support of the online community, these events wouldn't be possible. Congratulations to GM Olexander Bortnyk once again and the rest of the winners. 
Finally, a special shout-out to the players and viewers who elected to stream this arena. With the chess streaming community becoming extremely popular in the past few months, it's heartwarming to see streamers, some new and some old, being able to provide a player's perspective or commentary to an audience of hundreds to thousands.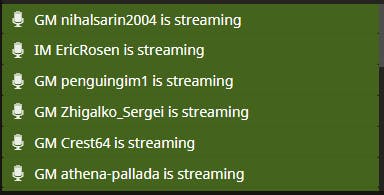 The next Titled Arena will be held on the 16. January. You can find the Titled Arenas for the coming months in one of our latest blog posts.