Announcing the 2019 Atomic World Championship
The 2019 Atomic World Championship is here!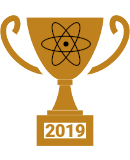 The 2019 Atomic World Championship is now accepting entrants. The 66 best players as judged by a rating formula plus the winners of two scheduled AWC Qualifier tournaments on August 17, 2019 will be guaranteed entry into the tournament.
The tournament kicks off on Monday, September 9 at 00:00 UTC. The deadline for registration is Sunday, September 1st at 00:00 UTC. If any qualifying matches need to be played, they will be played in the time between September 1 and September 9.
Full details about the tournament and rules, including how to enter, can be found at chronatog.com/2019/07/the-2019-atomic-world-championships/.
The players are responsible for organizing the matches against their assigned opponents and posting the scheduled time in the AWC forum: lichess.org/forum/team-atomic-wc/2019-awc-pairings.
What you need to know
Time control: 3+2 casual for the entire tournament.
Format: Single elimination knockout until 8 players remain, upon which it changes to a double elimination knockout.
Start date: September 9
Registration: Open until September 1
History
2019 marks the fourth iteration of the Atomic World Championship (AWC) organized on lichess.org. The Atomic World Championship has been intermittently held on different sites over the years, but @tipau took up the mantle of organizing them again on Lichess in 2016. The 2016 edition featured 41 participants, with tipau defeating @onubense in the final to take home the title.
2017 featured 44 players, with GM @Arka50 defeating onubense in the final to capture the world championship. Last year, Arka50 was able to defend his reign by defeating tipau in the final after 63 other players had slugged it out in a double elimination knockout tournament. Details about previous editions can be found at tipau's Atomic World Championship site at: sites.google.com/site/atomicchesswc/ or mirrored at Chronatog's site: chronatog.com.
If you're not aware of what Atomic chess is, here are the rules in a nutshell: lichess.org/variant/atomic.