Carlsen finishes in style to win May Titled Arena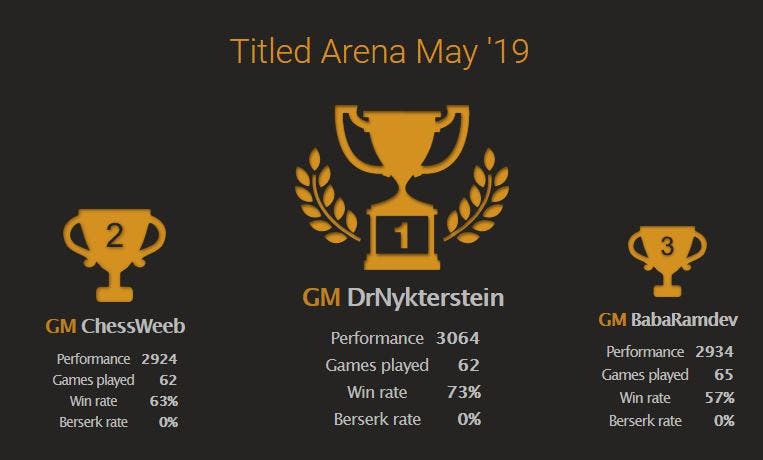 Magnus was in trouble! You have to believe me! He really was!
Looking at the May Titled Arena standings after the fact, it would be easy to think that Magnus steamrolled everybody. That may even be a fair assessment, but the inevitability of the steamrolling should not be exaggerated. With 1 hour and 20 mins of the 2 hour tournament gone, nothing had been decided. Magnus lost three games in a row and "paused". (i.e. took a break, possibly to look for his steamroller) From that point on, Magnus won 12 straight and 17 of 18 overall to win the tournament by a wide margin.
The arena format allows big comebacks if you can put a long streak of victories together as Magnus did in Titled Arena 4. He was down 30 pts and roared back to win. It also potentially allows the winner to put a huge margin between themselves and #2 which is exactly what happened here with Magnus finishing 30 pts ahead of the field.
Finishing in second, and making an impressive Titled Arena debut was GM Illia Nyzhnyk. At exactly the same moment that Magnus was passing through his dark night of the soul Nyzhnyk was himself losing 4 games in a row. "The good thing is that it's not just me losing" he was heard to say on his stream. Unfortunately for him, Magnus was done losing for a while.
Third place belonged to GM Akshat Chandra, his highest ever placing in the event. Fourth place was 15 yr-old phenom GM Alireza Firouja, who could be challenging Magnus in classical events as well before too long.
The fierce battle for fifth was won by GM José Carlos Ibarra Jerez. He also contributed one of the steamroll-instigating losses for Magnus, with a finish that would make an excellent mate in 4 puzzle.
As always, streamer ChessNetwork provided excellent commentary for the event. At this point he's almost as much of a fixture as Magnus.
https://www.youtube.com/watch?v=ee5z4Vpgy-I
Another Titled Arena will be scheduled soon, Stay tuned to our standard communication channels for details: