Publicly known player wins Titled Arena for the first time in a month as 22,000 battle in the Marathon
I can't tell you how good it feels to be able to announce the winner of the Titled Arena in the blog post about who won the Titled Arena.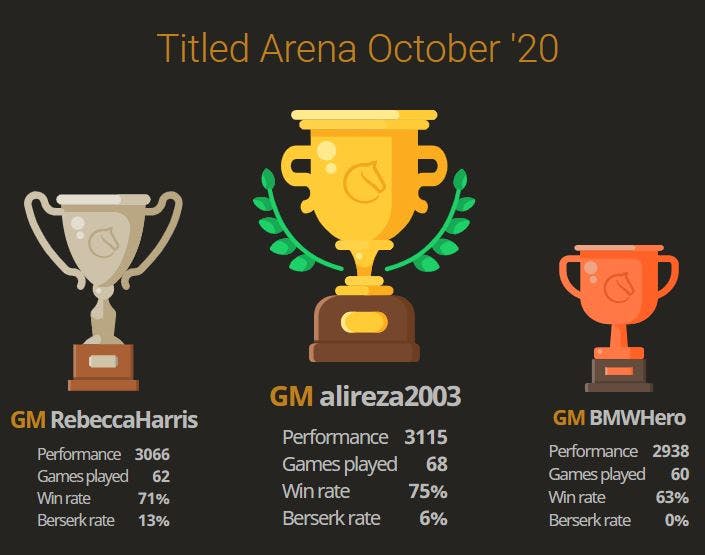 The streak of anonymous Titled Arena winners was broken yesterday as GM Alireza Firouzja won the October Bullet Titled Arena, 20 points ahead of second place, GM Daniel Naroditsky. Believe it or not, this represents progress for Naroditsky, from the August edition of the same event where Alireza finished 29pts ahead. GM Vokhidov Shamsiddin took his first Titled Arena prize, finishing third. Fourth was taken by GM Andrew Tang and fifth by today's anonymous community representative GM FeegLood.
Alireza established his position at the top of the leaderboard after about a half hour, his lead fluctuated a bit but he never seemed to be in much trouble. Naroditsky started the event 15 minutes late, but as many have pointed out, it's unclear how much of a disadvantage this is. He feasted on the bottom of the table, winning 14 in a row to start the event and quickly reaching his accustomed place among the leaders.
GM Andrew Tang streamed the event, which gives us a chance to see just how incredibly fast and skilled these players are.
https://www.youtube.com/watch?v=lx1w-__gdOA
Tang played the final 20 moves while only spending 0.26 seconds on his clock. 
The Titled Arena wasn't the only big event on Lichess yesterday. The Autumn Marathon was played concurrently. If you're not familiar with the format, it's the same kind of Arena tournament as the Titled Arena, but anybody can play and the event lasts 24 hours instead of 2. Players are free to take breaks whenever they want, (just like any Arena) however the "latejoin" strategy mentioned above is not nearly as effective because of the incredible volume of games that must be played to compete with the leader. You could win every game you play for hours and hours and still not catch somebody who started many hours before you. In fact, we had a very concrete demonstration of that in this event!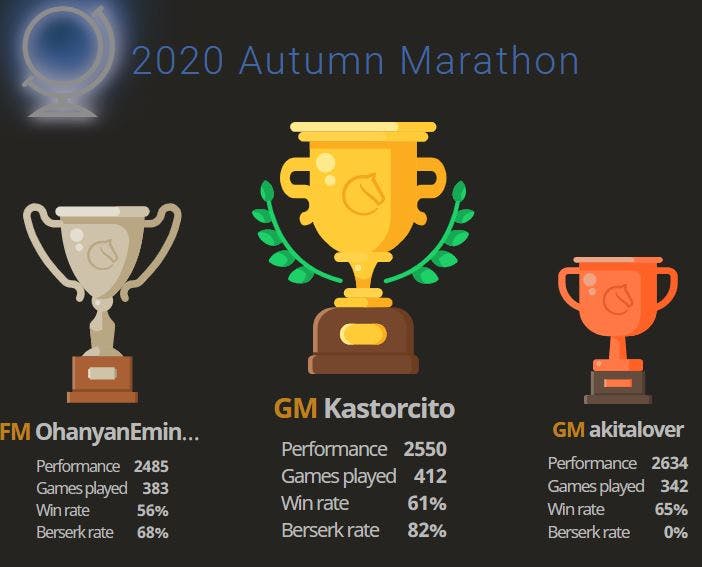 The event was won by GM Rodrigo Vasquez who played an incredible 412 games, berserking 82% of them. FM Emin Ohanyan and GM Alexander Rustemov were nipping at his heels throughout, but finished 2nd and 3rd respectively. Our "just start whenever and win every game" test case in this event was GM Alexander Morozevich. The retired Super-GM absolutely devastated the competition as he rocketed up the standings. He won 93% of his games, but there simply weren't enough of them. His performance rating was 182 points better than Vasquez's but it hardly matters because he played 244 fewer games. Morozevich eventually finished in 6th.
The next Titled Arena is November 7th.
The Winter Marathon is December 27th.