Photo Finish for Titled Arena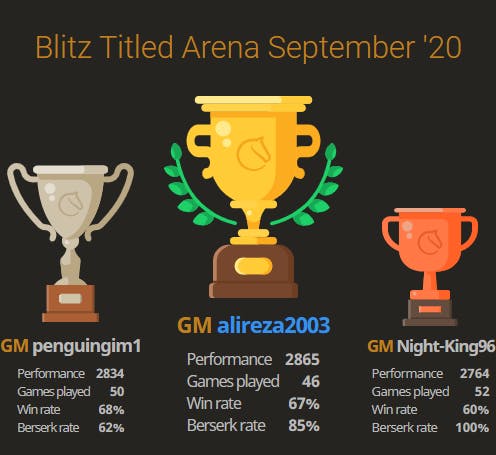 With 5 minutes left to go in the Lichess September Blitz Titled Arena, GM Andrew Tang's chances to win seemed slim, he was 6 points behind GM Oleksander Bortnyk and 4 points behind GM Alireza Firouzja. However, Arena streak scoring rules increased the chance of a comeback dramatically and Tang had "fire," i.e. he was on a winning streak and every point scored would be doubled. After 2 quick victories Tang was suddenly only 2 points behind the leader. As the clock ran out, he quickly agreed to a draw, giving him the 2 points necessary to reach the leader. When he returned to the tournament standings page his heart sank to see his name in second. He and Firouzja both scored 125 points, but Firouzja took 1st on tiebreaks.
On Lichess, ties in arena tournaments are broken by performance score, and Firouzja's was 30 points ahead of Tang's. Anyone unhappy with the system is welcome to suggest a better one. Many traditionally popular tie-breaks are completely unworkable because all players don't play the same number of games and the pairings can be wonky, they value minimizing non-playing time over balance. Head-to-head record has been suggested as a tiebreaker, but it wouldn't have helped in this case. Tang and Firouzja did not play each other during the event.
As always the event was swarmed with high-profile streamers. As a streamer, Tang was joined by GM Anish Giri, GM Peter Svidler, GM Daniel Naroditsky (In Russian), and many others. 
The events keep coming on Lichess and you'll only have a day of rest until the next one. On Monday, 4-time Woman's World Champion GM Hou Yifan and former world #2 GM Alexander Morozevich will play a match. Live Commentary and player interviews will be provided on WIM Fiona Steil-Antoni's channel.