GM Magnus Carlsen wins fourth consecutive Lichess Titled Arena
T. Alexander Lystad (@arex)
Chess
The craziest finish yet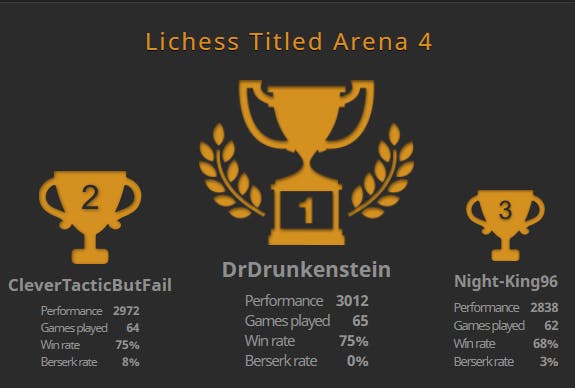 Lichess Titled Arena 4 set all kinds of new records. This time around we had 218 titled participants, including 34 GMs, playing bullet games against each other for 2 hours straight. Would World Champion Magnus Carlsen be able to defend his three-event long winning streak against this strong field?
An unknown GM account, @CleverTacticButFail, who was later revealed to be GM Andrew Tang, took the lead early on and held it for most of the tournament. At some point, GM Magnus Carlsen (@DrDrunkenstein) was more than 30 points behind the tournament leader. However, the last 30 minutes of the tournament turned into an insane comeback story that will be remembered for a very long time. Tang's nerves may have gotten in his way, or maybe he just got unlucky. In either case, he took a few losses and draws and was unable to maintain the valuable fire (winning streak). Magnus Carlsen, on his part, pulled off an incredible, and unheard of, 19-game winning streak to close the gap and finish the tournament 8 points ahead of Andrew Tang.
In this event there were prizes for the top 6 finishers:
Yet again, Magnus decided to donate his first place prize back to Lichess, which means that the next Lichess Titled Arena first place prize will be even bigger. We appreciate the generosity, and are looking forward to see who will attempt to win the jackpot next time.
Luckily, a huge number of people got to take part in the excitement of this tournament. We had at least 18 titled players streaming the event with around 8,000(!) people watching. In addition to GM Magnus Carlsen, viewers could watch streams by GM Cristian Chirila, IM Christof Sielecki, IM Lars Oskar Hauge, FM Levy Rozman, CM Tryfon Gavriel and NM Chess-Network. IM Eric Rosen provided the official commentary.
For those who missed it, you can catch Eric Rosen's commentary here, Magnus Carlsen's stream here, and Chess-Network's stream here. IM John Bartholomew recorded his participation and posted it to YouTube.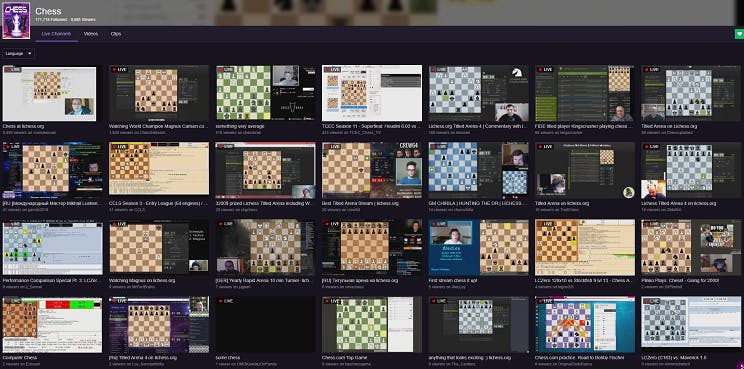 Lichess Titled Arena blanketing the virtual airwaves
The next Titled Arena will be held roughly a month from now; the exact date and time will be announced later. Who knows who might play?
Stay tuned to our standard communication channels.