Caruana, Kramnik and Mamedyarov victorious on first day in Berlin
Fierce action in the 2018 Candidates Tournament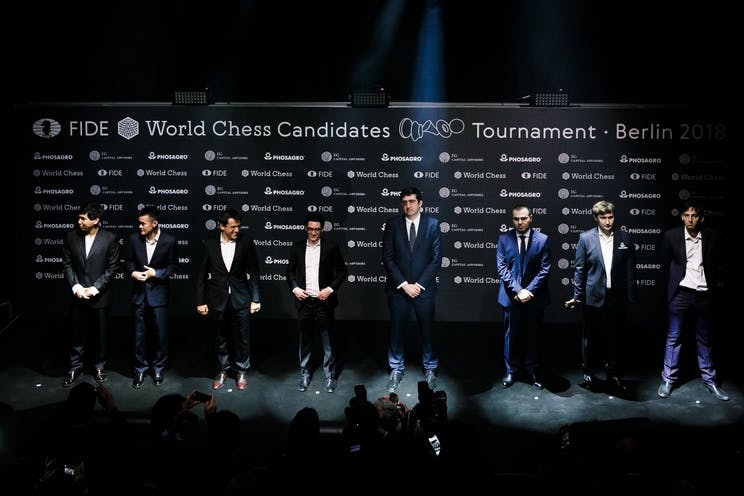 The 2018 Candidates Tournament began on Saturday. 8 players will play a 14 game double round robin and the winner will advance to play a World Championship match later this year with current champion Magnus Carlsen. The tournament will take place in Berlin from March 10th to 29th.
Fabiano Caruana vs Wesley So
In the previous Candidates tournament in 2016, Caruana lost in the final round to tournament winner Sergey Karjakin. Wesley So will be playing in this tournament for the first time ever. The 2 Americans played a tense Catalan which started slowly but Caruana took control on the kingside, leading to So's resignation with his king in mortal danger.
https://lichess.org/study/dJExdVEa/zKndECSs#0
Vladimir Kramnik vs Alexander Grischuk
At 46, Kramnik is the oldest competitor and the only former World Champion competing in this tournament. Alexander Grischuk hasn't played in a Candidates tournament since 2013, and famously came one game short of winning the tournament in 2011. Kramnik began the battle by playing the unusual 3. b3 and slowly took control of a quiet game. Grischuk lived up to his reputation for creativity by maneuvering his rook to g5 and then trapping it there with 22...Ne5. The wayward rook was eventually forced into sacrificing itself. Later, Kramnik brilliantly gave the sacrifice back to maintain control. Eventually the white passed pawns on the queenside were too strong and Kramnik was victorious.
https://lichess.org/study/dJExdVEa/BaAM4bFk#0
Sergey Karjakin vs Shahkriyar Mamedyarov
Sergey Karjakin won the tournament the last time around and came very close to toppling Magnus in their resulting match. Mamedyarov has been lurking around the edges of the top 10 rankings for a long time before recently exploding up to #2. This was our longest game of the day as Mamedyarov achieved an advantageous queen ending and slowly ground Karjakin down.
https://lichess.org/study/dJExdVEa/E4VdLfCB#0
Levon Aronian vs Ding Liren
Ding Liren is the first Chinese player to break through to the candidates tournament. Meanwhile, Levon Aronian has been a consistent member of the top 10 for more than 10 years. This interesting imbalance of Candidates tournament experience led to the only drawn game of the round, but it was far from toothless. Aronian tried to sacrifice a pawn but Ding judiciously declined. A very strange position with the queen trapped on a6 arose and the game ended with a perpetual, not on the king but the queen.
https://lichess.org/study/dJExdVEa/6zp4WuhW#0
All in all an exciting opening round to the Candidates tournament and we eagerly look forward to how the remaining games unfold.