Vachier-Lagrave wins Sinquefield Cup 2017
The decisive day in St. Louis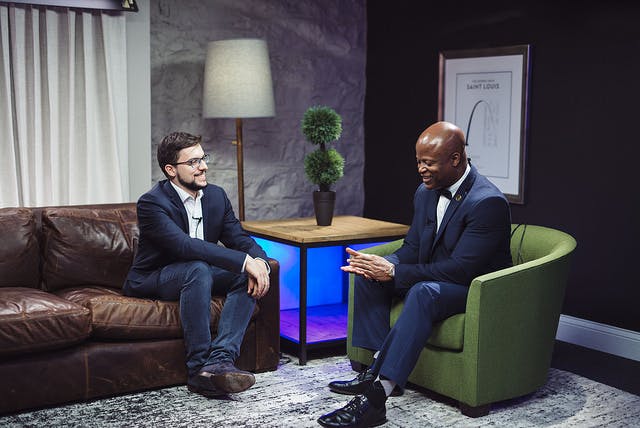 Entering the final day of Sinquefield Cup Levon Aronian, Vishwanathan Anand, and Maxime Vachier-Lagrave were all tied for 1st with Magnus Carlsen and Sergey Karjakin a half point behind. The 3 leaders would all be nervously watching each other's games trying to figure out how well they needed to score to keep up and the 2 trailers would need to win to have any chance of catching them. The tiebreaker system was complicated: A 2 way tie would be decided by a playoff the next day, while if 3 or more players were tied the winner would be the player with the most wins in this tournament.

Vishwanathan Anand - Wesley So

Anand entered this round as one of the leaders, but his chances to win this event were not as good as you might think because of the tiebreaker rules. Those opposed to the current system will point out the irony of a player ruing his poor luck to have gone undefeated in a tournament instead of losing a game somewhere along the way. Anand must have seen how well Vachier-Lagrave's game was going and known he probably needed to win, but beating Wesley So isn't easy no matter how bad a tournament he may be having, and the game finished in a draw.
https://lichess.org/study/IdIqECUg/UrXalBCG#0


Hikaru Nakamura - Sergey Karjakin

The scenarios where Sergey Karjakin finished today in 1st were obscure but they all definitely at least involved him winning this game. The game was not what you'd expect from a bridge-burning, all out winning attempt as a relatively quiet position dissolved into an irretrievably equal endgame around move 30. On the other side of the board Hikaru won't be too upset with a draw after dropping a decent number of rating points this tournament.
https://lichess.org/study/IdIqECUg/6stGdzqL#0

Peter Svidler - Fabiano Caruana

This game was the neglected stepchild today as it had no possible effect on the tournament winner. Despite the lower stakes the game was well fought and interesting. Svidler won a pawn on move 25 and slowly pushed his passed d-pawn forward until Fabiano resigned. Winning the game pushed Svidler back up to an even score which should make him happy as one of the lowest rated players in this tournament.
https://lichess.org/study/IdIqECUg/cc0zUVZp#0

Maxime Vachier-Lagrave - Ian Nepomniachtchi

It would have been disappointing if 2 of the world's foremost Najdorf practitioners didn't play a Najdorf, and that's exactly what happened. The 7 Nf3 variation that Maxime played is not the most exciting way to play, but it's hard to blame him given how well the game went. Nepomniachtchi slipped into a very passive position with a very unimpressive dark squared bishop against Maxime's dominating Knight on d5. By the time Nepomniachtchi resigned Vachier-Lagrave could have known where he would finish based on what was happening in the game Carlsen - Aronian. Speaking of which:
https://lichess.org/study/IdIqECUg/QCcxpNUN#0

Magnus Carlsen - Levon Aronian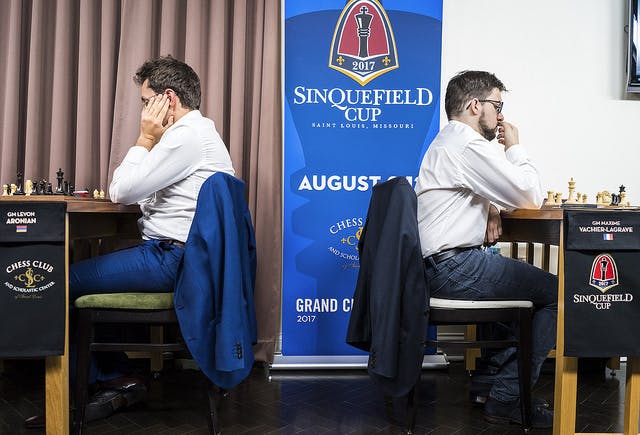 Photo: Lennart Ootes, Grand Chess Tour

Among the 3 leaders at the beginning of the day Levon had the best chances to come out ahead in a tiebreaker because of winning the most games, but his chances were significantly hurt by being paired with the World champion on the Final day. In the game, Magnus grinded and grinded, winning a pawn on move 22 but burning through most of his time. Approaching the time control Levon made a desperate sacrifice to expose the enemy king and Magnus dramatically came within 2 seconds of running out of time while defending it. Once he reached the time control at move 40 the excitement was over and a Magnus victory seemed assured. Levon understandably played on a lot longer than he would have in a different situation but eventually succumbed which means that Maxime Vachier-Lagrave was the winner of Sinquefield Cup 2017!
https://lichess.org/study/IdIqECUg/xZdARrfn#0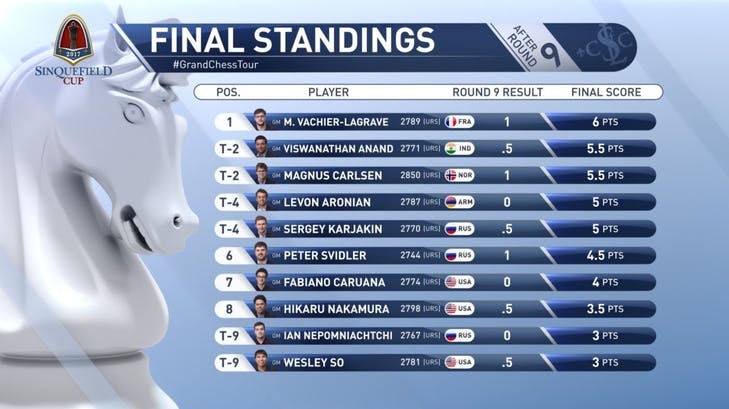 Image courtesy of grandchesstour.com