Developer update
James 'Clarkey' Clarke & Thibault Duplessis
Announcements
All the little things we've made over the past 5 months.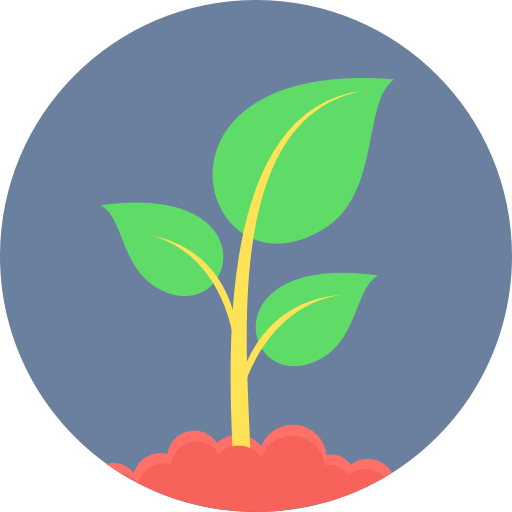 Tournament Divisions
Tournaments have been a growing part of lichess, and they are getting BIG. But the trouble is, with so many players and so many strong players, for average players it can seem a bit moot to compete. To open the playing field up a bit, we're trialing tournament divisions.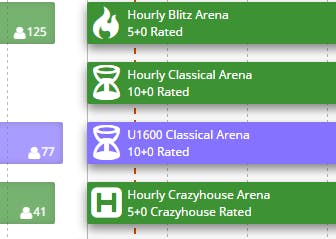 Tournaments are now broken up into Under 1600, Under 2000 and Opens. Open tournaments will follow the same schedule as always, and at the top of the hour every hour there will be a new rating restricted tournament. They'll alternate between U1600 and U2000 and cycle through the popular tournament time controls: 3+0, 3+2, 5+0 and 10+0.
At the moment they are being run as a trial, but in the near future we hope to increase the amount and variety of tournaments that are scheduled.
Statistics
We love statistics, so there's been two big improvements to satiate that demand.
Firstly, there's rating stats. There's now a lot more information that can be viewed behind that one little number. Just go to your profile page and click on the rating that you'd like to see more information about. From there you'll find information about your greatest victories, your worst defeats; your greatest winning and losing streaks, and a break-down of where you spend your time.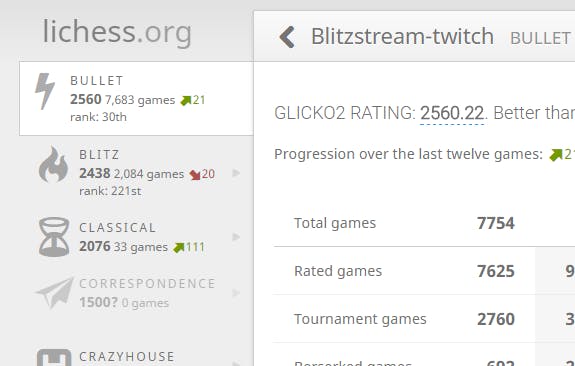 Secondly, the global rating stats show how you compare to other players, for each variant.
Finally, we've put information from all the tournaments that you've competed in into one place. From your profile page, clicking on the Tournament Points counter underneath your username will show you a list of all the tournaments you've competed, your best results, and a break-down of tournaments performances.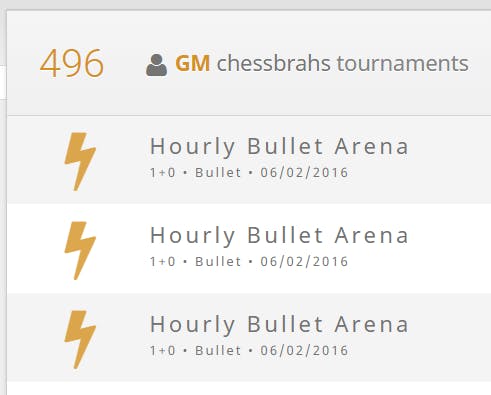 Computer analysis
Analysing your games is the key to success! Lichess innovates with a hugely scalable distributed Stockfish computation network, providing better and faster chess analysis than ever.
Everybody can request unlimited analysis for free
The very latest development version of Stockfish is used, with support for lichess variants
Each move computes three million nodes (that's about 18 plies deep)
Analysis is streamed to you in real-time. From end to start, because it improves Stockfish's strength.
Local evaluation now also uses Stockfish 7 for immediate blunder checks of your variations
And so much more
Security! All pages on lichess are now encrypted using HTTPS and WSS.
6-men endgame tablebase, replacing the opening explorer in endgames!
Conditional premoves even when it's your turn to play.
Fast FEN/PGN import in analysis, and a variant selector.
Board editor rewrite and redesign.
Challenges rewrite and redesign.
New game time controls: 30s, 45s, and 90s.
Chat presets (say Hello and Good luck with two clicks!)
Public chats are better moderated.
Clocks now display hundredths of seconds when in time trouble.
Typing @username in a forum post will notify the mentioned party of the post.
A new notifications system (which likely told you about this blog post).
Tournaments: average opponent rating, performance rating, detailed pairing infos, and best game TV.
Finishing a tournament in a podium position will shower the podium with confetti.
Games lost on time during unplanned outages are now aborted.
Improvements to automated cheater detection.
Fancy pages for lag inspection, realtime world map, swag store, and the 404 mini-game.
Studies, of course :)
And the new mobile app!
A sound theme that generates live music out of chess games.
And loads more tweaks, bug fixes and performance improvements.
That's it for now! Thanks a lot to all contributors and donors who make lichess possible. The online chess community is better than ever, what a great time to be alive!