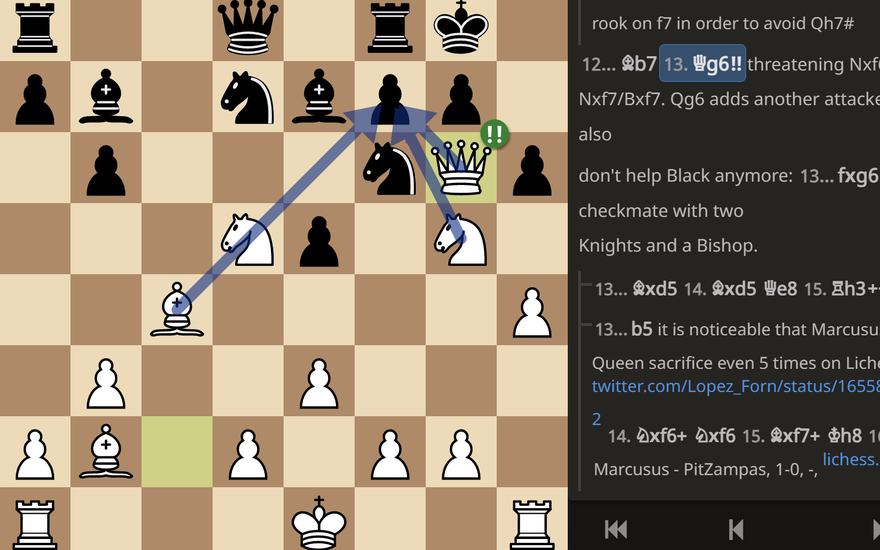 Lichess Game of the Month: April
Brilliant queen sacrifice by Marcusus!
Chess can sometimes be a frustrating game. Even after finding plenty of good moves, a single mistake can make a solid position vanish and potentially even lead to an instant loss. As chess players we often feel pain and sleepless nights after an unforgettable blunder.
However, keeping track of our own successes is important for us in order to stay motivated. In chess terms: we recommend you to keep a record of brilliant games you played and put them into a Lichess Study, for example. Then, after a defeat, there is a record of brilliant games to remind us we are actually much better at chess than we may think we are.
That is also why we have just introduced the following contest post on May the 1st on our various Social Media platforms:
By May 4th, several of your best games of April were shared by you via Mastodon, Facebook, Twitter, Instagram and Telegram.
Our team has carefully checked each of your suggested games the day after and invited you to vote for the Game of the Month between the following four games:
Final voting between the best four games selected by the Lichess team
Final voting - Game 1: UnExodia vs. JOEL_Mares
Final voting - Game 2: Marcusus vs. Tinu24
Final voting - Game 3: JemFireeee vs. lixuemh
Final voting - Game 4: Eltun_LTN vs. senan2006
You voted as following across all our Social media platforms:
And the winner is: @Marcusus! The Catalonian Lichess streamer informed us via Twitter that he already played the Queen sacrifice 4 times, even before his latest encounter in April. Lichess moderator FM Jens Hirneise alias jeffforever took a deeper look into the brilliant game:
https://lichess.org/study/uXGCyGW2
We will announce the voting for the next Game of the Month May on June the 1st. Stay tuned on all our socials!