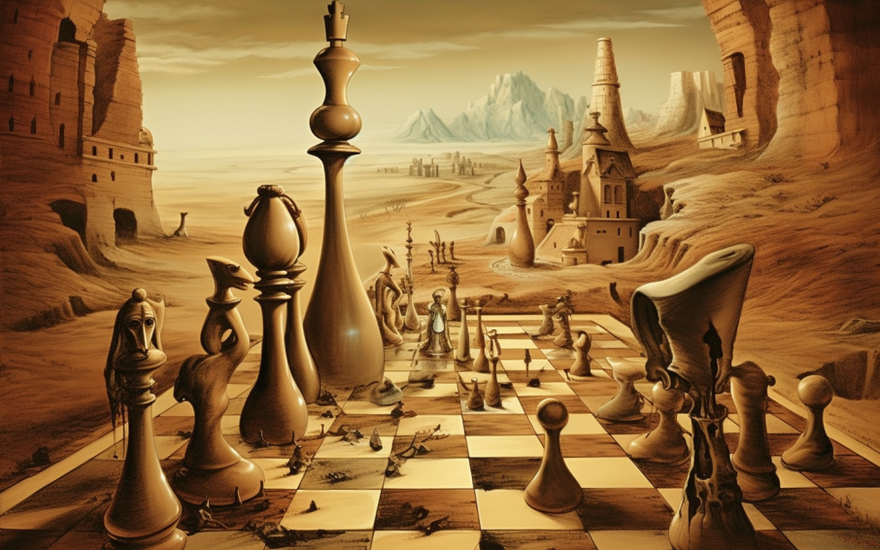 Lichess4545 Round 4: Stranger Than Fiction
After another wild week of 45+45, we've reached the halfway point of Season 35. Round 4, however, made it clear who the real sharks are going to be this season (and who's just splashing around in the shallow end).
Weirdest Match Finish of the Season
Top billing this week goes to the match between Caro Kann But We Kann't and Pawn Fiction, which after a topsy turvy battle ended in slightly bizarre fashion. Pawn Fiction were leading by one point with one game left to play, meaning that @Hildingr only needed to draw as Black to clinch them the match, while @STCLion needed to win with White.
Indeed, things seemed to be going well for White after 25...Kg8 - especially after the continuation 26. Ne7+ Kh8??:
https://lichess.org/03T8bVAn#48
Can you spot the win for White?
Alas, White didn't spot the necessary queen sacrifice (Qxf2), instead deciding to repeat the position for a draw, gifting @Hildingr the half-point they so desperately needed.
We're not sure what exactly happened, but just when you think you have seen it all in the league, it seems to throw another curveball.
Leaked Prep Gambit Continues to Dominate
In contrast, the other perfect team after Round 4 polished off their opponents much more cleanly, dismantling The Miskatonic University Chess Club by the convincing margin of 5.5-2.5. The wildest chapter in this beatdown was probably on Board 8, where @masterofblunders420 managed to defeat @keeto.
https://lichess.org/24Styxbu
History beckons for @ragnarokgame
With a current streak of 13 consecutive league victories, @ragnarokgame is already in the record books and is getting oh so close to the absolute league record of 15 straight wins - held by IM @lovlas. In Round 4, @HunterDavis became the hunted, losing their queen on move 15 to become ragnarokgame's latest victim. Will anyone stop our hero? One of the Ledger editors hopes so. But no doubt, they'll have the full support of their teammates from A Sac a Day Keeps the Wins Away (currently 2-2 as a team) as they try to continue this dazzling win streak.
https://lichess.org/sPrqMLe3
Next week in Round 5, the spotlight will clearly be on the two remaining 'perfect' teams. Check back next time to see who'll emerge on top when Pawn Fiction locks horns with Leaked Prep Gambit!
---
Blitz Battle Returns
After a six-month break, Blitz Battle returned with its 113th edition on Saturday 3 June in its usual form: a 3+2 Swiss tournament exclusively for league members.
After seven intense rounds, several players were on five points, but one player was a half-point ahead - @Jelle1 - who therefore had a golden opportunity to clinch their second Blitz Battle win in the final round (after winning Blitz Battle 104 in April 2022), as White against @jwwells42.
But while Jelle1 was definitely the pre-game favourite (by rating), the game turned out to be a classic Blitz Battle rollercoaster. First, they found themselves in a hole after blundering 16.Nxb6 to lose a piece. But they kept up the fight until mutual time trouble and on move 32 Black blundered material back with Bxg2 (indeed saying later that they played it "just to avoid flagging")...and some moves later, Black again tripped up in time trouble, this time terminally - giving up mate in one.
https://lichess.org/jQOU432G
Thus @Jelle1 successfully seized the opportunity and secured their second Blitz Battle title. A well-deserved victory! Hats off also to @thatoneguy1475 and @sahkal, who claimed second and third spots respectively, and thanks to everyone who participated!
---
Tales from Infinite Quest by @Silkthewanderer
I'm still clearing the Quest update backlog from when the Ledger paused during the offseason. Below are the most important talking points of Weeks 121 and 122.
Congratumisserations!: Far be it from me to pass judgment on my players - but if you plan to invite @sahkal to a celebration, maybe think again. This advice comes too late for @lelouch_vi_brittania who ascended to Level 13 in Week 120, finally surpassing the previous record that had stood for eleven months... only to be defeated by @sahkal shortly afterwards. At least there were 'only' five Bonus XP stolen, which means that @sahkal will require a further win to make their jump from Lvl 8 to Lvl 9. It was however crucial in propelling them into the Top 10 leaderboard for the first time.
They would make a Best-Of-Football team, though: @sahkal grabbing 10th place in the leaderboard came at a cost for @jwwells42, who got overtaken and ended up in 11th. Fret not, the Summary page in the Quest spreadsheet also has the Top 10 list of players with the best record in the past year, and, uh, @jwwells42 is also 11th in that regard. They are definitely among the most prolific and persistent Questers and hold Top 10 ranks in terms of Matches Played and Matches Won - and there is always another week to reclaim the Top10 rank in one of the official leaderboard lists.
The Clash of the Battle-Hardened Bookends: If we are talking about Top Players in Quest, @adande1 and @Zubenelgenubi stand out. Not only because they are top/bottom in alphabetical order but also because they are the ones with the greatest number of completed matches. @Zubenelgenubi has a small advantage in terms of matches played overall (108 v. 107) and their direct matchup (3-1 matches). With them being once again paired against each other, @adande1 has a chance to catch up in exactly one of these two statistics, I will leave it to you to figure out which one.
Rivalry is not consigned to the pinnacle: Not all pairings have as much history as the aforementioned one. Quite often you have new pairings that still carry a lot of intrigue, though. At least this is what I had hoped for with @RSInternecio and @root2 - both of them still reasonably fresh within their first 20 matches and exactly the same Lvl and XP and both just one more win from Lvl 7. I was so looking forward to their encounter - but alas, rematch avoidance dictated that they get paired against some of the 'older' veterans first. Their first direct clash will have to wait.
By extrapolation they will break my scoring logic next: I am happy for everyone who returns after a long break but one extra shout out is well deserved for @Haspelknecht. Not only because they are a co-runner of the second Quest-like competition in the 4545 Slack's #correspondence channel, but also because their pace is intriguing - this is their third match since they first joined in January 2022 and the results, in order, were 0:3; 1,5:2,5 and 3:0. From here, the sky's their limit.
Other laudates: Besides these major highlights, we also celebrate new Levels attained by @mynameismund (9), @pulsar512b (8), @j3084 (6), and @S4AD1ST (6). Also, @tommeketoch celebrates their 50th completed Quest match.
---
Lichess4545 is an online chess league for people who like playing long time control games online. Players are assigned to teams and play one game per week with a 45+45 time control. For more information visit our league home page.
LoneWolf is a side league of the Lichess4545 league. It is an 11-round Swiss tournament where players play one game per week with a 30+30 time control. For more information about the LoneWolf tournament visit the LoneWolf homepage.
Infinite Quest is a perpetually ongoing 4 x 15+10 rapid side league of the Lichess4545 league where everyone collects XP and gains Levels at their pace. Players can join, pause and resume anytime, a new round starts every Wednesday with pairings for everyone checked in for that week. More information is available from the league Slack or this summary.
This Ledger post is licensed under a Creative Commons Attribution-NonCommercial-ShareAlike 4.0 International License (CC BY-NC-SA).
This week's contributors: @Tranzoo, @izzie26, @SilktheWanderer
Title image created by Midjourney