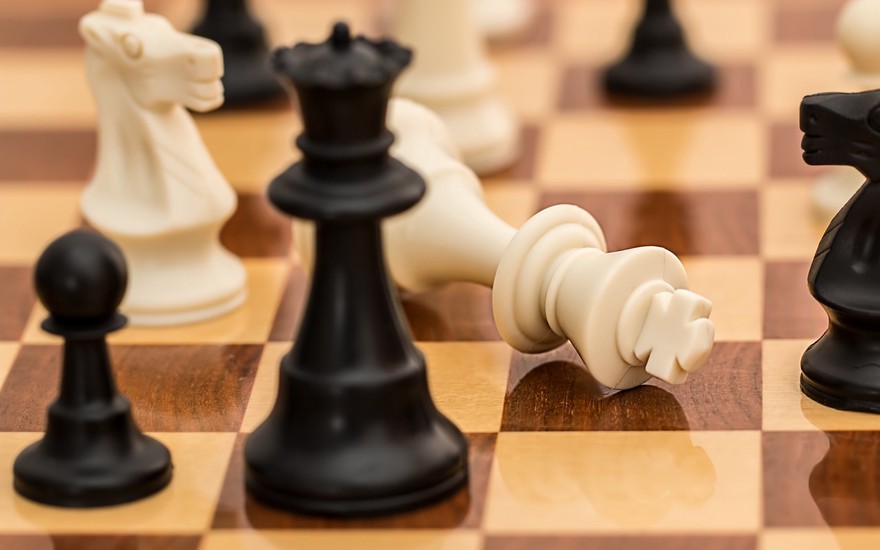 Title image from stevepb on Pixabay
Lichess4545 Round 3: Contenders Emerging
Plus, we get to know glbert! Well, we try...
Who remains perfect after three rounds of Season 35? Let's see what happened last week.
The most enticing match of the round was the duel between Do I have to attend the press conference? and Leaked prep gambit. Both teams entered the match having won their previous two matches. But after taking an early lead thanks to @Memethan, the gambiteers proceeded to leak points rather than prep, such that when Sunday dawned they trailed the press avoiders by two points with only three games left to play. The permeable ones appeared destined for the drink of defeat, but a sudden lifeboat appeared on the horizon in the form of @deathmetalled and @SamHagen, whose twin victories set up a titanic decider between the alternate Racheschach (playing their second ever 4545 game!) and antazhi8.
https://lichess.org/XEeIryWJ
And in the end the almost-rookie super-sub pulled off a wonderful victory to complete the comeback for Leaked prep gambit, who remain perfect. See below for the 'story' of their match (and check out all the stories from last week here, courtesy of @izzie26).

A second battle between perfect teams saw The Miskatonic University Chess Club meet Don't Mean A Thing, If It Ain't Got That Ding. Once again, there were comeback possibilities as DMATIIAGTD reduced their deficit from three points (before the weekend) to just one point, with one game left to play. However, this time the fairytale finish proved to be a mirage as @bufferunderrun drew with @Jelle1 to allow TMUCC to escape with a victory and retain their perfect record.
https://lichess.org/tO4VlRIc

The other two perfect teams through Round 3 are Pawn Fiction and Caro Kann But We Kann't. But remember that in the last five seasons, no team that has started the season with three wins has gone on to win the title. There's a long way to go in Season 35, starting with Round 4, where our four perfect teams will play each other in a pair of heavyweight clashes. Stay tuned!
---
glbert breaks the 200-game barrier
This week, we celebrate another milestone. Only two players have played 200 league games, and the player who did it most recently is none other than everyone's favourite cranky league moderator - @glbert!
In a league career that may have started before the Common Era - well, Season 6 - glbert has managed a quartet of podium finishes - with three second-place silver medals (in seasons 6 [on debut!], 10 and 17), and a league title in Season 11 with Sexy Spidergoats (in the closest finish in league history!), to which glbert made a significant contribution with a record of 5 points from 7 games - and trust us, every single point mattered that season.
They also have numerous individual awards, as you can see for yourself on izzie26's all-time awards page (which may or may not be missing the last two seasons). Of note, glbert has finished as the top-rated player on their board in four seasons (13, 22, 24, 27).
So let's raise a glass to glbert for reaching the 200 games landmark with some light interrogation...
What initially drew you to playing in the Lichess4545 league?
in my early 60s, i noticed that my memory became poorer and poorer. the years of manual, mindless & repetitive labour were taking their toll. my doctor told me that trying to challenge my brain might help, and he suggested playing chess. so i resolved to play one game per week. i didn't like it much. way too stressful, and the constant losses were eating away at my self-confidence. constantly misplacing your keys is even worse though. so for several years i struggled to keep up my playing schedule, avoiding that devilish game. but then i stumbled upon the 4545 league, the best league god has ever given humans on the face of the earth. scheduling a weekly game with a concrete opponent meant that avoiding it would disappoint not only my opponent, but also my teammates. ever since i joined the league, i am taking my weekly dose of chess like clockwork. i am now 76, and i always know where my keys are. my hemorrhoids improved too. :harold:
How has your approach to playing chess evolved since you started playing in the league?
when i first started playing the league, i was still young. too young some might say, and the rules would agree. well, that is all water under the bridge. my point is, i was young and restless. i didn't like to sit still and think for extended periods of time, and i hated to lose. but with the help of the league i matured, and now sitting still for extended periods of time is my favourite thing to do. i should get used to thinking soon.
If you had to choose three words to describe your approach to chess, what would it be and why?
look, i am sorry, but i don't do three word answers. one word answers? sure. but three words? no way. get lost. my approach to chess is mostly lazy. i really don't care much about anything, tbh. we're all gonna die anyway, and we will all get mated now and then, unless we resign first. and the wins are all random and futile. today, a smothered mate happens on the board, tomorrow you can't remember whether you were smothering or getting smothered.
Which game from your 200 played in the Lichess4545 league stands out the most to you and why?
the ones i remember are usually those that had interesting endgames.
https://lichess.org/3sFANJRL/white
this example i will probably remember forever. i had studied a similar endgame just a couple of days before the game happened, and spent some more hours on it after this game. it taught me that i have to change my approach: i should not only study how to win those so-called won endgames, but also how to be most annoying in my defense. that can be two very different approaches. as if there wasn't enough to study already, am i right?
What is your favorite chess opening and why?
alekhine's defence. breaking almost all opening principles and still somehow getting away with it, at least up to the gm level. that's just so counterintuitive. of course, alekhine's defence is about counterattacking space, but how on earth is that worth potentially giving up several tempos with your knight? i don't understand.
Do you have any specific pre-game rituals or routines that you follow?
a light one hour run followed by a couple of minutes of stretching. i will then get some groceries and prepare dinner, chicken kyiv, with mashed potatoes and some salad. tomatoes, if fresh ones are available. first i will fry some bacon in a couple of drops of olive oil. i will then use a knife to create a pocket in the chicken breast, which i will fill with butter and the bacon, garlic and herbs ad libitum. i will then bread it using flour, eggs and bread crumbs. if i expect a spicy game, i might mix some grounded pumpkin seeds into the bread crumbs, chef's kiss. i am then shortly frying the breaded chicken breast in a good amount of clarified butter on each side, before putting it in the oven at a low temperature for about 10-15 minutes. that gives me enough time to prepare the salad.
Which chess player, past or present, do you admire the most and why?
yago666, because they actually improved. legit. it's a rare sight, you can look it up yourself. not like all those other slackers. m0r1 got worse. tranzoo is plateauing, and don't even get me started on sgis. because once i do, we will be here all day, and we've been trying to keep it short so far.
Outside of chess, what are some of your other hobbies and interests?
i enjoy creating funny tiktoks together with my older brother, starring my cat.
What advice would you give to aspiring chess players who are just starting out in the Lichess4545 league or in chess in general?
if ding liren can become world champion despite being underprepared according to commentators, then you can win your games without prepping as well. but glbert, i hear you say, ding liren can win with little prep because he is just so great at chess, much better than i am! true, you are worse than ding liren, but so are your opponents. and they won't be as well prepared as nepo either. so join the no prep club. prep is how they get you.
An the last more important question: How would you react if your opponent suddenly turned into a pumpkin mid-game?
ah, the pumpkin. most are caught off guard, like a deer in the headlights. i on the other hand come prepared – as one always should. so relying on my superior computer checked opening knowledge, i will turn into charlie brown and play Nc6, see how my opponent reacts. this move comes with a sneaky threat, maybe they'll miss it. either way, i like my position already. and so does stockfish.
---
Interviews edited slightly for clarity.
Lichess4545 is an online chess league for people who like playing long time control games online. Players are assigned to teams and play one game per week with a 45+45 time control. For more information visit our league home page.
LoneWolf is a side league of the Lichess4545 league. It is an 11-round Swiss tournament where players play one game per week with a 30+30 time control. For more information about the LoneWolf tournament visit the LoneWolf homepage.
This Ledger post is licensed under a Creative Commons Attribution-NonCommercial-ShareAlike 4.0 International License (CC BY-NC-SA).
This week's contributors: @Tranzoo, @izzie26, @glbert
Match stories image by @izzie26
Title image from stevepb on Pixabay
Non-contributors: someone's Caps Lock and Shift keys.