girik
Hello everyone, welcome to team Girik. We will arrange tournaments for you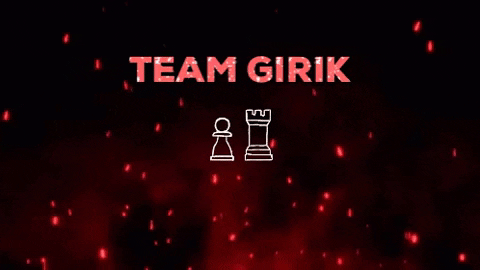 HjhygyTeamleaders:|@girikp|@OpAtomician|@DreamBoyGamer|@aravb2022|@AdhyayanB|@Bhageerath2007|@ShivanshKhare|
logo maker - Aman rege, aravb2022
Partnership team- arav bhola5, Battleground Mobile India (BGMI) TEAM .
Friendly team: arav bhola5 , winnersteam1,Battleground Mobile India (BGMI) .
Park turquoise friends
The first leaders of the team were :- @girikp and @DreamBoyGamer aka @OP-Atomician
This team is created for Chess lovers, who are interested in Chess they can join this team and play tournaments. Good luck with tournaments
We will chat
We will play a tournament
We will play a tournament of variants etc

:-


:-


:-
---
Chess is one of the oldest and most popular board games. It is played by two opponents on a checkered board with specially designed pieces of contrasting colors, commonly white and black. The objective of the game is to capture the opponent's king.
===============================================================================
"The only thing chess players have in common is chess." – Lodewijk Prins. ...
"Those who say they understand chess, understand nothing." – Robert Hübner. ...
"Chess is beautiful enough to waste your life for." – Hans Ree. ...
"You may learn much more from a game you lose than from a game you win.


Chess quotes:
| 1. To be the best, you must be able to handle the worst
| 2. If you are not big enough to lose, you are not big enough to win
| 3. When you see a good move, look for a better move
| 4. You can only get good at chess if you love the game.
| 5. Also Never Resign in chess!!!!!!
| 6. "Strategy requires thought, tactics require observation"
etc.
goal
10 member - ️️Done!
50 member - ️️Done!
100 member- Tooooo close!!!!!!!!
ALSO, HIT THAT JOIN BUTTON!