Shamsiddin Wins Variant Titled Arena.
Not Chess, not exactly, but close.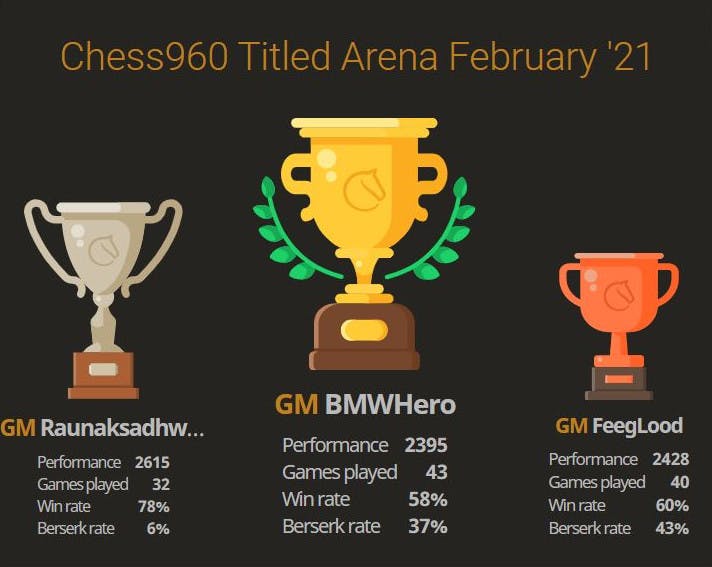 Here at Lichess, we like to occasionally throw a bone to one of the strange subcultures that play versions of chess distinct from what we're all used to. Even if you're not a fan of their odd form of the game, even if their game may seem totally counter to way that chess is supposed to be played, it's nice to try something new once in a while. To that end, it was decided that Saturday's Titled Arena would be played using increment.
You may think that flagging your opponent in a totally lost position is a fundamental part of chess, but the adherents of this version of the game believes that the ticking clock should be a secondary factor in who wins a chess game. They believe that a player who is running out of time should be rescued from the consequences of their earlier poor decision making, and given all the time they need to think. The game is different, but it would be an exaggeration to call it "unnatural" or "an affront to Caissa." (The Titled Arena was also played using Chess960)
It was very tightly contested from the beginning. With 10 minutes left, there was still everything to play for, and there were 5 players within spitting distance of the lead.
https://www.youtube.com/watch?v=uKOc8MLr-nE
After the dust settled, 18 year-old GM Shamsiddin Vokhidov was the champion by a thin margin. Closely behind him were GM Raunak Sadwhani and the anonymous GM FeegLood. Anonymous GM Caching and GM David Paravyan rounded out the top 5.
Interestingly, the presence of increment did not slow down the player's affinity for berserking much. In normal chess, without increment, berserking only gives your opponent 50% more time. Since berserking removes the increment entirely from the berserking player, the time advantage was significantly more in these games. The exact percentage of berserked games varied greatly among the top players. Sadwhani only berserked 6% of his games while for Paravyan it was an incredible 83%.
Congratulations to the winners, and a hearty thank you to all participants. The Next Titled Arena will be a more traditional time control, 1+0.