Daniel Naroditsky wins the first Bullet TA of the year
...and for (surprisingly) only his second time!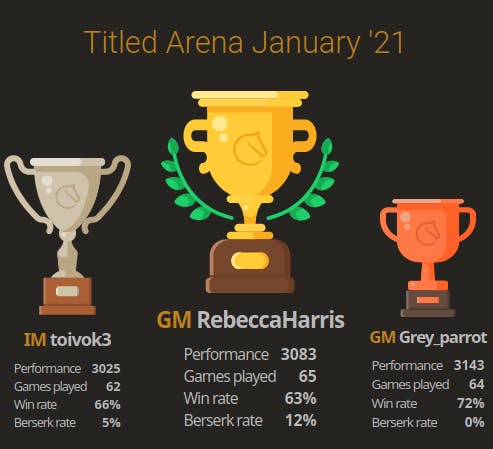 After having won his first Titled Arena last November and getting on the podium 9 times before, GM Daniel Naroditsky (@RebeccaHarris) won his second Titled Arena. Second place was taken by IM Toivo Keinanen (@toivok3). Anonymous GM @Grey_parrot got third with a phenomenal performance of 3143. Another anonymous GM @Wild-King91 took fourth place and IM Minh Le Tuan (@mutpro) finished in fifth place.
The first Bullet Titled Arena of 2021 had a total of 8757 games played by 560 participants. This Arena was decided by streaks and not by berserking. There was 'only' a 6% berserk-rate. For the first half hour, leaders were switching quickly, with a lot of strong players being near the top. After an hour of play Naroditsky then managed to get some long streaks going and took a comfortable lead of over 15 points, which grew to almost 30 points at some points during the last hour. In the last 10 minutes he only managed to gain a further 3 more points, but with the big lead he got before, there was no chance for him to be overtaken, despite strong efforts from the other competitors.
As always there were a lot of streamers covering the Arena. IM Alex Astaneh (@AstanehChess) streamed the Warm-Up and the Titled Arena like almost any Titled Arena in the past. Also IM Eric Rosen (@EricRosen) streamed his point of view. We hope you all enjoy this format and you will be there for the next Titled Arena on 6th February, which will be Chess960!