Pacey Penguin Proudly Peaks Podium Pinnacle
Starting the Decade with a Bang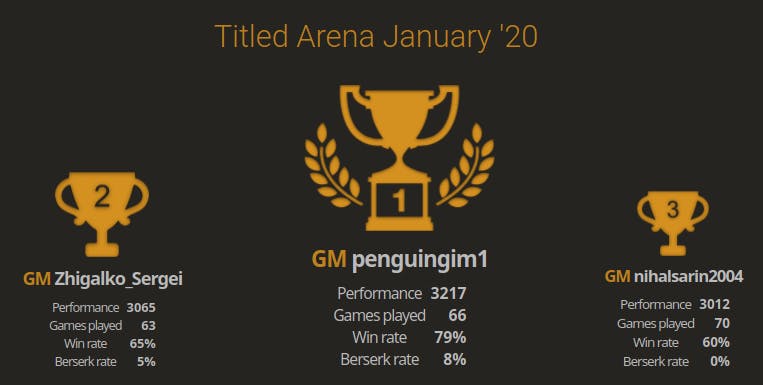 With 448 titled players joining the first event of the decade (and 356 playing) it's one of the largest titled events we've had! It wasn't just the size that was impressive though, the performance of one player took centre stage: GM Andrew Tang (@penguingim1), the Penguin. Starting off with a magnificent streak of 11 wins and a performance rating of 3,419 he laid down a serious marker for the rest of the competition. It wasn't all plain sailing though and the lead he achieved was narrow to start with, chased by Dmitry Andreikin (@Vladimirovich9000) and GM Alireza Firouzja (@alireza2003) at the half hour mark.
As the games passed though, the lead became greater, leading GM Sergei Zhigalko (@Zhigalko_Sergei) and GM Nihal Sarin (@nihalsarin2004) by 15 points just before the halfway point. The Penguin, time and again, showcased how he earned his "slippery" epithet, with escape acts like this one:
https://lichess.org/KU8R1KDQ/black
With half an hour to go, Sergei Zhigalko was the nearest competition, a whopping 28 points behind! It's never time to get complacent though, or you may have to come back from being a queen down:
As the tournament clock ran down, first place was clear, but second and third were duking it out in their final game. Nihal Sarin was one point clear of Sergei Zhigalko, but agreed to a draw while the latter was on a streak - giving him the extra points need to level the points and surpass on performance rating! Heartbreak for the youngster but a fine performance nonetheless. In the competition for the Women's prizes, an exact replica podium of the November competition, congratulations to all the players!
The final standings were:
1st: GM Andrew Tang (@penguingim1)
2nd: GM Sergei Zhigalko (@Zhigalko_Sergei)
3rd: GM Nihal Sarin (@nihalsarin2004)
4th: GM Arjun Erigaisi (@Inventing_Invention)
5th: GM @NeverEnough
Women's prizes:
1st: WGM @slowdumb
2nd: WGM Alina Bivol (@zabivol_mc)
3rd: WGM Karina Ambartsumova (@karinachess11)
As always, great thanks to all the participants, viewers and streamers who make the event so much fun for us all. Another Titled Arena will be scheduled soon, stay tuned to our standard communication channels for details: