Announcing the 2019 Antichess World Championship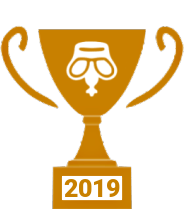 The 2019 Antichess World Championship (ACWC) is going to start on Monday 30th September! Last year, FM Vladica Andrejić (@arimakat) took the trophy home after a tense final match against @Ogul1. Will he keep the Antichess World Champion title, or will someone else take the crown? We'll find out soon...
If you're unfamiliar with Antichess, you can read the rules here: https://lichess.org/variant/antichess
If you'd like to join, please read the full tournament rules and then register through the ACWC website. Also keep an eye on the forum of the ACWC team for any announcements. A few key points about the tournament are listed below.
Format: the tournament consists of three stages: Qualification (a Swiss), Candidates (round-robin), and the Final. The winner of the Candidates gets to face Vladica in the Final.
Game details: 2+5, rated, played on Lichess.
Start date: Monday 30th September
Registration: open until Friday 27th September, 20:00 UTC.