Aronian and Grischuk steal the show
No change in the leader board after round 5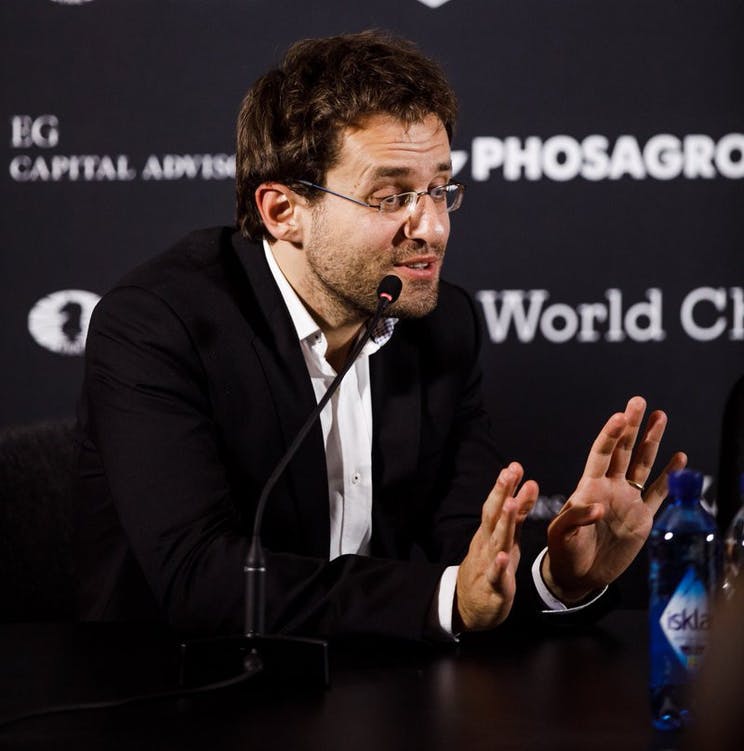 The status quo was maintained after round five in Berlin as all games were drawn. Leaving us with the same leader board as yesterday: Caruana on top, with Mamedyarov and Kramnik half a point behind.
Levon Aronian - Alexander Grischuk
The two most exciting players played each other today, and predictably most of the excitement was concentrated into their game. The opening was a Benoni as Aronian side-stepped Grischuk's Gruenfeld with 3. f3. Grischuk delayed castling to push on the kingside while Aronian delayed castling to push through the middle. In fact, both players never got around to castling as there was too much attacking to be done. After Aronian sacrificed a pawn to push his d-pawn through the center he seemed to have taken the upper hand. 24 Rd1? was apparently the move that let Grischuk back in the game, but it's hard to criticize the players in such a complicated position. Grischuk made his own mistake a few moves later with 27. Kg8 and Aronian would have been clearly winning if he had found Qxc8 instead of Qd8+. The position remained tense, but there were no large advantages for either player for the rest of the game. The two players agreed to a draw on move 49.
https://lichess.org/study/JTREphYI/u92kgBMY
Fabiano Caruana - Sergey Karjakin
Caruana started the game as the tournament leader, while Karjakin is having a rough tournament. The game looked like the typical example of a player trying to "play safe but with the possibility of an advantage" and only achieving the first part.
https://lichess.org/study/JTREphYI/8YQTjmfb
Ding Liren - Shakhriyar Mamedyarov
Yet another Catalan that ended in a draw in exactly 31 moves. Not the most exciting game but it's not realistic to expect every game to be an Aronian - Grischuk donnybrook.
https://lichess.org/study/JTREphYI/fa7csZ83
Wesley So - Vladimir Kramnik
This game was also a draw, but it deserves a bit more credit than the previous two mentioned above. First of all, Wesley So was offered a repetition 19 moves in, which he declined. So's having a difficult tournament and could have been forgiven for taking the easy way out. Kramnik, for his part, had an absolutely brutal game yesterday and wouldn't have minded getting out of work early himself. The two players pushed on for 57 moves despite the evaluation never straying very far from equality.
https://lichess.org/study/JTREphYI/Mxhpb32A
Round 6 starts tomorrow at 14:00 UTC. The pairings will be Caruana - Grischuk, Ding - Karjakin, Mamedyarov - Kramnik and So - Aronian. The spectators will surely appreciate that Grischuk and Aronian will be spread around to twice as many games as they appeared in today.