Aronian wins Altibox Norway Chess 2017
The highlights of the final two rounds
With a draw against So in the final round, Aronian secured the first place in the Altibox Norway Chess 2017 tournament! Nakamura had to win his game against Caruana to have a chance at the tiebreaker, but Caruana outplayed him in a very sharp poisoned pawn Najdorf.
https://lichess.org/study/HwXovdRZ/tCznSanb
The last three rounds of the tournament took place at the beautiful Stavanger Concert Hall. We filmed a live stream from the playing venue, which you can replay on Periscope. The film was taken right after Anand and Carlsen had finished their game in the final round, and you can see them both being interviewed by the Norwegian TV channel. In their game, we got yet another Italian opening, an opening we've seen many times during this tournament. Carlsen sacrificed a pawn for some initiative, but none of them were ever in any danger, and they repeated the position after 30 moves.
https://lichess.org/study/HwXovdRZ/yh5usf1q
The world champion, Magnus Carlsen, won his only game in the tournament against Karjakin in round 8. They got into a very complicated position with very little time left, and it looked like all three possible results were equally probable for some time. Karjakin did his 40th and final move before getting more time with only 2 seconds left. It wasn't until the 41th move, on which he spent 27 minutes, that he blundered.
https://lichess.org/study/HwXovdRZ/gC0ecWdk#82
41... Bd6?? loses, and Karjakin resigned 3 moves later.
Here are some pictures taken by Prune2000 during the final two days: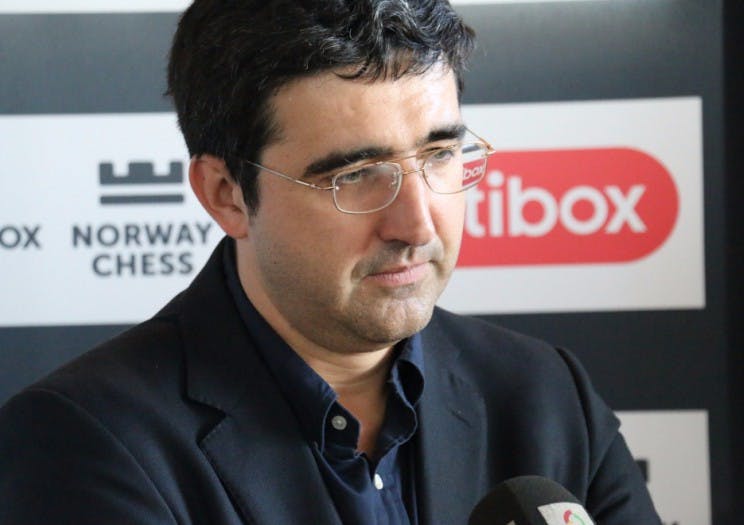 A great tournament by Kramnik, who won 3 games! Here he is interviewed by the Norwegian TV channel after beating Giri in the final round.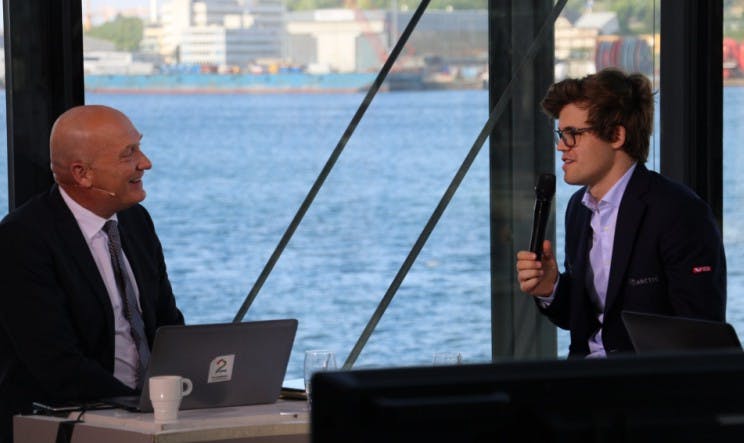 Carlsen in an interview after his draw against Anand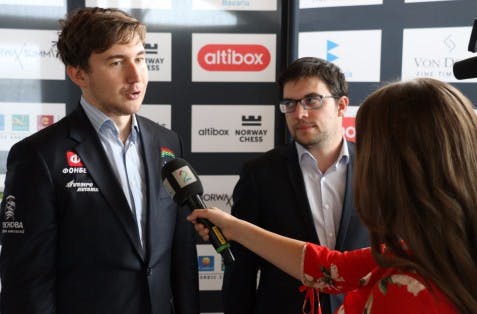 "I tried to surprise Vachier-Lagrave, but in fact, he was the one that surprised me", Karjakin commented after their draw in the final round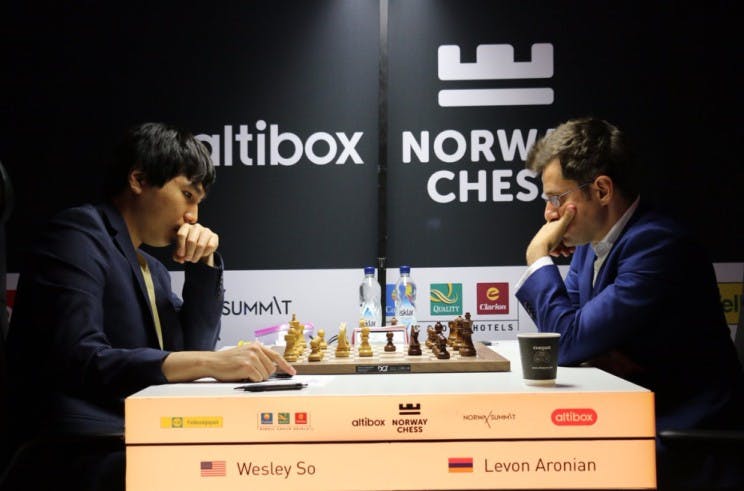 So played Aronian in the final round. The game ended in a draw, and that was enough for Aronian to win the tournament!
Again, congratulations to Aronian, and thanks to all the participants, for such entertaining chess. We look forward to the next Norway Chess, which will take place in Stavanger the 21th of May - 1th of June 2018!