Lichess meetup and hackathon report
The Lichess team recently met up to work and socialize in Paris. Here is the summary.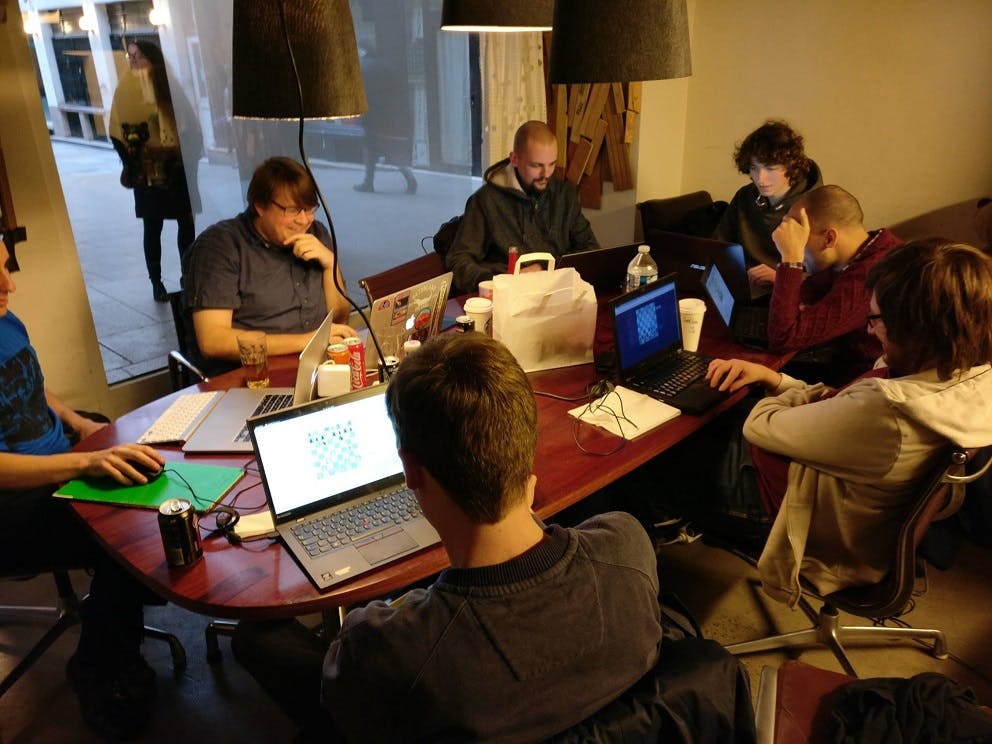 The second ever Lichess meetup and hackathon just concluded. Over the previous week, 11 lichess developers representing 8 different countries gathered in Paris to meet users, socialize and use the rare opportunity to work together in the same room to improve Lichess.
People came and went at different times, but on Friday night most of us got to meet (for the first time in many cases) and we had our first opportunity (of many) to eat and drink together.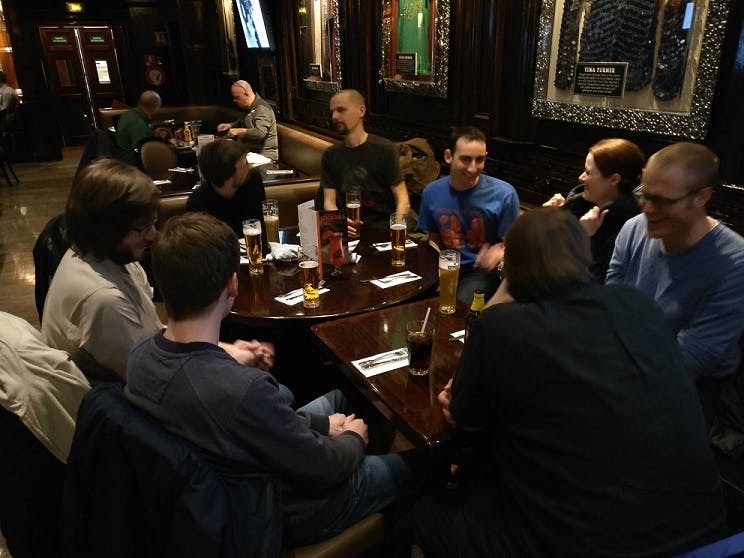 thibault is pictured firmly grasping his beer. Clockwise from him we have isaacly, Anita, lakinwecker, arex, revoof, happy0 and veloce.
Saturday morning, it was time for more serious business. Bearstech had again graciously offered to let us use their office space, which is where we met up to spend most of our productive hours.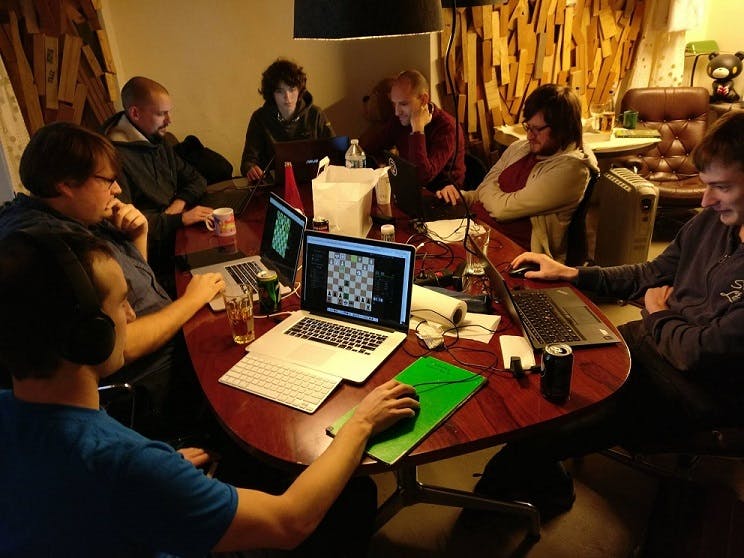 isaacly is pictured with headphones. Clockwise from him we have arex, thibault, ProgramFOX, agolp, happy0 and revoof.
In the span of a couple of days, we worked on many things, some of which you may see in the future and some of which might never see the light of day. However, many things are already implemented on Lichess:
On Saturday night we had the public Lichess user meetup as announced in advance on the Lichess forums and on social media. We had reserved several tables in a bar and were hoping to gather a small number of Lichess users, so that we would have an opportunity to meet them, and that they would have an excuse to meet each other. We didn't get as many users showing up as we had hoped, but we had one nice gentleman stopping by to discuss Lichess and chess in general.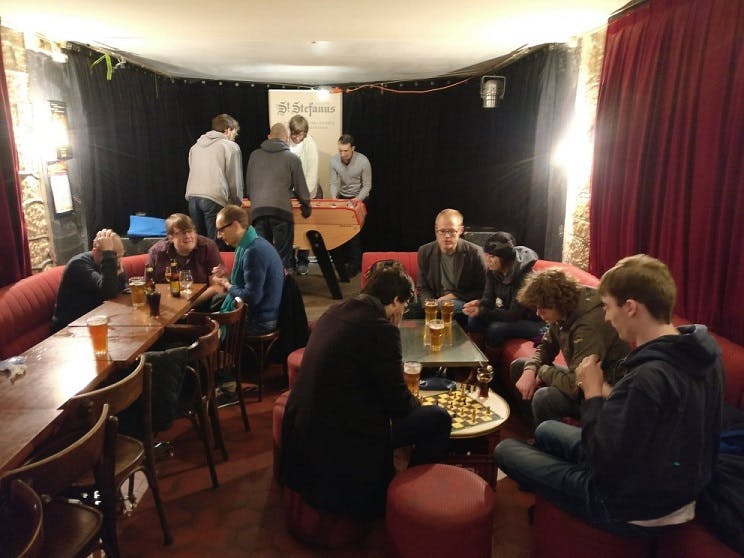 Foreground, right: cynosure and ProgramFOX playing chess with revoof spectating. Middle, right: lakinwecker and Anita. Middle, left: agolp and arex talking to a real life Lichess user, linuxe. Background: thibault, happy0, David and veloce playing fussball.
During the meetup, we made an effort (lukhas in particular) to include team members who were not able to travel to Paris. We were updating them on what was going on through our normal communication channel, sharing photos and we also invited them to the Lichess Hackathon blitz tournament. Ironically, none of the top 3 finishers were present in Paris. We also made sure to play some OTB chess, as evidenced by the following photos: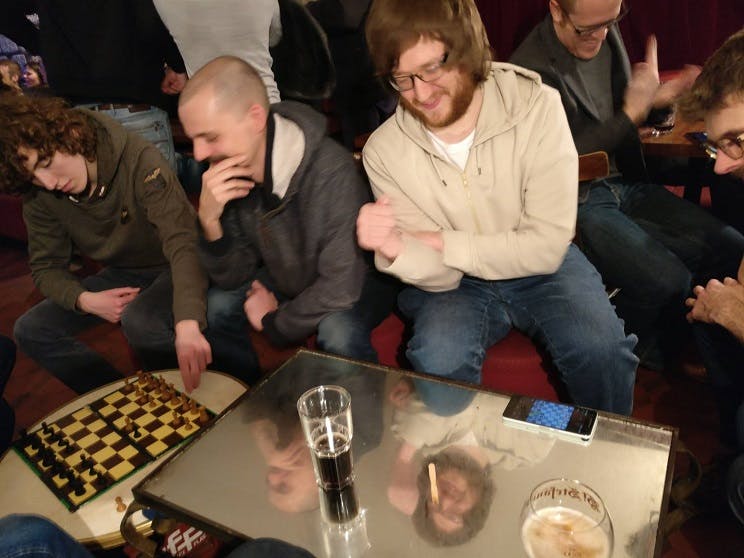 From left to right: ProgramFOX, thibault, happy0, lakinwecker (background), veloce (nose)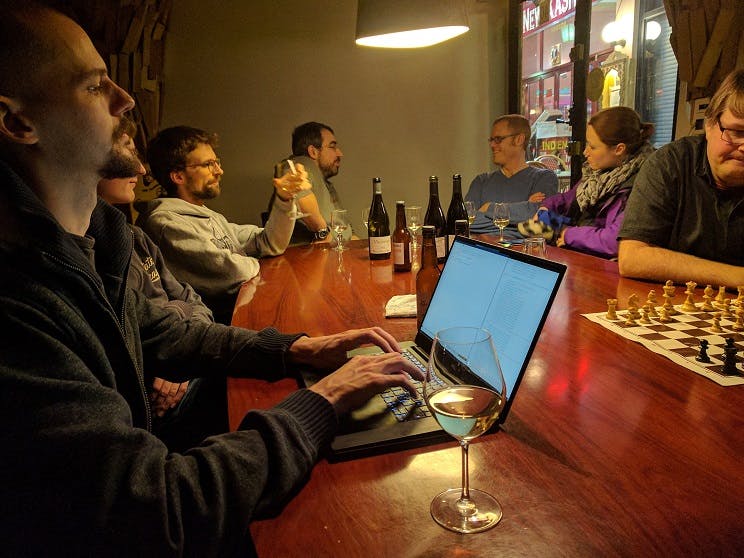 Clockwise starting at the left: thibault, revoof, veloce, lukhas, lakinwecker, Anita, arex
In summary, the meetup and hackathon was a great experience with good results. Obviously, we would have loved to meet more Lichess users than we did, but it was still very enjoyable for us to come together and socialize with the people who we normally communicate and collaborate with online. I think several of us felt the going home blues when leaving Paris. We are already discussing the when and where for future meetups. When we decide, we will let you know. Hope to see you there.