London Chess Classic: Round 4
Nakamura makes it interesting...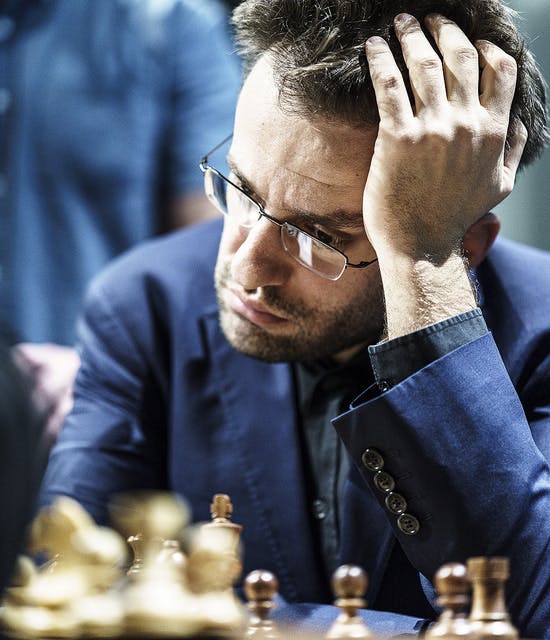 Round 4 of the London Chess Classic delivered more drama today, with particularly exciting results for Adams and Nakamura – the players at the bottom of the pack who were able to make up the difference somewhat more today.
Topalov, playing against Nakamura, had a particularly difficult day of it today. This tournament hasn't been good for Topalov so far, who has now lost 3 games and made getting a winning result in this particular leg of the Grand Chess Tour essentially impossible, with 5 games left to go. Topalov versus Nakamura was the only decisive result today, with the rest being draws.
Veselin Topalov (BUL 2760) vs Hikaru Nakamura (USA 2779)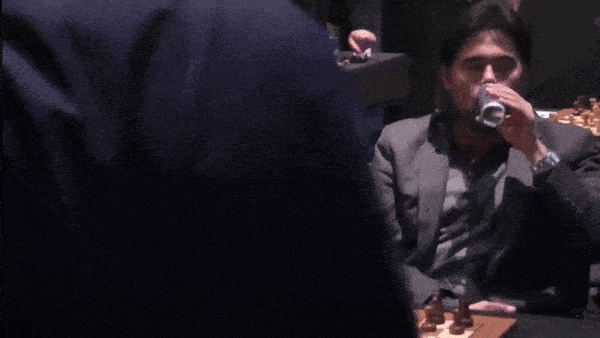 Naka caught ingesting a performance enhancing substance

Topalov played an unusual advanced Caro-Kann which turned into, in the words of the Trompowsky king GM Julian Hodgson, a "Trompowsky gone wrong". Move 10, which featured a pawn move to c4, was viewed as particularly artificial, with many commentators considering developing a piece as being considerably more natural – urgently required as white still had undeveloped bishops and an uncastled king.
The uncastled king would ultimately be the curse for Topalov. Topalov traded his queen, which was skirmishing in an exposed queenside, for excellent compensation – for two bishops, a pawn and a rook straight off the bat. However, Topalov's vulnerable king ultimately meant the Nakamura's queen was worth more than the basic 9 points ascribed to it, and the overpowered queen was able to pester black's pieces to gobble up a knight, leading to an endgame where white had two rooks and a bishop, and black had a queen and a rook (both with 3 pawns).
There were ultimately too many threats available to Nakamura, who was able to use his queen to full advantage as well as his e-pawn to force Topalov into a position which was simply undefendable, however fortress like his position. This will be a bitterly disappointing result for Topalov, who is yet to win a game so far. On the other hand, this will be urgent catching up for Nakamura who is the only real competition to Wesley So for winning the entire Grand Chess Tour.
https://lichess.org/study/QkqbvW0f/KdGXlzuj
Viswanathan Anand (IND 2779) vs Michael Adams (ENG 2740)
Anand chose to play to an Italian game, an opening which has become increasingly fashionable in the chess world after its versatility and dependability was demonstrated by Carlsen and Karjakin in the World Chess Championships earlier this year. The game between Anand and Adams was highly balanced, with neither seemingly having an advantage.
On the 29th move, Adams found a difficult tactic – one which had the analysis room enthusing for Adams – which forced a draw against the 5 times world champion, "Vishy" Anand. Adams, playing 29… Nxc3 forced a draw with the forced response of 30 bxc3 Rxd4! 31 cxd4 Bxd4+ 32 Be3 with the continuation of 32…Bxa1 33 Bxa7 leading to a perfectly drawn endgame. Both players therefore agreed to a draw on move 32. This was a desperately needed result for Adams, for whom another loss would have been terminal and put him in the same camp as Topalov. Anand, on the other hand, will begin feeling the strain if he wants to place higher than the mid-table.
https://lichess.org/study/QkqbvW0f/80vwDIjF
Anish Giri (NED 2771) vs Wesley So (USA 2794)
Giri was not interested in changing the perception that he is a somewhat unambitious player after playing a somewhat unambitious London System vs Wesley So. After an Interesting Knight Manoeuvre from So that freed his f-pawn to go marauding forward, Giri admitted he missed 15...Bc5 and the position became what GM Nigel Short called a "perfect advance French position for black." From there, Giri showed what has made him a top 10 player and defended excellently to guide the game into a drawn rook endgame. It's a shame that the narrative of this game will probably be "Giri played a boring opening and drew, again" when it should be more like" "Giri messed up his opening and was in deep trouble but held his nerve against the most in-form player in the world,"
https://lichess.org/study/QkqbvW0f/gfBNGX34
Vladimir Kramnik (RUS 2809) v Maxime Vachier-Lagrave (FRA 2804)
This game was overshadowed by more exciting games on other boards but there was plenty to see here as well. Kramnik played in his typical aggressive-without-burning-any-bridges style and took a better opening into a better middlegame and then converted to a better endgame. Although he couldn't convert the full point, (and full credit to MVL for defending) he can't be accused of not trying. It's useful to remember that Kramnik was the "Giri" of the 90's and early 2000s. "Drawnik" was stodgy in a way that Giri could only dream of and was part of the inspiration for the "Sofia Rules" preventing early draws. People that complained about the "boring" 2016 World Championship must not have been around for Kramnik's 11 and 14 move draws in the 2000 version. Kramnik's reputation has improved considerably since then and we should remember that Giri is still only 22 and has plenty of time to figure all this out.
https://lichess.org/study/QkqbvW0f/VkgxK6xI
Fabiano Caruana (USA 2823) v Levon Aronian (ARM 2785)
Caruana tried a new idea in the Spanish and Aronian neutralized it and the game was a draw….DID YOU SEE WHAT ARONIAN WAS WEARING! We can all learn a lot from this man.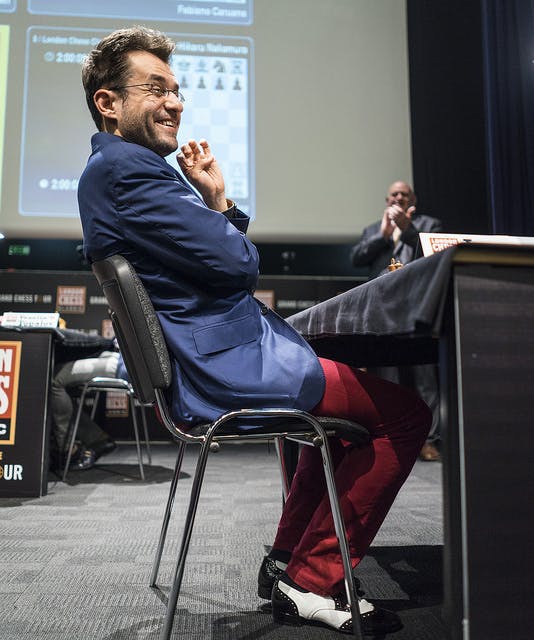 https://lichess.org/study/QkqbvW0f/UdjqKXfS
After 4 days of chess every day, the current leaderboard keeps Wesley So in the lead with an impressive 3/4, followed by Caruana, Kramnik, Aronian and Nakamura (who has shot up to be So's main threat) all on 2.5/4. Bringing up the lower half of the board are Anand and Giri on 2/4, and MVL then Adams on 1.5/4 and 1/4 respectively. Topalov is having a miserable time on 0.5/4.
Theo Wait (Cynosure) is attending the London Chess Classic on behalf of lichess.org. He would like to thank Malcolm Pein, for arranging a press pass for lichess.org, and for organising such a brilliant competition. He would also like to thank his fellow staff members lukhas, FM lovlas, nojoke, bosspotato for proof reading, editing, and checking all aspects of this article.