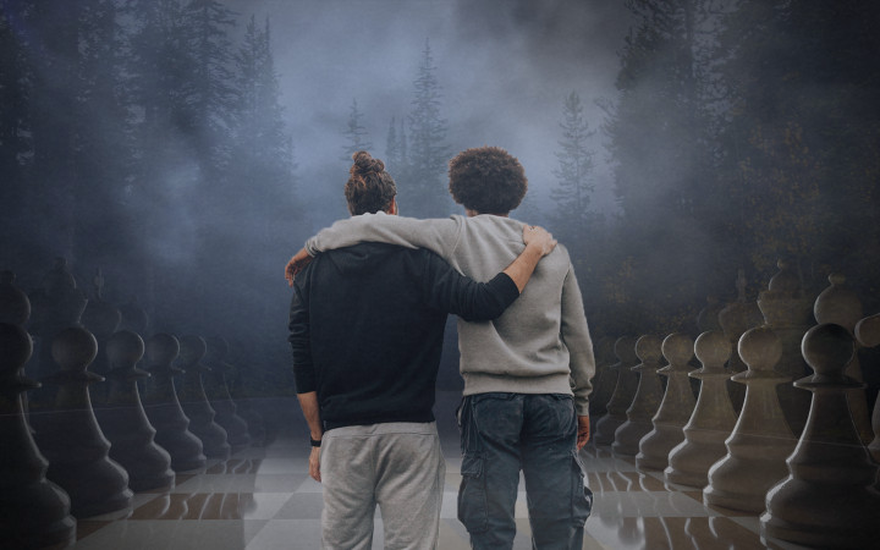 The Importance of Having a Training/Sparring Partner (Part 1)
The Importance of Having a Training Partner (Part 1)
"Don't be fooled into thinking that you have the capacity to achieve your best on your own. A training partner is a great asset because when you think you have reached your limit, there is someone who can push you to go further."
Brian Houston
Time is a limited resource.
And some of the most important skills you need to develop in order to become a better chess player can be gained most quickly and effectively by having a training partner.
From applying and memorizing new openings and strategies, learning about and improving your main weaknesses, and even gaining extra motivation and accountability to train when you're feeling low – a training partner has the power to grow your chess skills faster than you ever can on your own.
Let me start by telling you the story of how I discovered this...
My toughest opponent
When I was a kid, I participated in the Armenian junior championship fighting in the "under 10" category. I was not a bad player – my rating was around 2.000, but I had no prospect of winning the tournament.
Why? Because there was a kid who was crushing all of us. Two years in a row he'd won the title "Armenian Champion (U10)" with an incredible result of 9/9!
None of us could even manage a draw against him...
But I was a fighter kid, and I wasn't about to give up. I was training harder and harder so I could beat that kid. A goal that, to me, became even more important than becoming the champion of Armenia.
Finally, a few years later, I had my first victory over him, and then the next one...
Our levels became closer, though, for the next few years, he remained my toughest competitor. (Wait a bit more, I'll tell you his name soon )
And then, when we were around 15, an interesting idea came to us. Instead of competing against each other, we decided to start training together. We were both hard-working, and our next goal was the same – to become a Grandmaster.
We made an alliance.
We started working together almost every day, many days for more than 10 hours straight. He would often come to my place, train with me until late at night, stay overnight, and continue training with me the next morning.
I'd analyzed many-many openings – as had he. But as you can guess, our game preparation had mainly been against each other's openings
Now, instead of keeping them as our secret weapons, we shared all of them. He showed me many years of his work, and I showed him mine...
Finally, we understood that instead of always fighting against each other, we would benefit more from helping each other and fighting against others.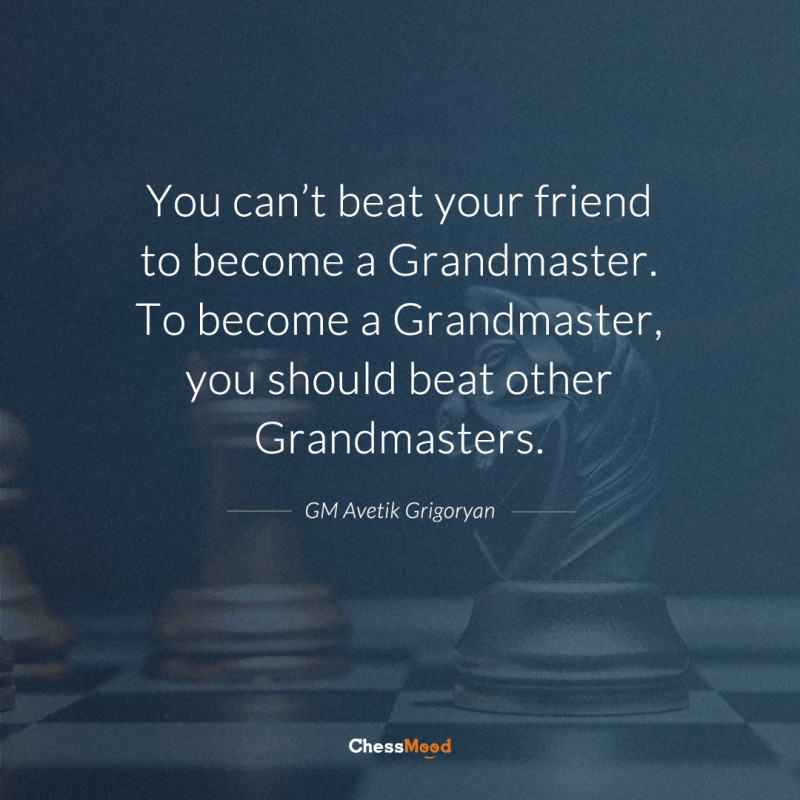 We started to grow faster, winning different tournaments and gaining IM norms. Then at the age of 17, he achieved something extraordinary. He became the World Junior Champion and automatically gained the GM title (this is a FIDE rule). I became a GM a year later...
Who knows, if we'd have ever made it without our alliance.
But thanks to my childhood nemesis and training partner, GM Zaven Andriasian, I never have to worry about that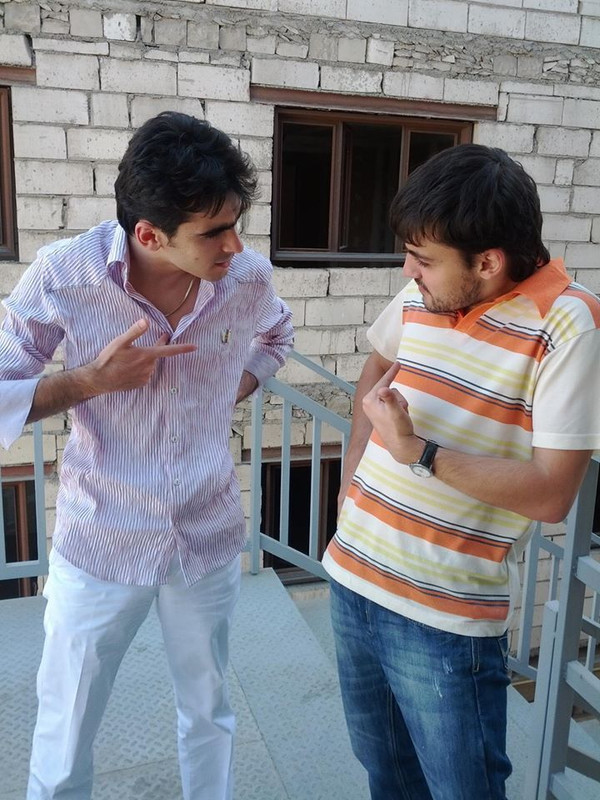 GM Avetik Grigoryan and Zaven Andriasian (2014)
Think Big
It's great to have dreams, a fighting spirit, and pursue your goals.
But it's also very important to have smart goals.
Zaven and I were kids and later we understood that we could help each other instead of fighting against each other.
But I see many adults, many IM's and GM's, who live close to each other and compete against each other instead of working together.
"If you want to fight, if you want to compete, that's great!
But don't fight against a guy that could be your friend.
You've got the rest of the world for that!"
– GM Avetik Grigoryan
Why you should work with a training partner?
There are many advantages to having a training partner, here are the main ones:
Faster growth
For Zaven and me, everything worked very well, but there was one important factor. We were chess players of opposite styles. I was a positional player and he was a crazy attacker.
Often during the training, at some point, when I thought the position was unclear, Zaven claimed that there's no way to escape checkmate.
I was like, "What?? The position is so complicated."
After a while, moving the pieces and getting checkmated multiple times, I asked, "How did you feel that? There was nothing obvious to me, but you said it's over, it's going to end with a checkmate soon."
And to the contrary, often, at some point, Zaven was telling me that the position was equal, while I was claiming that it's strategically lost.
Now after moving the pieces on the board, and being unable to defend the positions, he asked me similar questions, "How did you know that it's winning, when the position looked so equal?"
As a result, I improved my attacking skills and he improved his positional play.
Accountability
We all have good and bad days, and on your bad days, a commitment to your friend may be the best motivation for you to keep training. Later on, you can easily repay the favor and help your training partner when they feel low too.
Get good feedback
Your training partner can provide a vital component in improving – feedback! If they frequently train with you, they're a fantastic person to ask if they have any advice about what you need to work on.
Very often we might not notice our weaknesses, while our training partner can point out that, for example, we're not defending very well or we're not playing well in closed positions.
Have more fun
Sometimes, training by yourself can make you feel lonely or can be boring (especially on low energy days). With a training partner, you'll be able to share both the good and the bad times with a smile on your face. Plus, combining training with some chat and jokes will make things more enjoyable!
Self-control and discipline
We all know how important self-control and discipline are. During training, it's easy to get distracted by a phone call, or to start scrolling through your social media feed (something many of us are guilty of), or to think about a cold juicy watermelon, waiting for us in the fridge.
With a training partner, you become more focused which helps you to exercise self-control and resist any distractions.
Regular routine
It can be incredibly tempting to make excuses and skip a training session – and this is especially true if you're training on your own. Just think about the thousands of canceled gym memberships every year!
You are, however, much more likely to keep going if you've got a training buddy. This is because if you don't turn up, you may feel guilty about letting your partner down.
Motivation
Sometimes, all we need is a little bit of encouragement. We need that high-five or pat on the back when we finally managed to solve a tricky puzzle.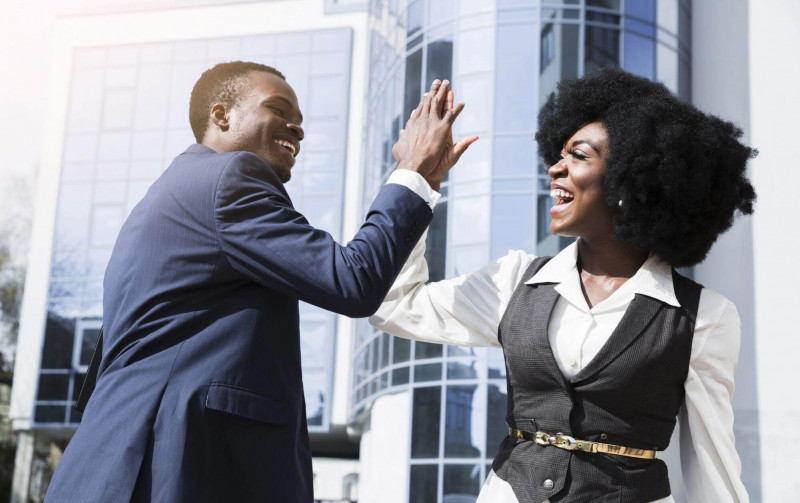 We need that "wow" from someone when we crushed a higher-rated opponent. We need that "you can do that!" before an important game or a tournament.
Sparring
In our article about memorization, we already talked about how effective it can be to have a sparring partner when you're learning openings.
For example, you could both pick up our Scandinavian Defense course, watch the videos, and then organize a friendly match, with your preferred time control. For sure you'll digest all the acquired knowledge from the course much faster by practicing it with your partner.
But it's important to remember that with a sparring partner, you can practice more than just the openings! You can also set up middlegame and endgame positions. You can practice and improve your skills of converting an advantage, saving lost positions, defending accurately, and most other skills that you need to improve.
Sparring is a great training tool for improvement!
Good news
I can already hear you asking some great questions like, "How can I find a good training partner?", and, "What are the most effective ways to train with my partner?"
A training partner is very important to speed up your growth which is why I've divided this article into three parts – this is just the 1st!
In the 2nd part, I'll teach you how to find a good training partner, what kind of a person to look for, and what kind of skills they should have.
And in the 3rd part, I'll let you know some of the most effective training techniques for you to use with your partner.
Conclusion
Just like in any other sport, a good partner can make all the difference. Find someone that you get along well with. Someone that is at the same level as you are and someone that has the same mindset as you do.
Tip: Ask yourself who's your toughest opponent and think if you could make an alliance with them.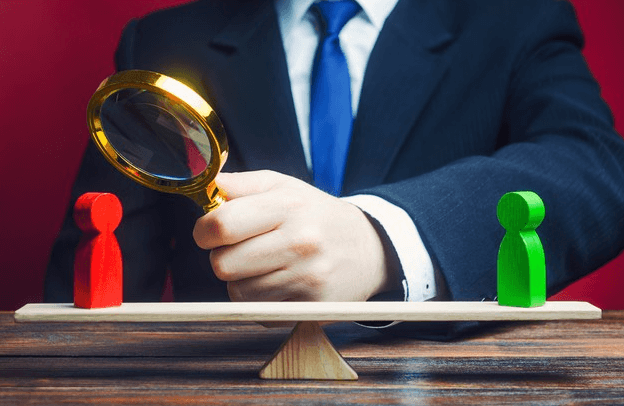 Read Next: How You Can Find the Perfect Training Partner (Part 2)
P.S. Do you have a sparring partner already? Or are you looking for one?
P.P.S
The article is originally on
https://chessmood.com/blog/the-importance-of-having-a-training-partner-part-1