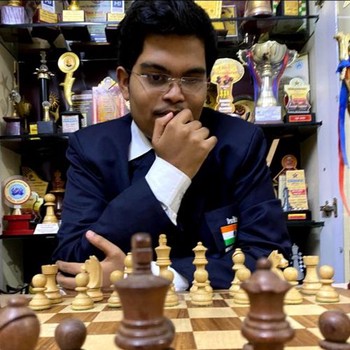 FM Nikhil Dixit
Believe you can and you're halfway there!
Location

pune

India
Languages
English (US), हिन्दी, हिंदी, मराठी
Rating
FIDE: 2331

2500

2438

Hourly rate
$200 for 10 classes
Availability

Accepting students

Active
About me
Hello Chess Lovers, Greetings from India. I am Nikhil Dixit, 25 years old with 4 International Master norms.

contact@nikhildixit.com
Playing experience
I have been playing chess for the last 16 years, and I have played many tournaments in India and abroad. I have played a tournaments in countries that include the UAE, Malaysia, Romania, Netherlands, Croatia, Spain, the Czech Republic, France, Brazil, Vietnam, Hungary, Russia, Azerbaijan, Poland, Germany, Greece, etc. Following are some of my best (international level) performances.

1-Participated in the 2018 FISU World University Chess Championship 2018 at Aracaju, Brazil
2-Scored all international Master norms in the year 2018-2019
-1st norm at Chennai International Grandmaster chess tournament in January 2018
-2nd norm at Czech Pardubice open tournament in July 2019
-3rd norm at Zadar open, Croatia in December 2019
-4th norm at Czech Pardubice Open Tournament 2022
3-Got FIDE Master Title from the International chess federation in January 2019
Teaching experience
Over the past four years, I have gained extensive teaching experience, having taught over 75 students from various countries around the world. The majority of my students have come from India, Singapore, the USA, the UK, and Qatar.

Having taught students from different parts of the world, I have developed a teaching approach that is effective and tailored to each student's individual needs. Through my experience, I have gained a deep understanding of the diverse learning styles and cultural differences that impact my students' learning, and have learned to adapt my teaching style accordingly.
Other experiences
Other than chess I have helped various chess academies and chess coaches to grow their online presence through organic marketing.
Here is my website you can check out
www.chessarticle.com/
Best skills
I focus on student's strengths and weaknesses.

My experience with online platform tools such as Zoom, Skype, and Google Meet is extensive.

Teaching methodology
First, I will check and analyze students' recent games. After that, I will create a special growth plan for students to improve their strengths.