Aronian Takes WR Masters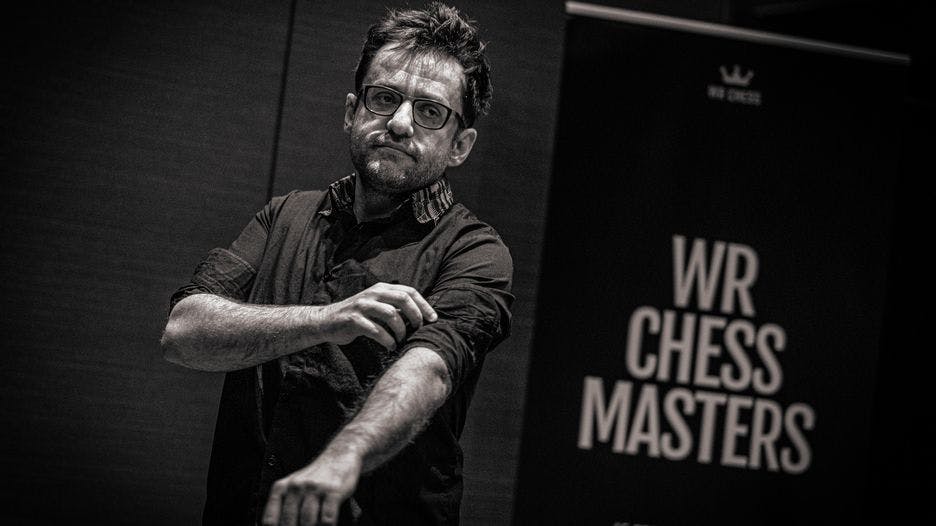 PHOTO: Lennart Ootes / WR Chess Masters
When Levon Aronian made a quick draw against co-leader Dommaraju Gukesh in the final round of the WR Chess Masters, it seemed like an uncharacteristically timid move for the Armenian grandmaster, who's long been known as one of the most creative and aggressive players on the tour. But it was all part of his strategy: after that quiet interlude, the lover of classical music brought it to a crescendo in the rapid tiebreaker, where he blasted Gukesh and Ian Nepomniachtchi, who also joined the tie for first, in three straight games to crown tournament victory.
Aronian got off to a fast start with four points in the first five rounds. With a full point lead on the field, he seemed to be in cruise control going into round seven with White against Nepomniachtchi. Given the tournament situation, Aronian could be content with a draw, and Nepomniachtchi had drawn all of his previous six games. Saving energy (and opening prep) for his upcoming World Championship match against Ding Liren, you might think, but in fact he had been playing fighting chess and the draws were more a coincidence than anything. Nonetheless, Aronian went for a fairly tame variation of the Queen's Gambit Declined, and when the players started repeating moves, a draw seemed to be in the offing. But then things took a strange turn.
Aronian tried to claim a draw by threefold repetition, but Nepomniachtchi put up two fingers, and the arbiter confirmed the position on the board had only happened twice. The false claim seemed to have the same effect on Nepomniachtchi as waving a red cape in front of a bull, as he spurned the repetition and launched his kingside pawns forward. In the press conference he explained his reasoning:
"If he wants a draw that badly then I should push him."
Objectively, Aronian's position was not worse, but he started to go wrong, and then blundered a piece to a tactic. Nepomniachtchi finished off the game precisely and with the full point, he was only half a point behind Aronian. Also in round seven, Gukesh beat Esipenko with the Black pieces, to move into a tie for first with 4.5 points. Suddenly, it was anyone's tournament.
https://lichess.org/study/tqDIFlT9/UjuCWGZY
All the leaders drew in round eight, setting up a showdown between Aronian and Gukesh in the ninth and final round. Or so it seemed, but Aronian was content to defer the battle to the tiebreaker, and he went for a well-known drawing line in the Ragozin. Within minutes, the players were shaking hands.
That left Nepomniachtchi to try to catch the leaders by winning with Black against Vincent Keymer. He did just that in a six hour masterclass that showed just how tough top-level chess is these days: first he showed great preparation in a rare line of the King's Indian to saddle Keymer with an isolated pawn. Then he applied pressure with a variety of feints in a complicated middlegame. Finally on move 59 Keymer made his only real mistake of the game, allowing his king to come under attack. Nepomniachtchi finished off the attack perfectly to move into a three-way tie for first.
There have been a few three-way ties for first in top-level tournaments in recent years. Perhaps most memorably, in the 2018 Sinquefield Cup, Aronian finished in a tie for first with Magnus Carlsen and Fabiano Caruana. In that case it turned out that the rules called for a drawing of lots to determine two players to play a playoff, with the third left out. The players objected to this and negotiated a shared first place. The WR Masters had a more satisfying tiebreak procedure, at least from a spectator's point of view: the three players would play a rapid double round robin straight away.
In the first game, Aronian had White against Gukesh. He went for another Ragozin, but there would be no quick draw this time. He introduced a new wrinkle in a well-known line and Gukesh didn't react in the best way. Aronian got a positional pull, which he used to win a pawn, and then convert a queen-and pawn endgame.
Aronian was onstage again for the second game with Black against Nepomniachtchi. An English opening led to a complex strategic struggle. Perhaps feeling the effects of his slugfest against Keymer, Nepomniachtchi made a few missteps. Aronian gradually gained the upper hand, going for a creative king march from g8 to b7. When the position opened, it was Aronian's pieces that were better placed, and he scored another point.
In the third game, Gukesh beat Nepomniachtchi with White, effectively ending Nepo's chances at first. Then it was Gukesh vs. Aronian in the second leg of the round robin, Gukesh having the White pieces this time. A risky opening choice by Aronian seemed to go awry; his position was on the verge of collapsing, but he kept finding tricky resources. In the end he turned the tables completely and ground down his opponent in an exchange-up endgame. With three points out of three games Aronian had already secured the tiebreak win and the remaining games weren't played.
https://lichess.org/study/tqDIFlT9/E7OlL56w
This was the first ever WR Masters, a new entry into top-level tournaments. The organizers struck a nice balance between familiar faces and up-and-coming stars. There was certainly plenty of drama, with several comebacks and finally the rapid tiebreaker.
For the moment, the story at the top level of chess is all about parity. Apart from Magnus Carlsen, no one has been able to consistently find separation from the pack. It seems as though anyone from the top group can win a tournament if they're in good form and can catch a few breaks. Anish Giri, who won the previous super tournament, Tata Steel Masters, but found himself tied for last this time, said, "I don't think anybody is better than anybody else at this point."
The younger generation, led by Gukesh in this event, seems to have drawn themselves equal to the veterans without surpassing them. Aronian showed that the old dogs still have some bite left in them as well. When asked by ChessBase India to comment on his feelings after winning the tournament, the always witty Aronian responded, "I highly recommend it."