FIDE World Cup - Delight for Duda as Carlsen crushes Fedoseev
Duda wins the World Cup, as Karjakin comes second and Carlsen wins the play-off for third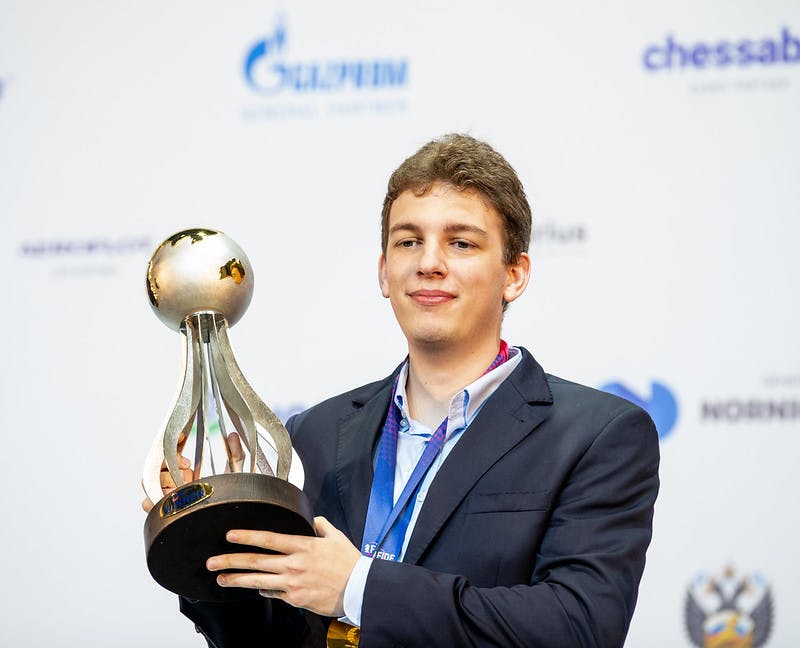 After a month of playing, over 200 participants have been whittled down until only four remained. And, having played their final rounds, the podium places of the top 3 are now known:

Winner: GM Jan-Krzysztof Duda
Runner-up: GM Sergey Karjakin
Third: GM Magnus Carlsen 
Perhaps you missed some of the tactics from the hundreds of games played over the last month? Try your hand at this study which makes puzzles from some of the games played - go through the chapters in the top left to try different ones! 
https://lichess.org/study/embed/LVFzCUYJ/cXD5ielN
Check out the full study, here
A massive congratulations to Duda, who had to beat the likes of GM Alexander Grischuk, GM Santosh Gujrathi Vidit, GM Magnus Carlsen and GM Sergey Karjakin to take first place.

(title image credit - David Llada / FIDE)
Game 1
Unfortunately for GM Vladimir Fedoseev, statistics show that after a loss, GM Magnus Carlsen has a very high percentage of winning his next game. And, game 1 only just added more weight to that statistic.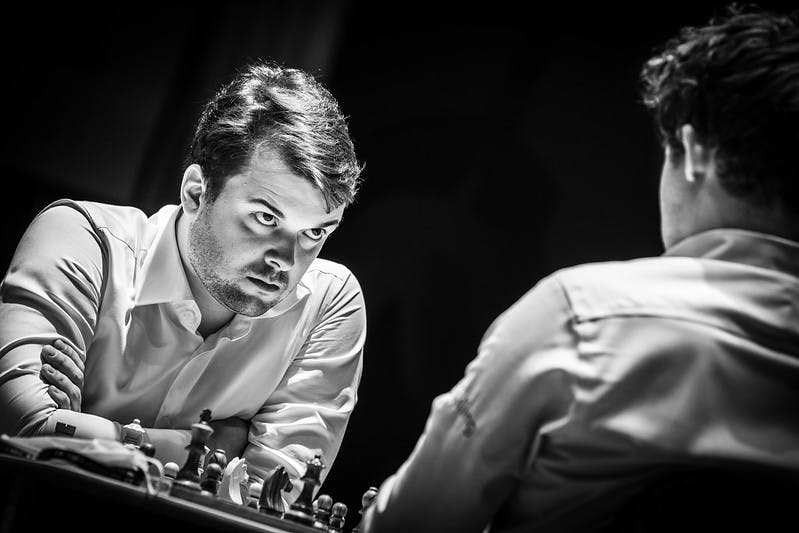 (photo credit - David Llada / FIDE)

Coming off a loss against Duda in the tiebreaks, Carlsen was out for blood. Playing a King's Indian Defence, Carlsen was clearly in an aggressive mood, which Fedoseev matched. By move 16, Carlsen gave an exchange sacrifice, but even a piece and a pawn up Fedoseev had limited piece mobility, with nearly all of his pieces squished into his kingside's quarter of the board. 
In an attempt to get some space back, Fedoseev offered up the exchange - but Carlsen repeatedly declined, with his bishop pair and a queen on the backrank pinning two minor pieces of material, completely dominating. Finally, on move 40, Carlsen accepted the exchange, with Fedoseev resigning a move later in a hopeless position. 
https://lichess.org/study/embed/o5XpIOlh/0vLuauUx
Meanwhile, GM Sergey Karjakin seemed to get into some move order issues against GM Jan-Krzysztof Duda. Still in the opening, Karjakin opted to offer a repetition rather than giving Duda what appeared to be a long-term positional advantage with black. The draw puts Duda in a good position for game 2, where he has white.
https://lichess.org/study/embed/o5XpIOlh/Mi0m2txt
Game 2
Despite a symbolic first move from a Russian hockey player to 1. h3 - an intentional attempt to try and help GM Sergey Karjakin, GM Jan-Krzysztof Duda declined the symbolic choice, instead going for 1. d4. 
Karjakin repeated a line he had used with some success against Fedoseev earlier in the tournament - but Duda had also played with success against the same opening in the same tournament, against GM Alexander Grischuk. Early on, it was clear Karjakin was in trouble - in a position which was looking far more playable and spacious for white.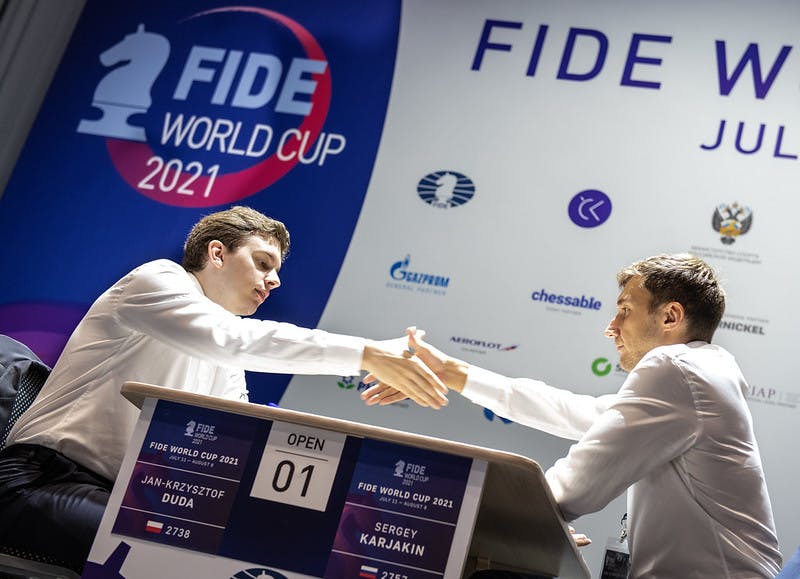 (photo credit - David Llada / FIDE)
In the early middle-game it was difficult to see how Karjakin could find counter-play or salvage the position, with a horribly misplaced knight and pawns on the 7th which were unable to be defended against Duda's pair of pigs (rooks) on the 7th. After a blunder, Karjakin resigned rather than play on. 
https://lichess.org/study/embed/f0EwZSrs/8C6HrgYP
Meanwhile, GM Vladimir Fedoseev played a Caro-Kann Defence - and opening offering a solid defence for black - against GM Magnus Carlsen. But, Carlsen was still in an aggressive mood - going for the advanced variation.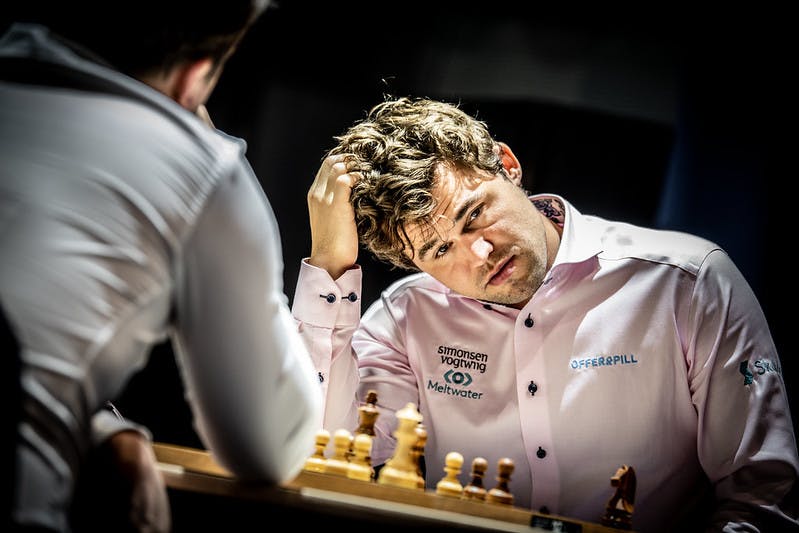 (photo credit - David Llada / FIDE)
In a novel position early on, Fedoseev unfortunately made a mistake - and Carlsen didn't sit back, pouncing on it immediately. With a massive amount of pressure against Fedoseev, Carlsen felt comfortable to give up another exchange sacrifice, which Fedoseev declined. However, the attack was unstoppable, to the extent he offered another exchange sacrifice ten moves later - on the same square as the game played yesterday - and Fedoseev resigned.