FIDE World Cup - Carlsen out of Final as Kosteniuk Wins Women's
Women's winner is known as Carlsen is knocked out of the Open final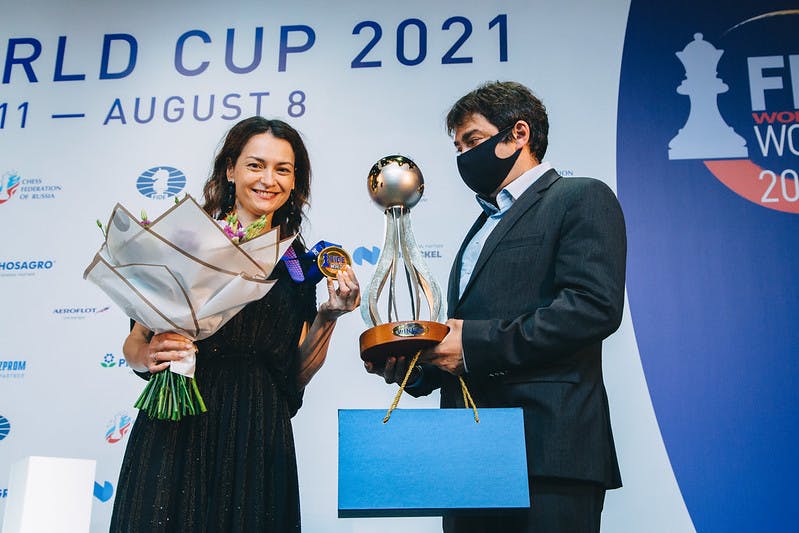 Much like busses, you wait for one surprise and then two come at once. In the Open World Cup, World Champion GM Magnus Carlsen was knocked out in the rapid tiebreaks by Jan-Kryzsztof Duda.
[Title image credit - Anastasiia Korolkova / FIDE]

Meanwhile, in the Women's World Cup, favourite and top-seeded player GM Aleksandra Goryachkina was defeated by veteran and experienced compatriot, GM Alexandra Kosteniuk - making Kosteniuk the winner of the Women's World Cup.
The finals and 3rd place play-offs are now known:

Finals:
GM Sergey Karjakin v. GM Jan-Krzysztof Duda

3rd place play-offs:
GM Magnus Carlsen v. GM Vladimir Fedoseev

Because the two finalists do not include Carlsen, this also means that Karjakin and Duda qualify to the 2022 Candidates Tournament, the winner of which will challenge whoever wins the 2021 World Championship match between GM Magnus Carlsen and GM Ian Nepomniachtchi. 
Semifinals, Game 1 - Open World Cup
In the Open World Cup, both semifinalists were understandably cautious of giving up any advantage at such a late stage of the tournament.
GM Magnus Carlsen forewent the Catalan he had frequently played in this tournament, instead opting for 1. d4. His opponent, GM Jan-Krzysztof Duda played safely and solidly, giving a pawn back into a transposed Queen's Gambit Accepted line. Despite some differences in the minor pieces both sides had, and a non-symmetrical pawn structure, Carlsen pushed but was unable to find any firm footing. A draw was offered and accepted on move 30.
https://lichess.org/study/embed/bAnP7TuE/1BtkWPjv
A solid but nice game was played between GM Sergey Karjakin and GM Vladimir Fedoseev with a draw accepted on move 69. Pieces were equally exchanged, and Karjakin went into an equal endgame - a pawn down, but his own pawn is passed and he will at some point receive the pawn back. Facing his fourth super-GM opponent (a player over 2700 rating), Karjakin, the "Minister of Defence" comfortably kept the position drawn, with both players receiving the half point.
https://lichess.org/study/embed/bAnP7TuE/rjjW5JOY

Finals, Game 1 - Women's World Cup

GM Aleksandra Goryachkina quickly attempted to make the position unfamiliar to GM Alexandra Kosteniuk, but Kosteniuk successfully navigated the opening before dropping a pawn in the early middlegame. Goryachkina with an advantage, pressed hard, but Kosteniuk kept the game complicated. In time trouble, both players missed their opponent's mistakes, until Kosteniuk eventually came out on top - winning the full point and scoring an upset against Goryachkina. 
https://lichess.org/study/embed/FaIpPfEp/15N1Vxni
Meanwhile, in the play-offs for third place, GM Anna Muzychuk was able to hold a draw against GM Tan Zhongyi with black. As there is a small disadvantage playing with black, a draw with black is good as it allows for a more forgiving game with colours reversed. 

Semifinals, Game 2 - Open World Cup
Where in the first game both players had been putting out more cautious feelers, in the second game both players pushed harder - as a win would allow for qualification and prevent rapid tiebreaks.
There was a decisive game between GM Sergey Karjakin and GM Vladimir Fedoseev. Playing a line of the Ruy Lopez - one of the most studied and played openings - both players were in positions which had been played before until move 19. On move 20, Karjakin played a novelty he had thought of over the board. The novelty paid off, as Fedoseev blundered shortly after on move 21. Karjakin kept up the pressure, and it quickly came apparent Karjakin had the measure of the position. Continuing to tighten the screws, Karjakin eventually won - the second time he has made the finals of the World Cup, after winning it in 2015. 
https://lichess.org/study/embed/Vp2rGoC5/0XBURhJY
GM Magnus Carlsen and GM Jan-Krzysztof Duda likewise went for a Ruy Lopez line. Carlsen mixed it up a bit in the opening, getting a double-edged position which both created threats and offered his opponent counter-play. Carlsen seemed to be in control, and Duda, perhaps sensing this, exchanged queens off the board. A pawn up, several moves later Duda then sacrificed a rook for a knight and a pawn. But Carlsen with the bishop pair was able to keep the position level, guaranteeing a rapid tiebreak. 
https://lichess.org/study/embed/Vp2rGoC5/GFrcDAQq
Finals, Game 2 - Women's World Cup
After a surprise loss to GM Alexandra Kosteniuk, GM Aleksandra Goryachkina was put into a must-win situation. Goryachkina played a French Defence, going for a variation Kosteniuk had played in 2013. Goryachkina went for a very unbalanced position, foregoing castling rights in order to keep a very aggressive position with open files targeting Kosteniuk's kingside.

But Kosteniuk's experience ensured she kept calm, and only needing a draw, traded off queens and rooks as and when she could, before entering a clearly drawn endgame. Goryachkina, forced to press to try and stay in the game, overextended and ended up in a clearly lost position. Kosteniuk, only needing a draw, offered one when it was clear she was winning - which Goryachkina accepted. 
https://lichess.org/study/embed/8XKwEGZe/zQ2UdZbV
Meanwhile, in the third place play-offs, GM Tan Zhongyi and GM Anna Muzychuk contested a Petrov. The position largely stayed equal throughout the opening, but Muzychuk fell slightly behind in the middlegame and offered a repetition, which was declined. However, Zhongyi was unable to quite clinch it, and going into the late middlegame to early endgame stage of the game, both players agreed to a draw.
Tiebreaks - Open and Women's World Cup
In the Open, GM Jan-Krzysztof Duda battled World Champion GM Magnus Carlsen to determine who would qualify through to the final. Duda began the first 25+10 rapid tiebreak, playing 1. e4. Carlsen met it with a Berlin Defence, a response popularised by GM Vladimir Kramnik and to offer a solid drawing game for black. Despite Carlsen pushing, Duda found the best responses, and a move was agreed by repetition on move 30.
In the second tiebreak, Carlsen also started with 1. e4, with Duda offering a Sicilian response. Generally, both players were cautious in the opening, with no major aggression and a lot of manoeuvring. Unusually, Duda seemed to come out of the positional posturing better, building a slight advantage. With both players entering time pressure, advantage was won and lost multiple times, until a completely wild bishop endgame. Carlsen theoretically had a drawn position with perfect play, but in time pressure anything can happen, and Duda spotted a final blunder by Carlsen, winning the tiebreak, and eliminating Carlsen from the finals.
https://lichess.org/study/embed/XhOWvtxZ/lYKONAKZ
As winner of the game, and qualifying into the finals, both GM Sergey Karjakin and GM Jan-Krzysztof Duda have qualified into the Candidates 2022 tournament, the winner of which goes on to challenge the World Champion.
Meanwhile, in the Women's third place play-off, GM Anna Muzychuk attacked aggressively in the first rapid tiebreak, against GM Tan Zhongyi. Both players opted for opposite castled kings, and initially it looked like Muzychuk was coming out better. But, Zhongyi - with an advantage on the clock, at one point with 17 minutes on her clock to Muzychuk's 30 seconds - was able to nullify the attack, and then launch a dangerous attack of her own. Zhongyi was able to then convert the point.

Muzychuk, in a must-win situation, seemed to confuse her move order in the opening of the second tiebreak. Almost immediately, she accidentally gave Zhongyi the possibility to go for a repetition in a winning position - and that was enough for Zhongyi to get the draw and secure 3rd place.