Alireza wins a 13th Titled Arena.
Another dominant victory.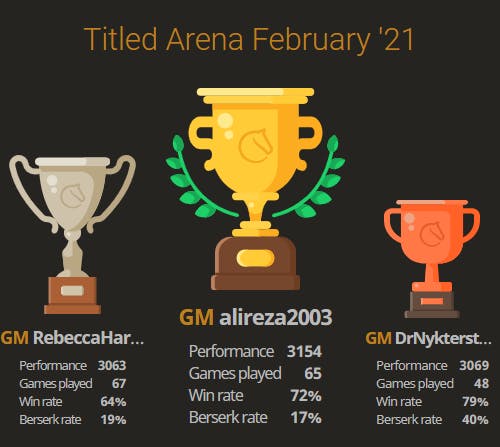 GM Alireza Firouzja won his 13th Titled Arena on Saturday, bringing him almost even with the record 14 won by GM Magnus Carlsen. (EDITORS NOTE: Upon further review, it seems Magnus has actually won 15 Titled Arenas.) Firouzja was quickly among the leaders and eventually pulled away, finishing in 1st by a comfortable 20 point margin. Magnus played in the event too but started late, something that, as we've discussed before, is not necessarily a big disadvantage. His first game was played 42 minutes into the 2 hour event. By the time he surged into the top spots, the leader was just too far ahead and Magnus finished third behind Firouzja and GM Daniel Naroditsky.
The late-start strategy can work, but only if somebody can trip up the leader enough to keep them from rocketing into the stratosphere. Magnus did reasonably well to slow down Firouzja, he scored 2.5/4 in their games together, but the rest of the top players struggled mightily at that task. Naroditsky was 0-5 vs. Alireza, Fourth-place GM Vladislav Artemiev went 1/3, and Fifth-place GM Andrew Tang was 0/2. 
There was plenty of star power further down the table with names like GM Shakhriyar Mamedyarov, GM Nihal Sarin, GM Praggnanandhaa, and GM Dmitry Andreikin finishing in the top 20. The event was also well attended by streamers with NM ChessNetwork and IM Eric Rosen among others taking part.
The next titled Arena will be on March 6th.
Alireza has been dominating this game and he only needs to find one crushing move to finish it off. Black to play and win.