Who is GM Konevlad?
Mystery GM takes home the gold in May's Titled Arena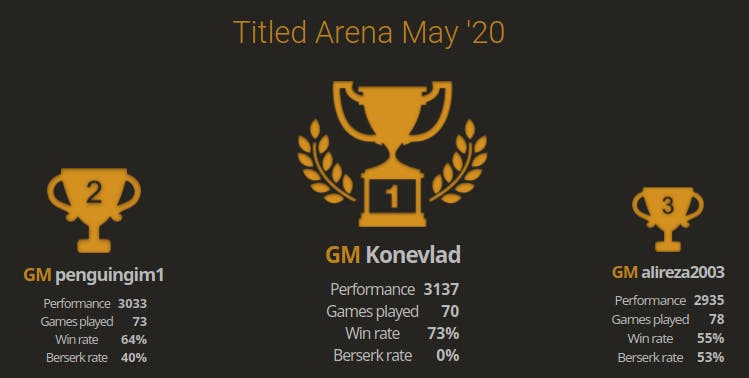 Speculation was rife in this month's Titled Arena as to the identity of GM @Konevlad, only fuelled by their stellar performance. All we can confirm is that they are still not the basketball player, with suggestions in various chats of their identity being Vladimir Kramnik, Alexander Morozevich, Vladislav Artemiev and even Magnus Carlsen (which would be impressive given Konevlad and Carlsen have played the same events in the past).
Regardless of who the mystery champ is, they put on a great show and managed to get a commanding lead, with a fierce battle primarily against Alireza Firouzja. The two met 8 times in the arena, with Konevlad leading 5 to 3, extinguishing Alireza's fire several times to secure their lead - including spectacular moves such as the game ending Ne6! here:
https://lichess.org/0HiJijfl#62

You can see a recap of the event standings below, congratulations to all the players!
The final standings were:
1st: GM @Konevlad
2nd: GM Andrew Tang (@penguingim1)
3rd: GM Alireza Firouzja (@alireza2003)
4th: GM Sergei Zhigalko (@Zhigalko_Sergei)
5th: GM Chithambaram Aravindh (@hitter1999)
The event was commentated by IM Alex Astaneh Lopez (@AstanehChess) here, with streams from participants such as GM Andrew Tang who placed 2nd!

As always, great thanks to all the participants, viewers and streamers who make the event so much fun for us all. Stay tuned for the next events!