Star-Studded Struggle Sees Supremacy Secured
Served up with superb Sasha stream!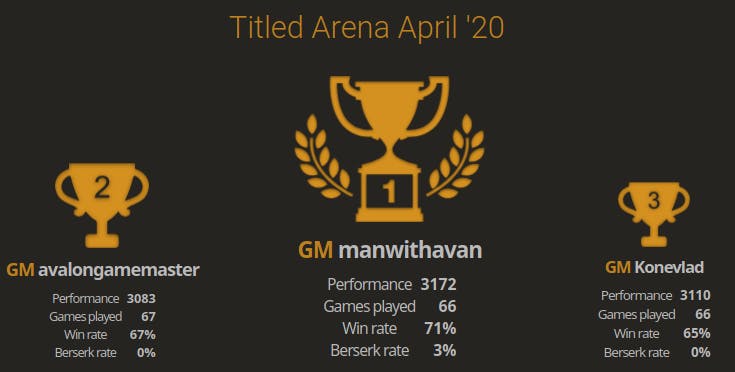 Magnus Carlsen clinched first place in the last minutes of the thrilling April Titled Arena, in what must have been one of the most competitive to date. 
1,093 FIDE titled players battled it out over two hours of bullet action, including many of the best players in the world.
GM Magnus Carlsen (@manwithavan, #1 in the world), came first after slogging it out in bullet against fellow top players, GM Maxime Vachier-Lagrave (@avalongamemaster, #5 in the world), GM Alexander Grischuk (@Sasha, #6 in the world, who also streamed the event for Lichess), and GM Anish Giri (@AnishGiri #10 in the world). All of whom decided a day of rapid chess wasn't enough - and that they needed to compete against each other and the rest of the titled field. Even this wasn't enough for some and Anish continued to play even after the event was over!
https://www.youtube.com/watch?v=dyEkDKnHb8I&feature=youtu.be
Many more top players - such as the mysterious GM @Konevlad (not the basketball player), GM Liem Quang Le (@Liem_Chess), GM Gawain Jones (@Verdenotte), GM Parham Maghsoodloo (@grizzlybear79), GM Rauf Mamedov (@muisback), GM Aleksei Sarana (@may6enexttime), GM Georg Meier (@GeorgMeier), and GM Nihal Sarin (@nihalsarin2004) joined in the action. But bullet chess is a beast like no other, and being among the best in the world in classical chess might not mean much when renowned bullet specialists and Lichess arena veterans like GM Andrew Tang (@penguingim1) are there to trip you up.
The final standings were:
1st: GM Magnus Carlsen (@manwithavan)
2nd: GM Maxime Vachier-Lagrave(@avalongamemaster)
3rd: GM @Konevlad
4th: GM Andrew Tang (@penguingim1)
5th: GM Alexander Grischuk (@Sasha)
In addition to GM Alexander Grischuk streaming for Lichess, other excellent streams came from:

NM Chess-Network, GM Andrew Tang, GM Sergei Zhigalko, GM Anurag Mhamal, IM Eric Rosen, IM Max Warmerdam, IM Alex Astaneh Lopez
And many more!
As always, great thanks to all the participants, viewers and streamers who make the event so much fun for us all. Another Titled Arena will be scheduled soon, stay tuned to our standard communication channels for details.