"Covidates" 2020, Round 2 Report
Cough into the crease of your elbow rather your hand - it's more hygienic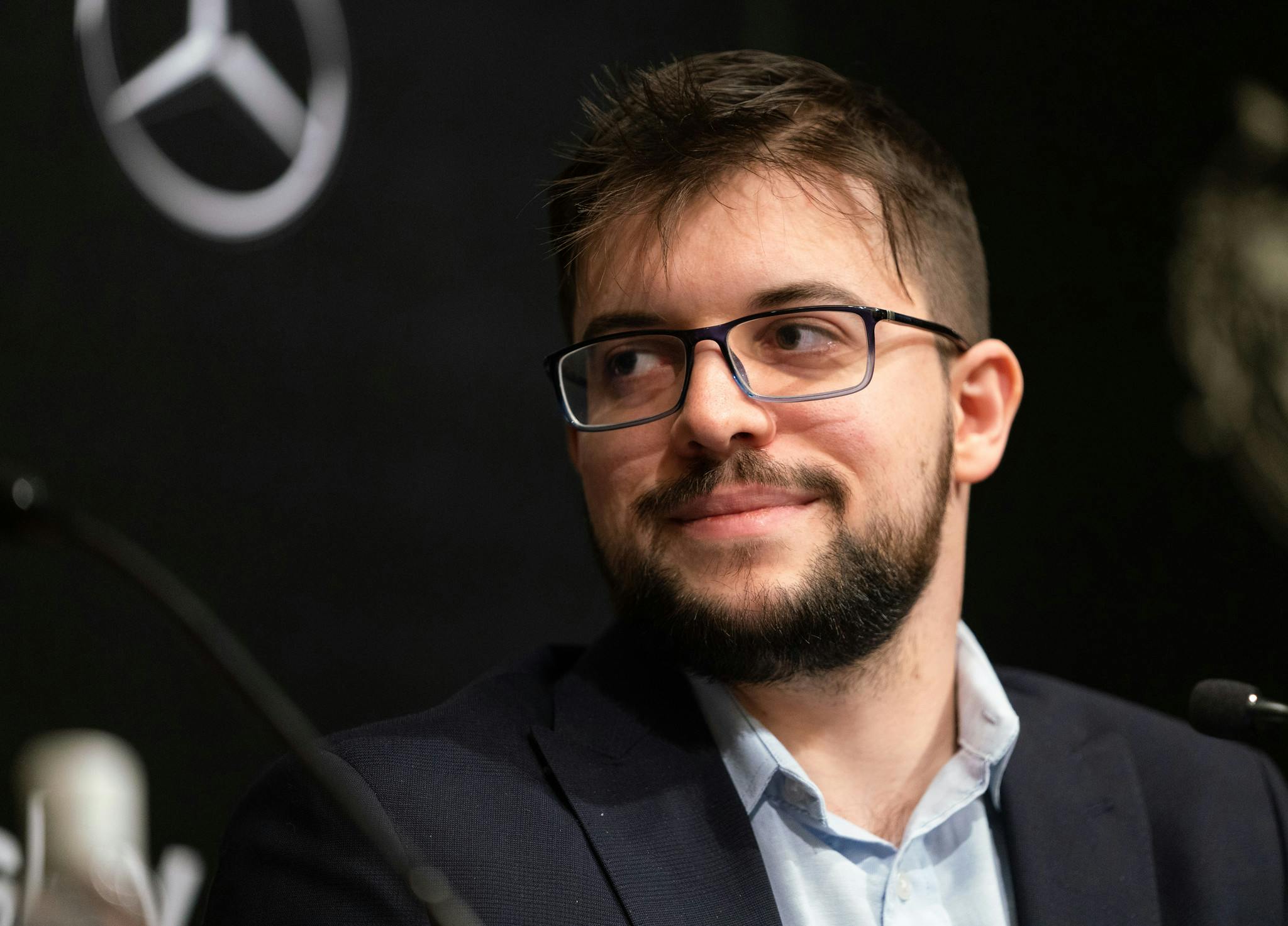 As the worldwide situation due to COVID-19 continued to worsen and whilst global markets appear to be headed towards a global recession, day 2 at the 2020 Candidates Tournament continued with two decisive results and a miracle save by Anish Giri. Annotations on decisive results provided by IM Lasse Løvik. 
(title image photo credit: Maria Emelianova for FIDE)
Ding Liren's run of bad luck continued, with a loss against a focussed Maxime Vachier-Lagrave who took the advantage early on and then steamrollered onwards after 15...f5?!. This early advantage to the Frenchmen was bolstered by another tactical mis-step by Ding with the f-pawn with 24...f4? leading to a decisive result for Maxime. Some have suggested Ding's 14-day mandatory quarantine may have put him on "tilt", but this would also be unfairly detracting from Maxime's impressive and helpful victory early on in a challenging and competitive tournament.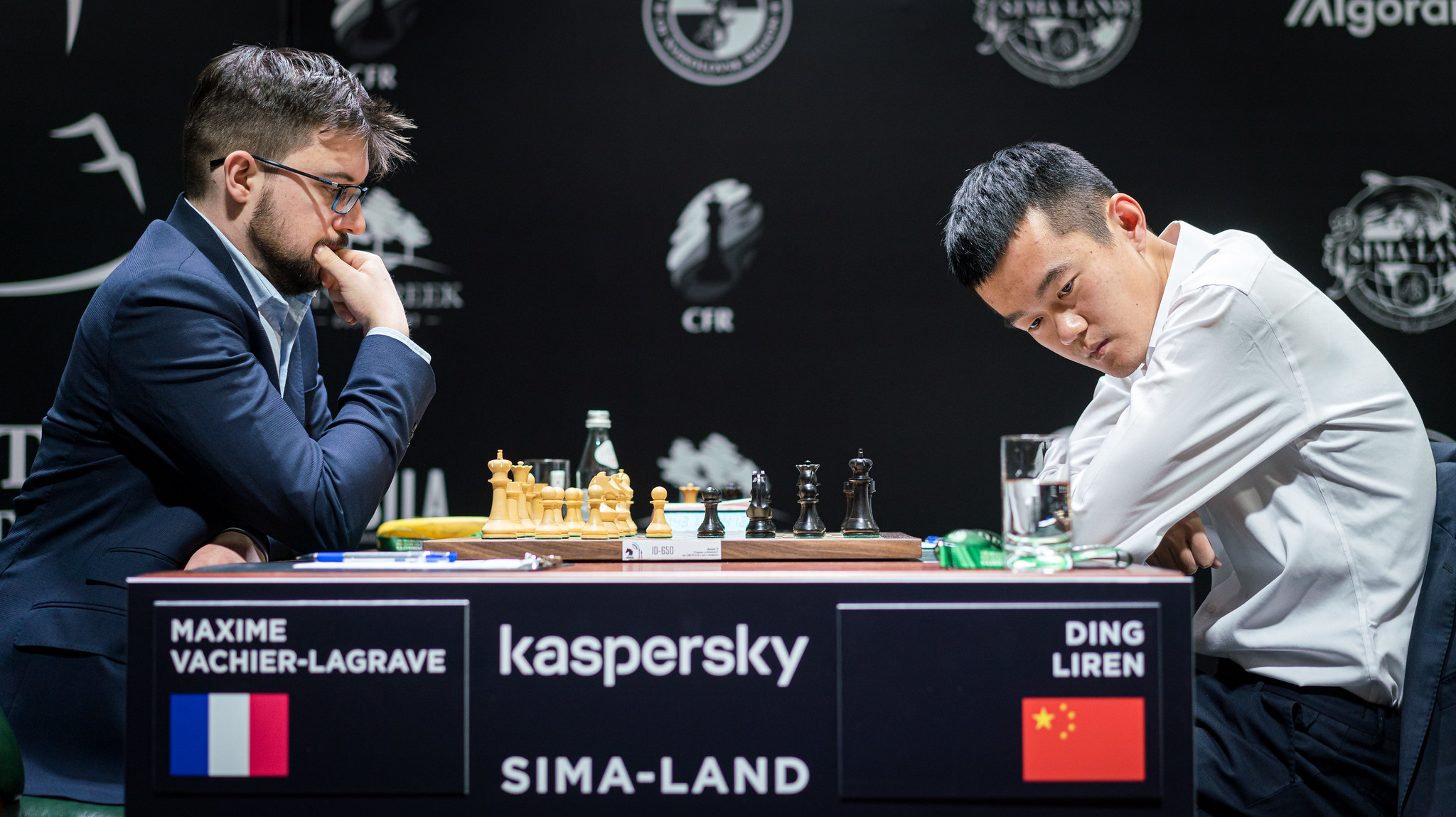 Photo credit: Lennart Ootes for FIDE
https://lichess.org/study/NbKpxGsJ/jfSR4wY9
Wang Hao had what looked like excellent chances against Anish Giri, especially after Giri played 12...a6. In his post-match interview Giri admitted it seemed to simply "give a tempo back" to his opponent. But despite having the tempo, Wang seemed unclear on how to capitalise and despite having what commentators and the Stockfish engine evaluated as promising chances for white, Wang was ultimately unable to convert. Anish played masterfully to find the draw in what many titled players considered an unclear but losing position, leaving Ding alone on 0/2 in the standings.
https://lichess.org/study/NbKpxGsJ/kIaq5gxg
Fabiano Caruana with white built up early momentum against tournament wildcard and Candidates newcomer Kirill Alekseenko, taking Alekseenko by surprise with an unusual 1.d4 and a sharp Nimzo-Indian. The previous World Championship challenger had a dominating position entering the early middlegame, consolidating on possible weaknesses in Alekseenko's opening preparation. By move 29, Caruana had multiple winning lines after Alekseenko blundered with 28...Bf8??. After finding one of these lines, and the inevitable mate looming, Alekseenko stopped the clock and reached out with his hand for the handshake, which Caruana nearly accepted, before realising the circumstances and declined to take - providing a moment of levity in what looked like a "too slow!" moment.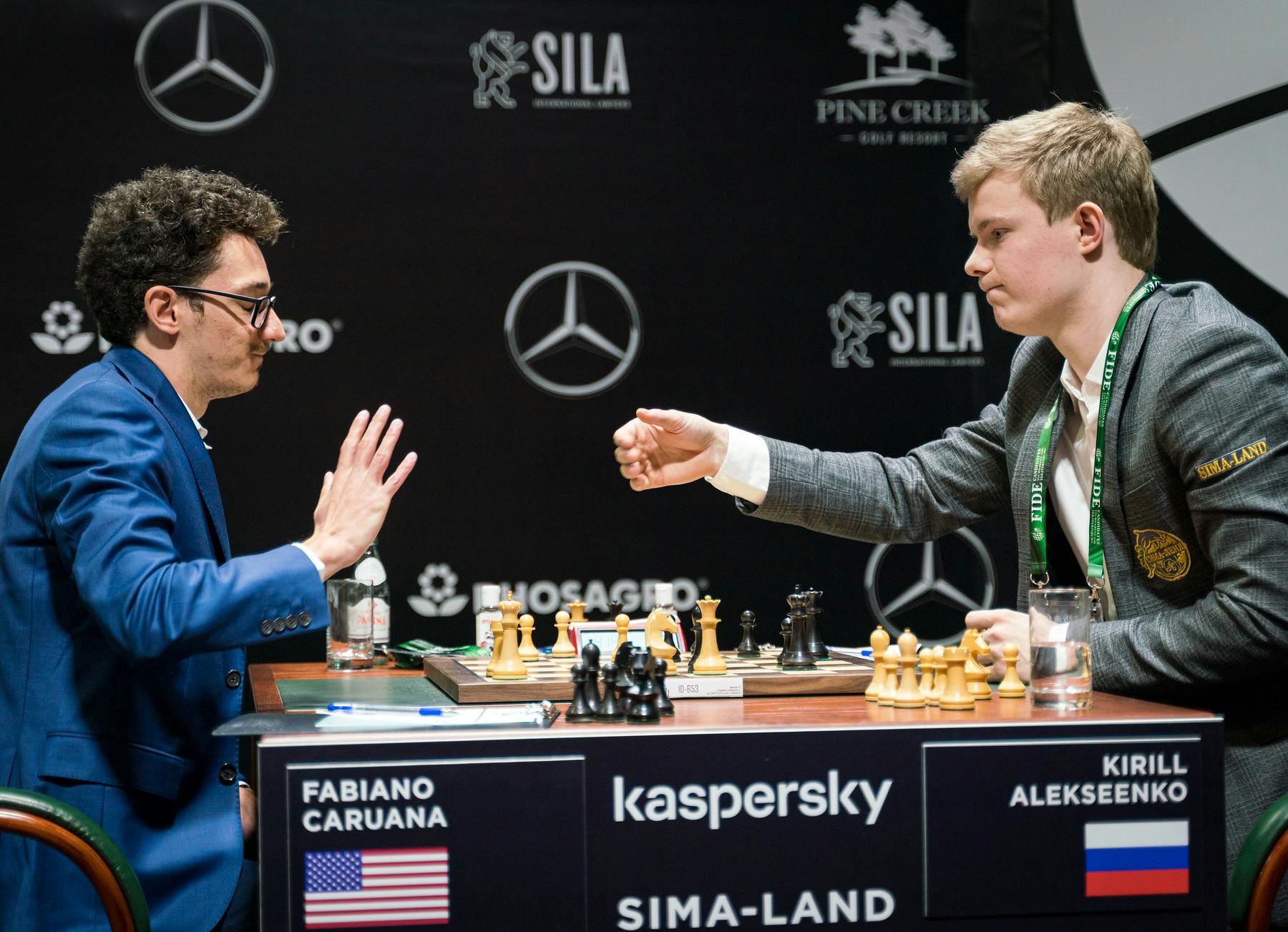 Photo credit: Lennart Ootes for FIDE
https://lichess.org/study/NbKpxGsJ/d3Ci7PSk
Alexander Grischuk went for a Berlin defence against compatriot Ian Nepomniachtchi, leading to tongue-in-cheek discussions between media and titled players in Ekaterinburg as to whether Vladimir Kramnik had dropped out of his commentary obligations because he had actually become Grischuk's second. Grischuk characteristically got into early time trouble, but following a series of exchanges, decided to shake elbows (rather than hands) and agree to a draw just as the first time control was met on move 40.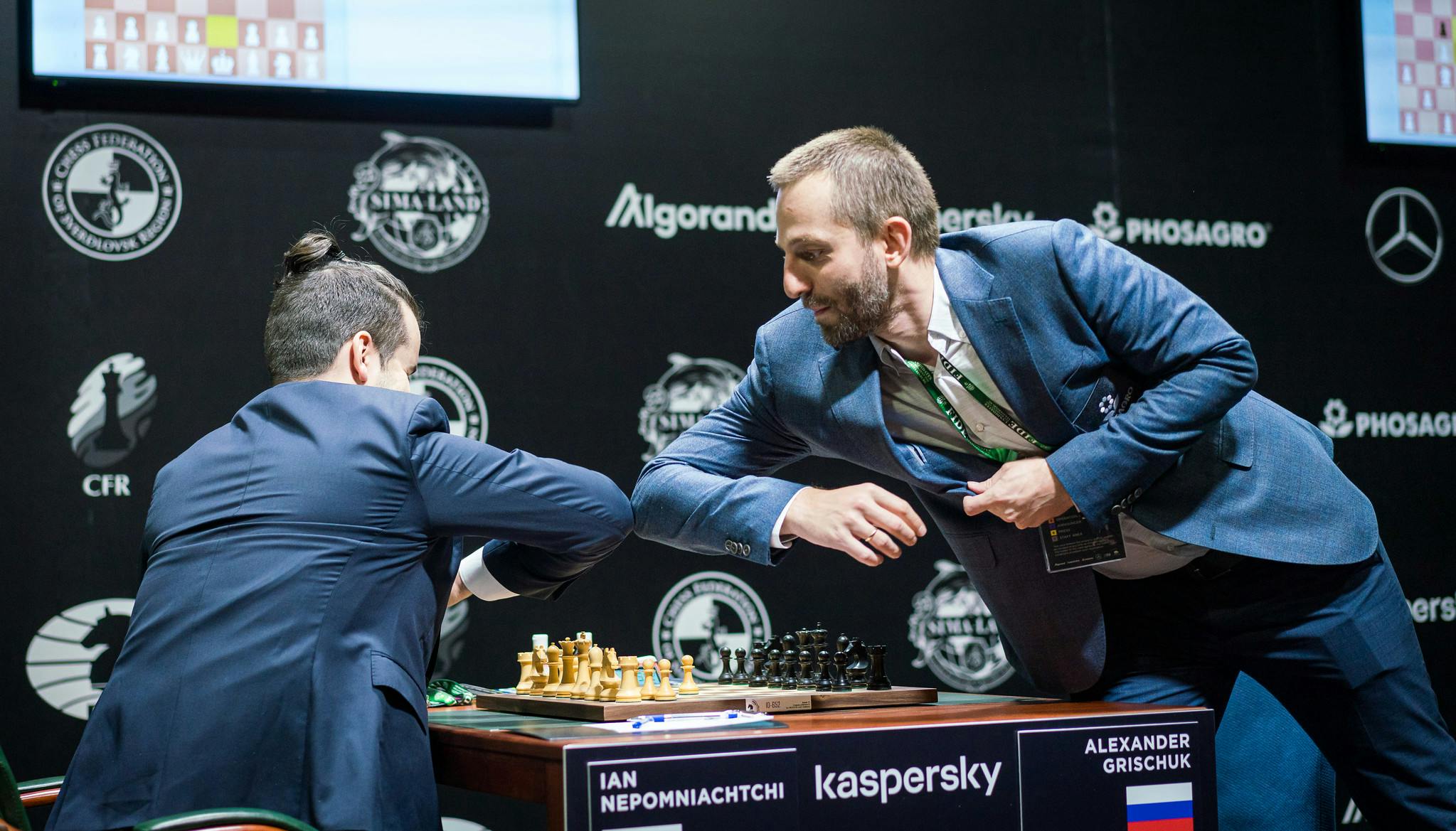 Photo credit: Lennart Ootes for FIDE
https://lichess.org/study/NbKpxGsJ/vwN3cEDX
With 12 rounds left to play, such a decisive start hopefully indicates a number of explosive results to come. With Ding Liren due to face Fabiano Caruana in the next round, questions surrounding Ding Liren's comeback are due to be answered. 
All rounds of the Candidates will be available live on Lichess, with most rounds starting 11:00 GMT.