The dust settles on the battlefield
Congratulations to Crestbook Chess Club and GM Sergey Shipov on their victory!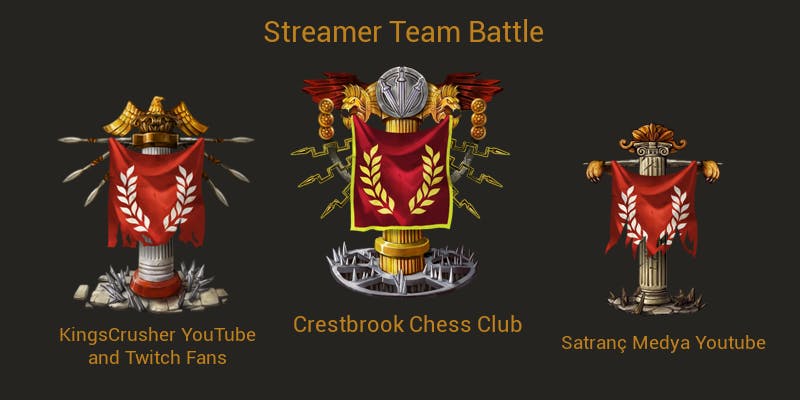 A hush fell as the clock ticked down its final seconds, to the end of the inaugural Lichess Streamer Team Battle, which team would win... well by that point it was quite firmly decided! Congratulations to Crestbook Chess Club led by GM Sergey Shipov on their impressive performance and victory. It's not all about the winners though, 9 teams participated with over 5,400 players playing 35,190 games and 2,445,197 moves. Thanks to all the streamers leading their teams onto the battlefield, and to all the players! We've had great feedback on the event already and hope to organise another in the future, which teams will be included? Only time will tell, but for now let's congratulate the teams participating in this event:
The final standings were:
1st: Crestbook Chess Club with GM Sergey Shipov (@Crest64)
2nd: Kingscrusher Youtube and Twitch fans with CM Tryfon Gavriel (@Kingscrusher-YouTube)
3rd: Satranç Medya Youtube with Emre Hasgüleç and Sabri Can Onay Yontar (@SatrancMedyaYoutube)
4th: ShahMatKanal Fan Club with CM Evgenij Novikov (@ShahMatKanal)
5th: GM penguingim1 fan club with GM Andrew Tang (@penguingim1)
6th: agadmator's Team with Antonio Radić (@agadmator)
7th: ChessNetwork with NM @Chess-Network
8th: IM Eric Rosen Fan Club with IM Eric Rosen (@EricRosen)
9th: ChessWeebs with GM Illia Nyzhnyk (@ChessWeeb)
If you missed it, here are some of the streams (please post any that we missed in the forum comments): Crestbrook, ShahMatKanal, Agadmator, ChessNetwork, Eric Rosen.
A further congratulations of course to all the individual players, making up some impressively strong teams. You can see the full individual standings on the tournament page. We hope to organise another similar event soon, stay tuned to our standard communication channels for details: