Firouzja on Fire!
The start of a new dynasty?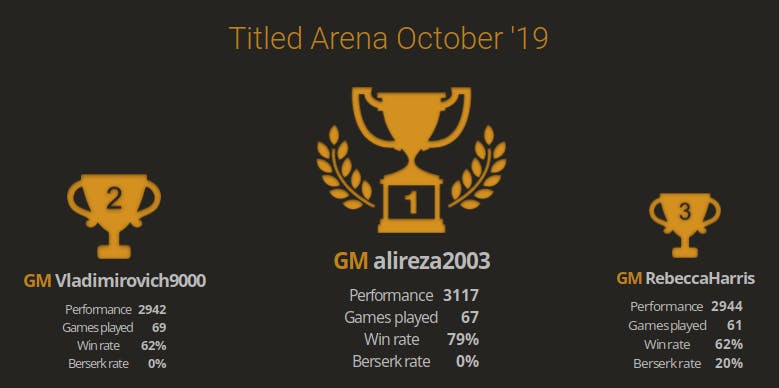 The Isle of Man International is in full swing (and you can catch the live games and commentary here on Lichess) but the allure of bullet chess is too strong, and during the rest day snuck in another installment of the Titled Arena. Willingly drawn away from their preparations for the next round were GMs Nihal Sarin (@nihalsarin2004), Parham Maghsoodloo (@grizzlybear79) and Eduardo Iturrizaga (@Eduiturri) - no doubt amongst countless others. All told, this is one of the largest Titled Arenas to date - possibly the largest, diligent fact-checkers are more than welcome to review this bold claim.
With no Magnus to start (and, spoiler, no Magnus throughout - despite rumours of a post-meal late-join), it was GM Alireza Firouzja (@alireza2003) who topped the standings before the first pairings, with a somewhat respectable 3113 rating. The first round saw him face off against fellow GM and TA regular Sergei Zhigalko (@Zhigalko_Sergei), the first of their 7 fiercely disputed games this tournament - games in which they politely took turns to win. Alireza got in with the first win though, and as a result won their personal duel 4-3 overall. Elsewhere in the standings was a relative newbie to the Titled Arena, but certainly not to speed chess, as GM Dmitry Andreikin (@Vladimirovich9000) joined his first event on Lichess with a bang - including some tactics that surprised ChessNetwork (https://clips.twitch.tv/CoweringRockyToadNotATK) and stringing 9 wins together from the off, taking the lead. But it was not to last and eventually he had his fire extinguished by Alireza. This seemed to hand over the torch, as Alireza went on to a commanding lead, and Andreikin remained in a respectable 2nd place with some difficult pairings. At 30 minutes into the tournament, Alireza was 14 points in the lead.
Meanwhile, another battle was raging - the fight for top female player! It was toughly contested throughout and congratulations in order for WGM @slowdumb for coming out victorious. See below for the full standings.
The standings established in the first 30 minutes were fairly consistent throughout the remainder of the tournament - with more blisteringly fast calculations (https://clips.twitch.tv/TenderDeadPheasantLitFam) and a certain GM Daniel Naroditsky (@RebeccaHarris) creeping up the standings to reach second place. But he was too late, much too late, to catch Alireza who ended up 50 points clear by the end of the tournament! Congratulations to him and to all the participants.
The final standings were:
1st: GM Alireza Firouzja (@alireza2003)
2nd: GM Dmitry Andreikin (@Vladimirovich9000)
3rd: GM Daniel Naroditsky (@RebeccaHarris)
4th: GM Federico Perez Ponsa (@Federicov93)
5th: GM Andrew Tang (@penguingim1)
Women's prizes:
1st: WGM @slowdumb
2nd: WFM Cherry Ann Mejia (@Enchanteur)
3rd: WIM @plumal
If you missed out and want to catch up with a stream from your favourite players check them out here:
English streams: ChessNetwork; Andrew Tang; Lawrence Trent
Russian streams: Weetik; Loy_Konstantin; Alexander Zubov; Sergei Zhigalko; Crest64
Finnish streams: Erik Rönkä
As always, great thanks to all the participants, viewers and streamers who make the event so much fun for us all. Another Titled Arena will be scheduled soon, stay tuned to our standard communication channels for details: