960 Ways to Die in the West
GM Zaven Andriasian takes home the gold!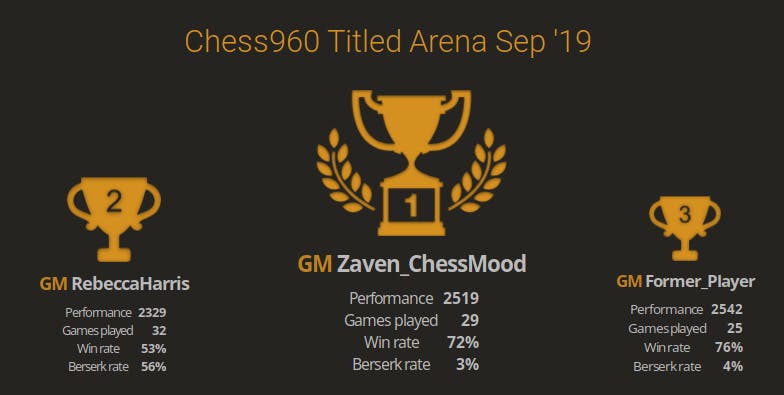 This September, we were treated to a double-bill of Lichess Titled Arenas, with a 960 variant edition at the unprecedented 3+2 time-control. Players were out in force with 270 participants. GM Andrew Tang (@penguingim1) took an early lead, but it was short lived - protesting on stream that he was only tired and not ill, the penguin was not in his finest form. IM Raunak Sadhwani (@Raunaksadhwani2005) took up the mantle with an impressive start and indeed led the field for over an hour and a half before starting to be pegged back by his opponents.
Reported to be at a party on the evening, a certain doctor joined the Arena for a few games to show us how it's done with a lovely zugzwang demonstration before withdrawing unbeaten.
https://lichess.org/54NE9Dth#137
IM Maxim Lavrov (@Lavrik87) was pulling up close behind around the halfway point with an equally impressive showing, it was certainly a shake-up at the top from the usual suspects at 1+0 time control. The competition headed into its final hour and GM Zaven Andriasian (@Zaven_ChessMood) was in the lead, with GM @Watneg nipping at his heels with a slower but very steady performance - unbeaten for 14 games (one draw). The final 30 minutes were tense and one of the usual suspects was making strides towards the throne, GM Daniel Naroditsky (@RebeccaHarris) with a strong final sprint from 13th at 30 minutes remaining to 2nd place with 2 minutes to go... but he could not overcome the leader - congratulations to the champ taking home 1st prize GM Zaven Andriasian! Special mention to 3rd place finisher, and 960 proponent GM @Former_Player - "The real chess is Chess960."
The final standings were:
1st: GM Zaven Andriasian (@Zaven_ChessMood)
2nd: GM Daniel Naroditsky (@RebeccaHarris)
3rd: GM @Former_Player
4th: IM Maxim Lavrov (@Lavrik87)
5th: GM @wizard98
If you missed out and want to catch up with a stream from your favourite players check them out here:
English streams: GM Andrew Tang, IM Eric Rosen, GM Dmitry Gordievsky, NM Llamalord
Russian streams: IM Artyom Zubritskiy, CM Vladimir Mikhailovsky, CM Evgenij Novikov
As always, great thanks to all the participants, viewers and streamers who make the event so much fun for us all. Another Titled Arena will be scheduled soon, stay tuned to our standard communication channels for details: