Who's the Boss?
IM Saveliy Golubov's the Boss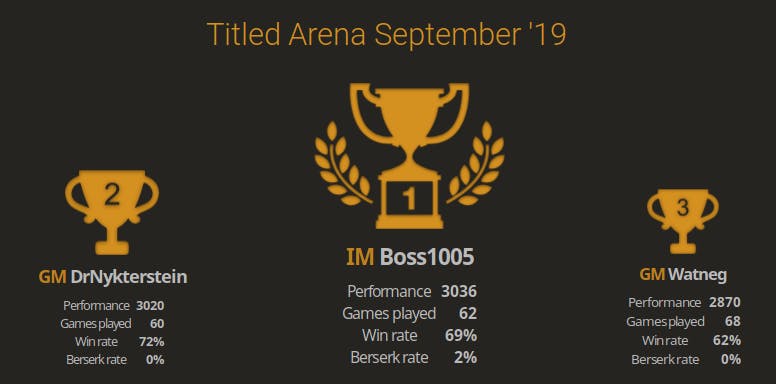 The September edition of the Lichess Titled Arena took place yesterday and we were treated to a whole host of streamers in a whole host of languages! Of course a notable mention is World Champion Magnus Carlsen (@DrNykterstein) who streamed in Norwegian throughout. Joining him in the non-English streams were GM Sergei Zhigalko (@Zhigalko_Sergei - stream), GM Alexander Zubov (@Alexander_Zubov - stream), GM Sergey Shipov (@Crest64 - stream) in Russian, and Sabri Can Onay Yontar (@Satranc Medya) in Turkish , and many more - post your favourite non-English streams in the comments! Joining them were the usual suspects of NM Jerry of Chess-Network fame following Magnus's games, IM Eric Rosen (@EricRosen), and a Fionchetta/Astaneh double-act.
Back to the chess, and it seemed to be business as usual for the World Champion, who was looking to regain his crown after coming second to GM Alireza Firouzja (@alireza2003) last time out. He kicked things off with a win against GM Daniel Naroditsky (@RebeccaHarris) followed by strings of wins over the next hour and a had comfortable lead. However, things were not all smooth sailing and as the halfway point approached, he faltered with 0.5 from 4 games in a row. In fact, GM Naroditsky was his kryptonite, with a tournament score of 6-1 over Carlsen - continually extinguishing the crucial fire. This allowed the rest of the field to stay close and with 30 minutes to go, IM Saveliy Golubov (@Boss1005) was only a few points behind despite scoring "just" 0.5 out of 4 against the leader.
It was still neck and neck in the final minutes, and some excellent strategy saw The Boss (as he will surely now be known) win a double berserk game https://lichess.org/NSnemhnS/black on time in a lost position (replay in real time for the full effect). Those 3 points were crucial, and saw him snatch victory in the dying seconds, with 135 points to Carlsen's 134. The final standings were:
1st: IM Saveliy Golubov (@Boss1005)
2nd: GM Magnus Carlsen (@DrNykterstein)
3rd: GM @Watneg
4th: GM Daniel Naroditsky (@RebeccaHarris)
5th: GM Oleksandr Bortnyk (@Night-King96)
As always, great thanks to all the participants, viewers and streamers who make the event so much fun for us all. Another Titled Arena (a 960 Titled Arena) will be scheduled soon, stay tuned to our standard communication channels for details: