Don't Try This At Home
Magnus cruises to another TA victory with an unusual repertoire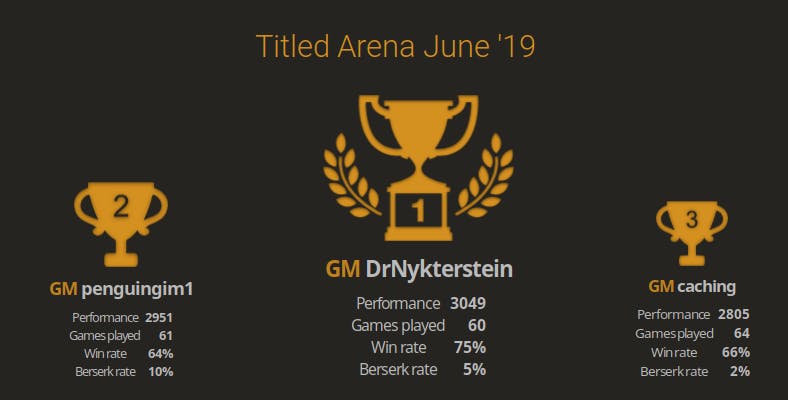 Now that we're past the longest day of the year, we needed something to help us survive as the nights are drawing in. Fortunately, there was a Titled Arena to occupy our attention as 325 titled players gathered to duke it out in 1+0. The usual suspects were there in force such as: GMs Magnus Carlsen (@DrNykterstein), Andrew Tang (@penguingim1) and Oleksandr Bortnyk (@Night-King96); as well as a scattering of very strong mystery masters and some less frequent participants like GM Eric Hansen (@chessbrahs) and new participant GM Rameshbabu Praggnanandhaa (@Praggnanandhaachess).
Speculation was rampant as there was no Magnus when things kicked off, but he was just being fashionably late - allowing GM @msb2 to take an early lead with three quick wins. A lead not fated to last however, and 30 minutes in Eric Hansen was out in front, closely followed by IM Saveliy Golubov (@Boss1005), the anonymous GMs @LyinTed and @Watneg, and speed-master GM Andrew Tang. Just a few minutes later though, the standings were completely rearranged - needless to say things were close at the top. Magnus was closing in now though, with some masterclasses in having an active king.
Did we also mention that Magnus played the Grob (1. g4) in over 70% of his white games, and responded to d4 with h6, and e4 with g5 in most of the rest...
It was clearly a determined Penguin this time out, after finishing outside of the podium at the last event - and he was 4 points clear at the top almost an hour in. Coming up to the hour mark though and Magnus took the lead. Over the next 15 minutes the lead was extended to 20 points, while the Penguin got a similar lead over 3rd place. Standings at the very top remained broadly unchanged, with the rest of the field fighting for the rest of the prize places. With such a lead, Magnus even started berserking (with not a huge amount of success - even managing to presumably accidentally resign one game before it started). IM Renato Alfredo Terry Lujan (@TerryR2) spent some time in 3rd, but despite victory over Magnus, very late surges from GMs @caching and @wizard98 took 3rd and 5th respectively, with anonymous GM @LyinTed holding on to their 4th place position for a prize.
As always, great thanks to all the participants, viewers and streamers who make the event so much fun for us all. Another Titled Arena will be scheduled soon, stay tuned to our standard communication channels for details: